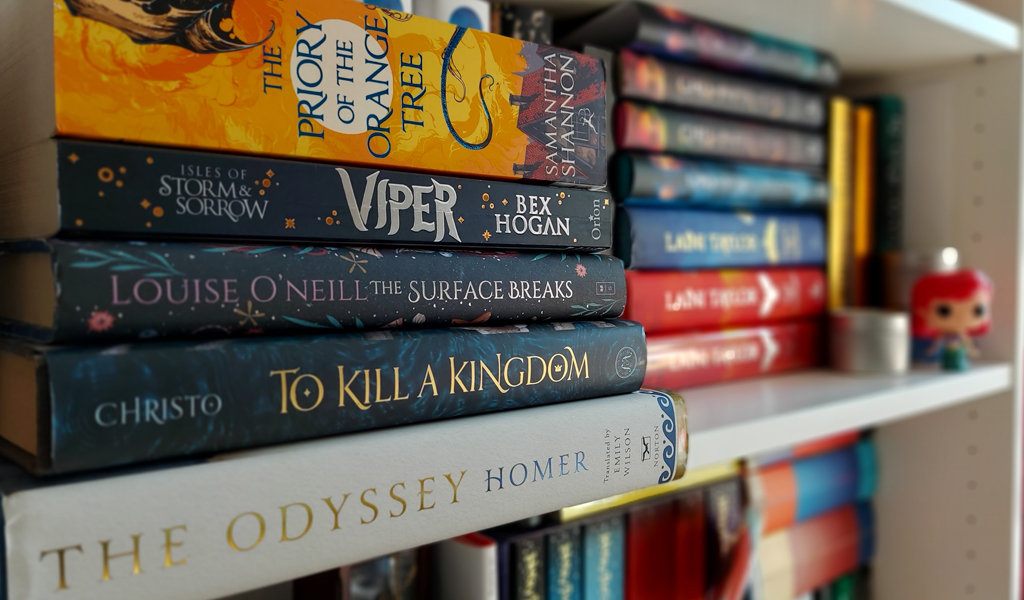 Diving instructor, fanatical book blogger and the person behind BSAC's social media, Imogen Gray shares her insights on the best books to read to stay connected with the ocean.
This week's announcement from the British Diving Safety Group (BDSG) reinforces the fact that we are not out of the woods yet. While restrictions may be lifting slowly for some over the coming months, diving is still not quite on the cards for us yet.
So, to tide you over until we are back underwater and in our happy place, here are some book recommendations to remind you how much you love the ocean. I've even included some books for younger readers so you can nurture your little ones into ocean lovers before they're even old enough to pick up their fins!
Let's start with adult fiction

Into the Drowning Deep by Mira Grant
After a 'mockumentary' film bringing to life ancient sea creatures of legend is lost at sea in the Mariana's Trench, a new crew is assembled to find out what happened to the original team. While this book is very much set at sea, and speaks of the human impact on our oceans, be warned that this is very much a horror story. Find out more.
The Odyssey by Homer (translated by Emily Wilson)
I'm being specific and recommending the Emily Wilson translation because having read a few different versions, I find this to be my favourite. Most people know the vague story of the Odyssey, even with little knowledge of mythology – Odysseus takes ten years to travel home to Ithaca after the Trojan War due to the many adventures which befall him along the way. An on-sea adventure of the most classic kind – plus, if you're not a big reader, remember that the telling of mythology was an oral tradition so grab yourself an audiobook! Find out more.

The Priory of the Orange Tree by Samantha Shannon
For fans of Game of Thrones, this epic fantasy takes place as much on land as by or on the sea. However, I felt the need to include it as one of my all-time favourite books and also the incredible descriptions of how the ocean resonates with characters like Tané and Nayimathun. "To be kin to a dragon, you must not only have a soul of water. You must have the blood of the sea, and the sea is not always pure. It is not any one thing. There is darkness in it, and danger, and cruelty. It can raze great cities with its rage. Its depths are unknowable; they do not see the touch of the sun." Find out more.
20,000 Leagues Under the Sea by Jules Verne
A classic of the science fiction genre, Verne's novel of undersea exploration has been well-known and loved for 150 years. Find out more.
| | |
| --- | --- |
| Other fictional reads worth checking out: | |
| | |
Adult non-fiction

The Silent World by Jacques-Yves Cousteau
You didn't think I'd write a book recommendation list without including one from the father of scuba, did you? This book shares Cousteau's experiences of early scuba diving and undersea exploration. Nothing could possibly remind you of your love of diving more than hearing the first divers explain their first experiences. Find out more.
Sea Change: A Message of the Oceans by Sylvia A. Earle
Of course, another scuba diving great, Sylvia Earle writes about her 30 years of experience of underwater exploration as well as highlighting the rapidly deteriorating oceans ecosystems (and this book was written 25 years ago…) Find out more.

The Ocean: Exploring Our Blue Planet by Miranda Krestovnikoff and Jill Calder
A non-fiction book suitable for readers of all ages – with stunning illustrations, Miranda Krestovnikoff explores our oceans with facts and stories that will make anyone not only fall in love with the blue and the creatures that reside there but also want to fiercely protect it. Find out more.
Shark Lady: The True Story of How Eugenie Clark Became the Ocean's Most Fearless Scientist by Jess Keating and Marta Álvarez Miguéns
Another illustrated non-fiction for the little ones, this one about Eugenie Clark and how she fell in love with the ocean and the creatures within it from a young age. Find out more
| | |
| --- | --- |
| Other non-fiction reads worth checking out: | |
| | |
Picture books for little ones

Commotion in the Ocean by Giles Andreae
A collection of poems and rhymes accompanied by illustrations about all kinds of sea creatures from whales and walruses to stingrays and sharks. Find out more.
Dougal's Deep-Sea Diary by Simon Bertram
Dougal is excited to go on holiday so he can go on a scuba diving adventure – follow him on his journey to Atlantis and all the exciting creatures he meets along the way! Find out more.

The Snail and the Whale by Julia Donaldson
Julia Donaldson books are a massive go-to for picture books for my cousins, and this book is just as fantastic about a snail who dreams of going out to sea and makes friends with a whale. There's even an animated short film of it currently available on BBC Player. Find out more.
The Rainbow Fish by Marcus Pfister
An oldie, but a goodie. While the resounding message of this book has less to do with the ocean, this is a book that I have never forgotten for its beautiful illustrations of fish and the underwater world I fell in love with. Find out more.
| | |
| --- | --- |
| Other picture books worth checking out: | |
| | |
Books for younger readers

Seaglass by Eloise Williams (10+)
Set on the Welsh coast, this is a contemporary ghost story with beautiful poetic passages about the beach, coastline and ocean. Find out more.
A Crack in the Sea by H. M. Bouwman (11+)
A story of two worlds colliding when a door opens in the middle of the sea and people can pass from one world to the second. A blend of fantasy, historical fiction and folklore. Find out more.

Girl. Boy. Sea. by Chris Vick (12+)
Described as Life of Pi for younger readers, this book tells the story of a friendship made after a storm and the sea tear apart their lives and bring them together, exploring the might and majesty of the unpredictable ocean. Find out more.
Deep Wizardry by Diane Duane (13+)
A normal summer holiday turns magical when Kit and Nita meet a wizard who is a whale. The adventure takes the two teens below the waves for a magical underwater ritual with a group of whales and dolphins while facing off against the Master Shark. While technically the second book in the series, this can be read on its own. Find out more.
| | |
| --- | --- |
| Also worth checking out for younger readers: | |
| | |
Young adult fiction

To Kill A Kingdom by Alexandra Christo
If you enjoy morally grey characters, sirens and swashbuckling adventures, then this is the book for you. A dark retelling of The Little Mermaid, but Ariel is the daughter of the Sea Witch and her goal is to kill the Prince – the majority of this book is spent underwater or traversing the open seas. Find out more.
The Wicked Deep by Shea Earnshaw
Another light ghost story revolving around the shores of the Oregon coast and witch trials – two centuries ago three sisters are drowned for supposedly being witches and now the town is cursed so that every summer their spirits steal the bodies of young girls of the town to lure boys to their deaths in the harbour. Beautiful and deadly sea imagery, as well as a lyrical, atmospheric tale. Find out more.

Deeplight by Frances Hardinge
Pitched as 20,000 Leagues Under the Sea meets Frankenstein, this fantasy adventure follows a young boy as he tries to save his best friend using the heart of a terrifying sea deity. Find out more.
Viper by Bex Hogan
Pirate assassins traversing the oceans and trying to save a kingdom. Viper is the first book in the Isle of Storm and Sorrows trilogy which takes place in a land of 12 small islands, so as you can imagine, there's a lot of ocean imagery which will make your heart ache to be back on the open seas. Find out more.
| | |
| --- | --- |
| Also worth checking out for young adults: | |
| | |
The BSAC network is working together to keep people connected to the sport. With online training, special interest webinars, competitions, support to clubs and the trade, and much more... we'd love you to join us.