"You don't need to travel all the way to the coral triangle to see bucket-loads of biodiversity because we've got it all here on our doorstep," says Jane Morgan.
I visited Pembrokeshire for the 2018 Skomer Marine Conservation Zone Nudibranch Diversity Survey. "What? An entire week of looking for tiny slugs?" I hear you say. Yes, absolutely.

The reason that Skomer, in west Wales, is a nudibranch hotspot boasting an abundance of species within a small area is all down to its location. Skomer is at a boundary where warm ocean currents from the south meet cold Arctic currents from the north, resulting in an exciting area where both colder and warmer water species are found. Combine this with a wide range of habitats that host a variety of food sources and, bingo, you are in nudibranch heaven. And I can't think of anything better to do than immerse myself in these incredible marine gastropod molluscs.
The geek week
The 'geek week' event began in 2002 when Skomer MCZ staff completed a nudibranch species survey to establish a baseline that could be used for future monitoring, identifying 32 species. In 2018, 58 species were identified so far, and that brings the total number of different nudibranchs recorded in Skomer MCZ up to an incredible 78, that is 70 per cent of all UK species and certainly a reflection of the impressive marine biodiversity of the area.

This is how the survey works: The Skomer MCZ team spend two weeks identifying species on several key sites located 'in the zone. In the middle of the two weeks of surveying, there is a Seasearch BioBlitz weekend, where volunteers come down to help, but over these two days, all the diving is confined to shore diving within the cove at Martin's Haven.

I arrived in time to do some of the boat dives with the MCZ team before the actual BioBlitz weekend. The sea conditions were far from ideal, with easterly winds battering the cove, making loading and unloading the survey vessel and smaller, rigid-hulled inflatable somewhat challenging. However, once we'd surfed our way through Jack Sound we could tuck ourselves away and enjoy some fantastic dives.

Now, we can all make mistakes, as I did on my first day on the survey. My kit was on the beach ready to be loaded, we were on time to catch slack tide, but I thought I'd squeeze in one last visit to the ladies before heading down with my camera. I returned to find my car locked. I just stood staring at it in disbelief. Just a minute ago I'd been happily sat on the back pulling on my drysuit. My camera and keys were sitting inside smiling up at me, but I couldn't reach them. Well, that was the first day of my diving in Pembrokeshire scuppered. My car had managed to lock itself, with the keys in the boot, at the most inconvenient moment ever. It certainly managed to thwart my first day's diving. Day one: nudibranchs recorded by me, zero.
Junkos Reef
My first dive of the week was on Junkos Reef with Bernard Picton, nudibranch supremo and curator of marine invertebrates at National Museums Northern Ireland. I was rather pleased with myself for finding numerous nudis, but they all turned out to be of rather common varieties; Crimora papillata, Polycera faeroensis and Janolus cristatus. When I got back on the boat I discovered that my rather more experienced buddies had identified 15 species, including a couple of rare finds by Bernard; Onchidoris pusilla and Eubranchus linensis. Hmm, still it was only dive one, plenty of time to get my eye in.
Thorn Rock
My second attempt was on Thorn Rock, quite a silty site on the south side of Skomer at around 20m. I was starting to feel slightly frustrated at this point, as I was mostly seeing the same species as the day before and had only added one to my list, Aglaophenia tubulifera, when Mark Burton, one of the team from the Skomer MCZ, pointed out a beautiful Thecacera pennigera. The body of this little beauty is translucent white in colour but covered with tiny orange, yellow and black spots.
Photo by Jane Morgan: Mating Polycera faeroensis at Thorn Rock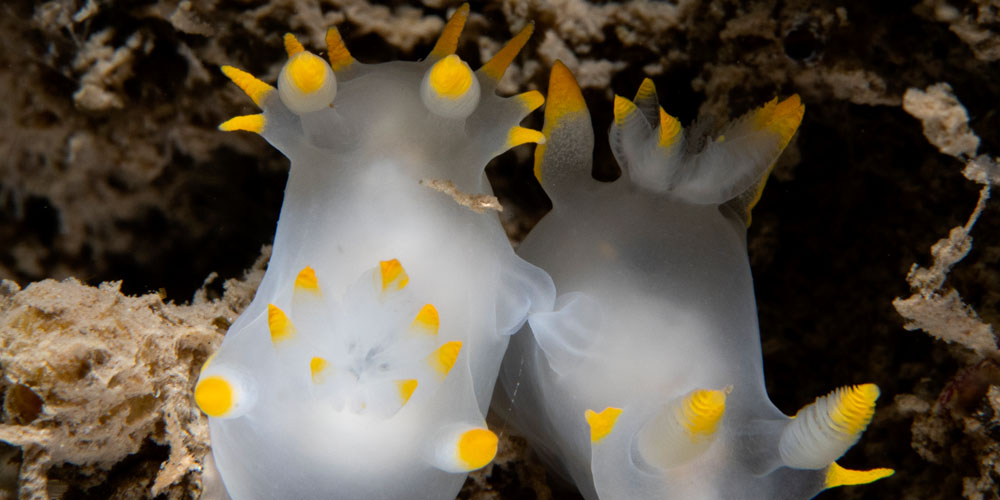 Wick Reef
Not surprisingly this site is at the entrance to the Wick, which is one of the best locations on Skomer Island for nesting seabirds, due to its sheer cliffs and ledges. The land site was out of bounds while we were there, due to the breeding season, but that didn't stop plenty of puffins popping over to check us out. The reef was smothered with Janolus cristatus, but I did manage to add a few new species to my hit list, including one of my personal favourites, Fjordia lineata.
Middle Holm
This was my favourite boat dive of the week, I dropped into 20m with Phil Newman from the Skomer team and we pretty much landed onto clumps of hydroids hosting oodles of beautiful little Dotos. The site was littered with rocks and boulders, covered with sponges and numerous filter feeders, and on everything, there seemed to be yet another stunningly designed slug positioning itself ready for some paparazzi attention.
The BioBlitz weekend
By Friday night, the waves were still rolling into Martins Haven, but a few prayers must have been said, as we awoke on Saturday to find the bay flat calm with beautiful visibility. The first morning of the weekend kicked off with a presentation from Kate Lock, who is a member of the Skomer MCZ staff and the coordinator of Seasearch South and West Wales. This was aimed at the uninitiated and meant to arm everybody with all the information they needed for slug hunting. Kate began with the absolute basics: the 'yellow and white ones' and the key things to look for to distinguish between them, such as the 'clubby bits'. Then on to the 'bushy ones' with all the fancy flowery bits on their backs, the oval flattish ones and finally the really tiny ones with bunches of grapes on their backs.

Masses of really useful advice was given on looking for clues, such as finding their food sources and checking out the sea firs and sea mats that had egg masses, and then looking even closer as generally if there are eggs, there is an animal lurking somewhere close by. After all, they are not known for their turn of speed.

Kate's back-to-basics talk was followed by a rather more scientific presentation by Bernard. It was an introduction to nudibranchs, what they are and how they fit into the scientific classifications. He also introduced useful terms used to describe different parts of their bodies such as rhinophores, frontal processes, cerrata and gills. Then everybody was armed and ready for the hunt to commence.
Photo by Jane Morgan: One of the survey teams coming back to shore in Martin's Haven – Blaise Bullimore, Ross Bullimore, Kate Lock, and Aran Lock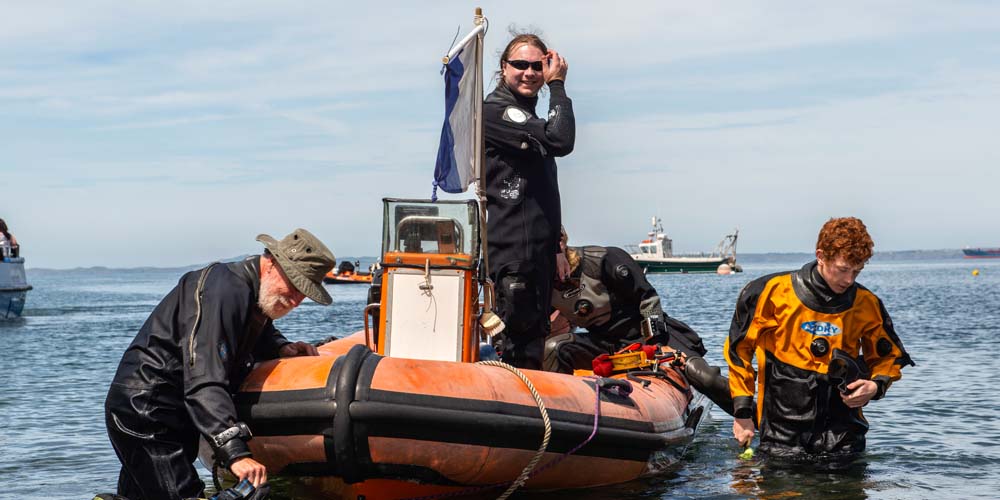 Martins Haven (left / west side)
On my first dive of the weekend, I struck gold, as my buddy was Ross Bullimore. He grew up in the area and knew the reef and the residents like the back of his hand. On the corner of the west side of Martin's Haven is a wall that drops down to around 20m and we spent all of our time there. As soon as I'd finished photographing one nudibranch, Ross was already pointing out another three or four, so it was a bit like having a private dive guide.
Martins Haven (right / east side)
I headed over to the east side with Kerry Lewis. Unfortunately, it wasn't as productive as the west, even though we gave it our best shot with a 90-minute bimble. However, we did add Tritonia lineata to our list and we found lots of tiny Dotos.
Photo by Jane Morgan: Tritonia lineata crawling over a sponge at Martin's Haven (east side)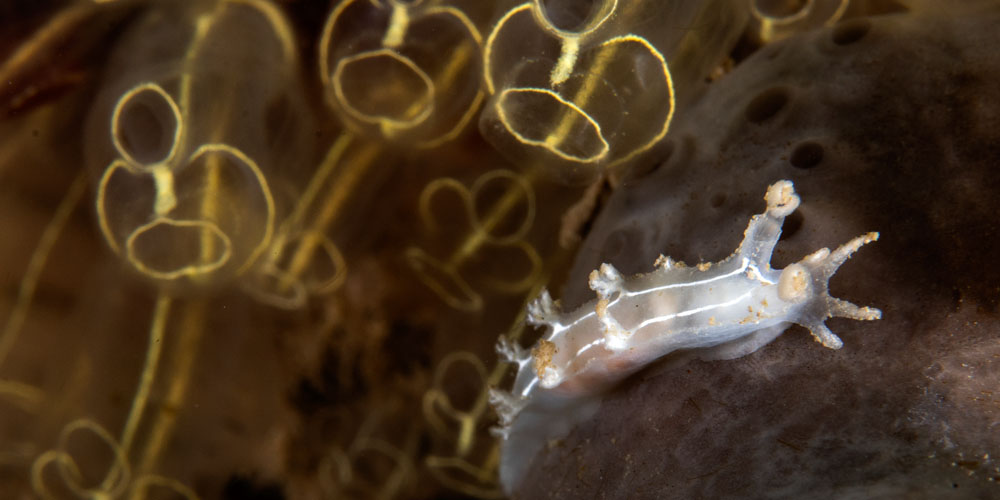 All things nudibranch
Over the weekend an incredible 30 species were found at Martin's Haven, which was rather impressive from shore diving within a small area but also rather apt as it coincided with Seasearch's 30th anniversary.

The nudibranch theme continued out of the water. A laboratory had been set up in the village hall with several microscopes and identification books, which everybody could use. Some samples would later be preserved for DNA specialist work and the rest were returned to the sea.

On the Saturday evening, Kate's home and garden was open to all the participants, for a nudi-themed barbeque, where even the food was shaped to look like nudibranchs.

Sunday morning brought everyone back to the village hall for another presentation by Bernard, this time explaining the reclassifications that had been taking place in the nudibranch world… and just when I thought I had learnt some of the correct Latin names.

The next BioBlitz will be 2022, so there's plenty of time to start swatting up. Contact Kate Lock through the Seasearch webpage Seasearch.org.uk for more details. Quite a few of the volunteers had very limited knowledge of finding nudibranchs, but as full training was provided, so don't think that you have to be an experienced Seasearcher to join in the fun next time.


The BSAC network is working together to keep people connected to the sport. With online training, special interest webinars, competitions, support to clubs and the trade, and much more...we'd love you to join us.
This UK diving article was originally published in SCUBA magazine, Issue 90 May 2019. For more membership benefits, visit bsac.com/benefits.
Image credit: Jane Morgan
Images in this online version may have been substituted from the original images in SCUBA magazine due to usage rights.