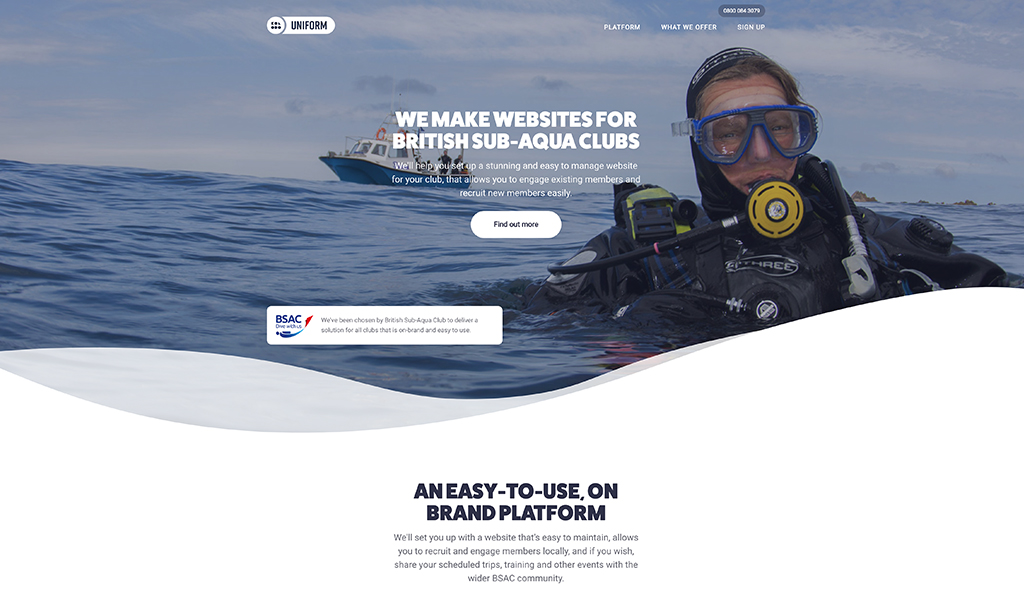 BSAC is delighted to announce a partnership with award-winning web agency Kolodo Uniform to supply BSAC clubs with a solution to create stunning new websites quickly and easily.
The offering will give clubs the chance to work with the Kolodo Uniform team to set up effective and easy to manage club websites.

Following months of planning and the results from a survey that went to BSAC clubs in 2019 evidencing strong demand for a service of this nature, the team at Kolodo Uniform has designed a framework to cater to BSAC club needs.
Find out more and sign up!Got a question?
BSAC Chief Executive Mary Tetley said:
We know there has been strong demand for this from clubs for some time so are thrilled to now have something of this quality to offer them.
BSAC has secured sponsorship funding to make the websites more cost-effective for clubs. However, the project will need 110 clubs to sign up for it to go ahead.
BSAC Marketing Manager Debbie Powell said:
In this digital age, a quality website is essential for clubs looking to grow, or even just sustain themselves. They serve as shop windows to the world and significantly influence the success of recruitment and retention of members within clubs.
So what is the offering exactly?
The offering has been designed to be easy to manage (no technical knowledge needed) and to maximise membership recruitment and retention potential.
Kolodo Uniform will:
Set-up an easy-to-use, on-brand website for your club
Work with you to add the content
Push it live onto a domain name of your choice relatively quickly
Support your club ongoingProvide your club with ongoing web support
The functionality includes:
Members area
Managing Try Dive (or Experience Snorkelling) bookings and other club events
Enabling clubs to add trips, training and social events and take online payments, with the additional option to share with the wider BSAC community
Google Reviews embedded


Who is Kolodo Uniform?
Scout Websites was founded back in 2012 with the aim of solving everyday problems for Scouts across the UK. Holding volunteer roles locally and at County-level, MD Josh Diamond was frustrated that there was no affordable solution for his Scout Group to easily create an on-brand website that was easy to update and made managing his Scout Group easier. Kolodo Uniform is the parent brand of Scout Websites and is proud to be the leading supplier of websites for the Scouts. They've heavily invested in a framework that works, and have been able to offer a solution for BSAC clubs to help solve their website challenges.
What will it cost?
The websites cost £200+VAT (one-off fee) per club, then £5 per month ongoing for support and maintenance.
Please note, we need 110 clubs to sign up for a new website for the project to go ahead. We'd appreciate clubs signing up by Tuesday 31st March if possible, so the project can commence.
Got questions?
You can find out more online, or, feel free to contact Kolodo Uniform at bsac@kolodouniform.com or on 0800 084 3079.