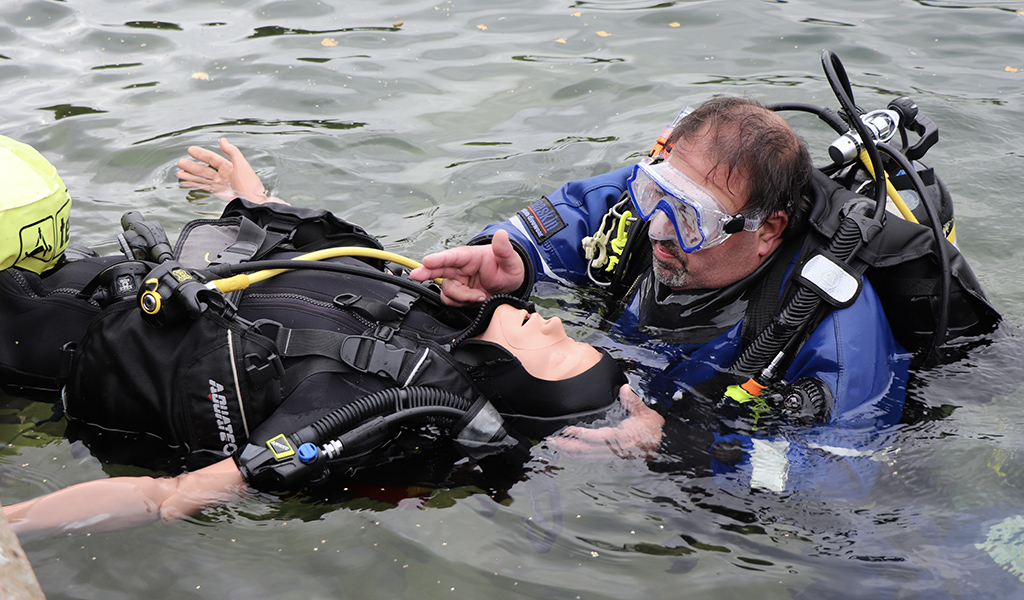 BSAC has included its latest guidance on Immersion Pulmonary Oedema (IPO) into the updated Sports Diver course as part of its integration throughout the Diver Training Programme.
The move to bring Immersion Pulmonary Oedema to the fore of BSAC training comes as a result of ongoing analysis of diving data which has provided growing evidence that IPO could be a significant factor in diving-related incidents.
IPO is a condition where immersion in water can cause compression of leg veins, resulting in blood being pushed centrally into the chest. This increased blood pressure can then cause fluid to leak into the lungs, leading to difficulties in breathing.
Last year, BSAC released guidance on IPO and how to avoid the condition, as well as how to recognise the symptoms. Incorporating this guidance, including how to provide first aid treatment for IPO, into the Diver Training Programme (DTP) supports BSAC's ongoing drive to raise awareness of the condition.
Sophie Rennie, who as Diver Training Lead on BSAC's National Diving Committee is overseeing the implementation of IPO guidance across the DTP, said the newly updated Sports Diver grade was a natural place to start.
It is important that divers have an awareness of the condition, how to recognise, treat and also how to avoid it. Sports Diver has a very comprehensive element of rescue training alongside dive management training, and as such, the IPO guidance slots into the training really well.
As part of the integration of IPO guidance into Sports Diver, BSAC has:
Upgraded the Diver Rescue module in the Sports Diver theory to include the current information on IPO
Updated the associated Instructor Resources online to reflect this latest Sports Diver update


With Sports Diver the latest BSAC diver grade to undergo review, the Ocean Diver syllabus will now have Immersion Pulmonary Oedema awareness added to the course. IPO is also set to be included in both the Dive Leader and Advanced Diver syllabus as well as in safety and rescue-related Skill Development Courses.
Sophie added:
BSAC strives to be at the forefront of diver safety and awareness, and anything which can help educate the members is a good thing. The Sports Diver update has also seen the inclusion of using an AED as part of rescue training.
In the meantime, BSAC is encouraging all members, both divers and snorkellers, to increase their awareness of IPO and how to recognise the signs of the condition.