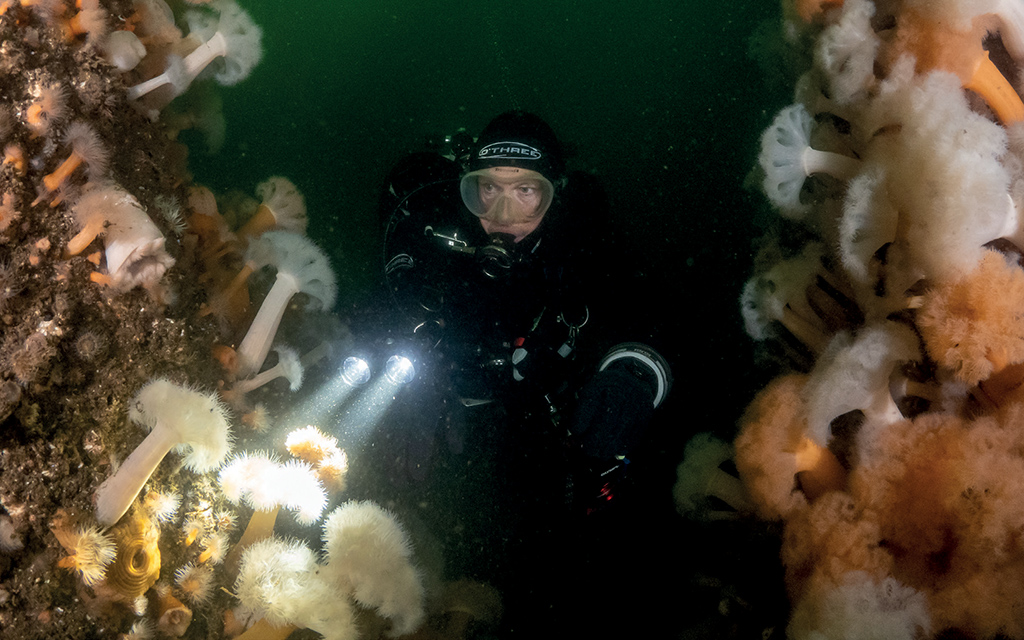 Stick or twist? Yo-Han Cha's obsessive love of UK diving keeps him very busy, and when he discovers a new location the problem only deepens...
My diving year is sadly coming to an end. I might still be able to sneak in the odd night dive or weekend, but my weekend on-call swaps are catching up with me and the weather is becoming less co-operative. I've had a great year of diving, though, and I'm sad to see it coming to an end. I've mostly dived locations around the UK that I've been to before but this weekend just gone, there's been a rather rare occurrence... I've gone and dived somewhere new in the UK!
I do enjoy trying new locations, but such is the pull of certain dive sites that I find myself back there time and time again. And this is my conundrum every year as I book my weeks and weekends – where do I go? Do I try somewhere new, or stick to my old favourites?
There are some sites that I love and must dive at least once a year. So, inevitably I end up booking multiple trips to them just in case the wind blows in the wrong direction. The Farnes and the Berwickshire Marine Reserve are such places. But there's so much to see around the UK, and I just don't have enough annual leave or finances to see it all in one year. The Sound of Mull is fantastic. South Cornwall, either out of Porthkerris or Falmouth, is a favourite of mine for all those jewel anemones. The sea lochs of western Scotland will always have a place in my heart, if anything just for being diveable during the winter months.
such is the pull of certain dive sites that I find myself back there time and time again
But I do love trying somewhere new. Even before I started diving, I had that desire to see what was around the next bend in the road. So, this weekend I went somewhere I'd never visited previously – the Firth of Clyde.
As a self-professed squidge lover, the Firth of Clyde had never been high on the list of priorities, mainly because everyone who went diving there came back raving about the wrecks. I'm not that bothered about wrecks. And those who love wrecks, usually don't notice the life that's on them. So, the reports of rusty metal have never enticed me. But there I was, curious and wanting to explore somewhere new. Admittedly, my keenness was tempered by the sideways rain at 50 mph that greeted my arrival. I found myself wondering what the skipper, Jason Coles, from Dunoon dive centre Wreckspeditions had put in his tea when he said it was still diveable. I'd driven up from Bristol, so I was happy that any sort of diving was on the cards, but we did indeed manage to visit a couple of very sheltered wrecks. Thankfully the weather cleared up over the next couple of days and I even got to dive the Akka. That was the one wreck I'd heard about before coming up to the Clyde as even the most seasoned rust lovers would always utter "The Akka!" with half-closed eyes in wistful memory of metal bliss. It was very nice, however I liked the Inverkip Jetty the best; lots of squidge on that!
Now it seems the Firth of Clyde may have turned into a site that I may have to revisit time and time again. Which only leaves less time to explore new sites!
Article by Yo-Han Cha first published in SCUBA magazine, Issue 131 December 2022.