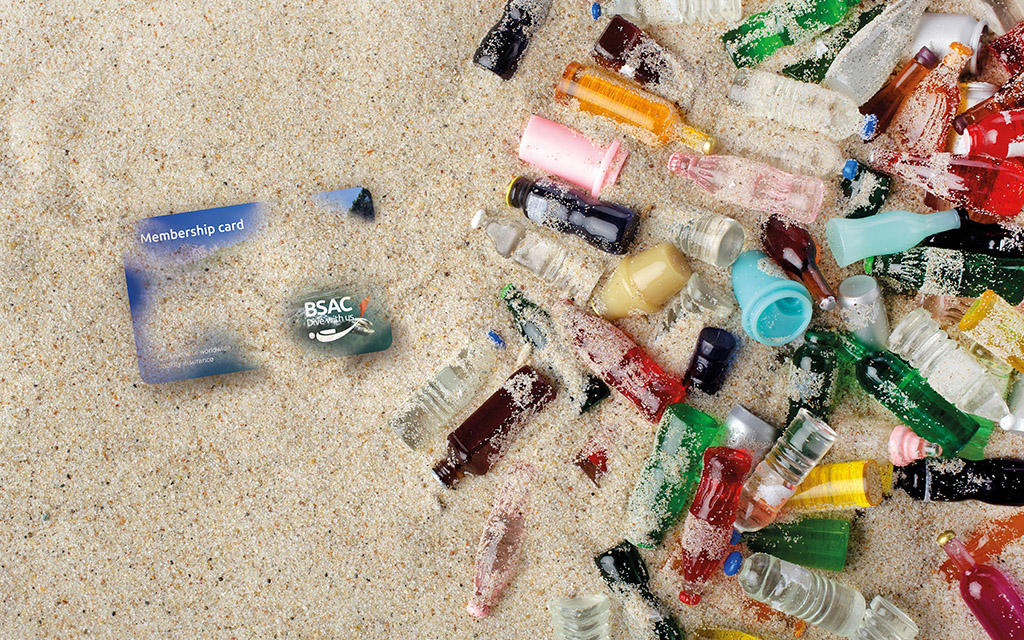 BSAC will no longer be automatically issuing an annual plastic membership card for members in a bid to reduce the amount of plastic the organisation produces.
From 1 November 2019, all BSAC members (whether joining as a new member or renewing), will need to opt-in to receive a physical membership card via their MyBSAC page. Digital membership cards are already available to download from members' MyBSAC page. This provides all the membership information previously supplied by the plastic card.
Responding to the rising tide of single-use plastic and greater awareness of the need to reduce unnecessary waste, BSAC hopes that the move to an opt-in system for its membership card could save up to 150kg of throw-away plastic every year.
Removing plastic cards will have no impact on the membership package and members will still have full access to all their BSAC member benefits as well as all their own membership details via their MyBSAC page.
BSAC's qualification cards remain unaffected at this stage and will still be provided as part of the BSAC diver training and skill development programme.
The move to switch to an opt-in scheme for the plastic BSAC membership card follows the club's decision to remove the plastic wrapping from SCUBA magazine last year and supports the club's Mission 2020 commitment to eliminate single-use plastic from all its branded products by 2020.
BSAC's Chief Executive, Mary Tetley, said she hoped members would get on board with the new digital card system as part of the organisation's ongoing drive to reduce its plastic waste.
As a diving organisation, we are duty-bound to keep looking at ways we can help to protect our precious marine environment, as well as the wider environment in which we live.

While the plastic membership card is a nice thing to have, it is not essential. Going plastic-free when it comes to BSAC membership is a natural step and will not detract from the services we offer or the experience our members have. With plastic taking between 400 and 1,000 years to degrade, reducing its unnecessary use within BSAC is something we should all wholeheartedly embrace, and I'd like to thank all our members and Branch Officers for their support.
What happens next
Members are now able to opt-in for a plastic card via their MyBSAC page, with the final launch date being 1st November. Reminders will be sent to all members.

Members not selecting the option for a plastic membership card will be automatically switched to the digital version. You can download your digital membership card now!

All members can also access their full and current BSAC membership details at any time, online at their MyBSAC page.