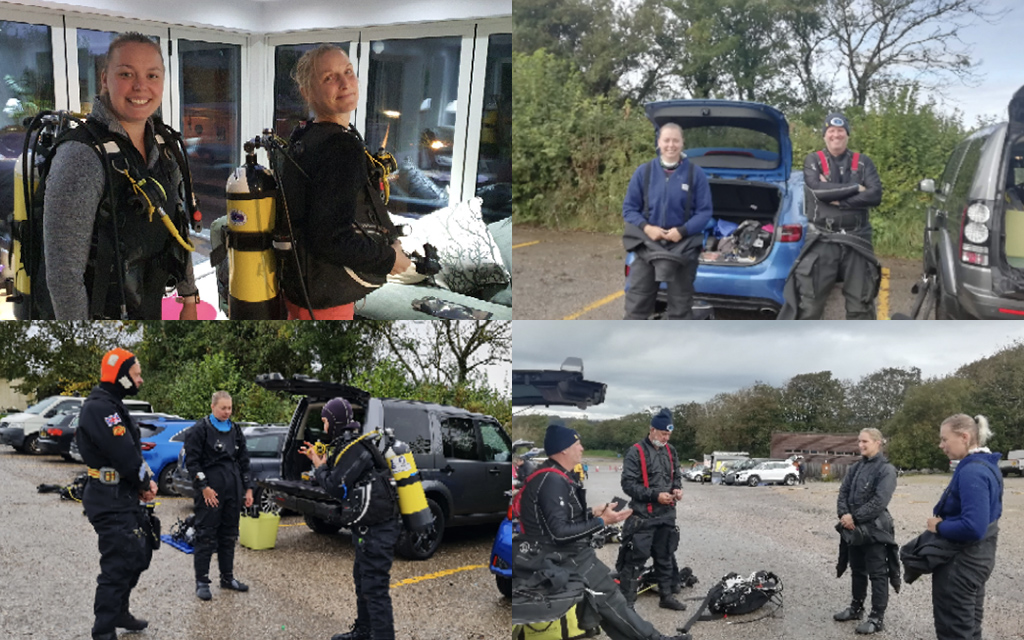 A member of Lancashire-based Lunesdale SAC, Becky Townend, completed her Ocean Diver during last year's first lockdown. Determined not to let the pandemic hold her back, the 25-year-old embraced the support of her club's instructors as well as BSAC's eLearning to navigate the challenges of learning to dive during Covid.
I am an ex-competitive swimmer and have worked as a lifeguard, swimming teacher, and in swimming pool management, so my life revolves around water. However, I had always wanted to learn to dive so when Lunesdale SAC started using Hornby Swimming Pool when it re-opened following refurbishment, it was the perfect opportunity.
I had a Try Dive with the club at the end of 2019 with their Diving Officer, Rob Whittacker, who made me feel at ease straight away. I felt so good about it that I decided to book on the Ocean Diver course that Lunesdale planned to run in the New Year. Then Covid struck, and the course was put on hold.
One of the club's instructors, Alf Yates, called me to ask if I would like to do the theory side of Ocean Diver through the new BSAC eLearning, which I thought was a brilliant idea. I could do everything at my own pace, take my time with anything I didn't understand, and it also helped to relieve the boredom of lockdown. And Alf was brilliant; if I didn't understand something, he was on the phone straight away to explain; nothing was too much trouble.
As we had to wait for the swimming pools to re-open after the first lockdown, our pool sessions didn't start until September. However, I joined another Ocean Diver trainee, Sarah Mulliner, at Rob's house, where we were sorted out with kit and had the chance to chat about what would happen next, which started to make me feel part of the club.
Eventually, we got into the pool, where we met some more Lunesdale members, who were all extremely welcoming. We worked around the challenges of Covid – for example, we couldn't test each other's octopus during the buddy checks, so we tested our own. Rob's wife Marie was also on hand with disinfectant at our pool sessions to ensure everything was Covid-safe, which was really reassuring.
It was also so nice to get out and socialise again – socially distanced of course – and hearing other club members tell stories of past dives and dive holidays, just made me even keener to qualify.
Our open water sessions came in October, and I was super excited; I knew Capernwray well as I go open water swimming there and I was keen to see what else was under the water that I hadn't seen from the surface.
Despite the rule of six restricting the number of people who could gather together, I was still made to feel part of the club. I was paired with Nigel Watson, and although I was nervous, I needn't have worried. His instructions were crystal clear, and I came out feeling great.
However, on one of my training dives, I had a small blip as my drysuit leaked, I was cold, I felt restricted by all my kit and I struggled to get my mask on. It was also costing me every time I went to Capernwray, with entrance, suit hire and fills, I hadn't worked for most of the year, so money was weighing on my mind. Rob took me to one side to make sure I was okay, and he really looked after me. Until this point, I hadn't quite realised how much Covid was affecting my life, and I couldn't have asked for a better group of people; without them, I probably would have given in.
Both Sarah and I completed our open water sessions to become Ocean Divers just before the second lockdown in November, so we have yet to try out our new skills as qualified divers. But with Christmas bringing me quite a collection of my own diving equipment, I can't wait to get back diving with the club as soon as we are allowed to try out my new kit and keep progressing.
If there is anything last year has taught me, it's that life is too short, and you never know what is around the corner. We lost our Diving Officer, Rob, suddenly just before Christmas at only 47. Rob truly was an inspiration and helped me so much during my training, and I hope I can make him proud with my diving journey.
I'd also like to say a huge thank you to everyone at Lunesdale SAC who played a part in helping Sarah and I qualify as Ocean Divers during Covid. It meant that 2020 wasn't all bad and I can't wait for what my diving future holds.
I'm ready to learn to dive, help me get started
Due to current restrictions, the best way to start your scuba journey is via eLearning. You can jump in and join up with your local club later or you can find your nearest club online and get in touch.