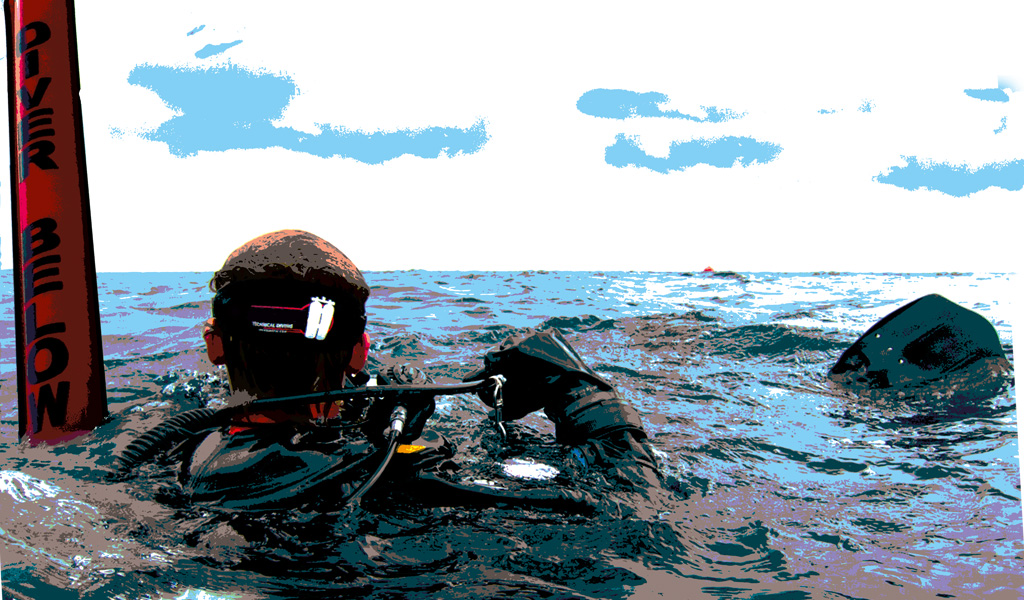 Survival at sea is close to the heart of RNLI volunteer lifeboat crew member and diver Gary Pittaway.
Gary's keen to spread the word about this relatively new addition to BSAC training.
Learning curve: RNLI Diver Sea Survival workshop
As a member of an RNLI lifeboat crew and a Community Safety Adviser for the organisation's Respect The Water campaign, I was interested in the Diver Sea Survival workshop from the start.

The aim of the workshop is to refresh safety and rescue skills already learned in diver training and to reduce serious incidents and fatalities at sea. It was created by the RNLI and promoted through the multi-agency British Diving Safety Group. The British Sub-Aqua Club is a member of the group and has adapted the workshop to fit in with the existing Diver Training Programme, so that many of the skills covered will be recognised by BSAC divers of all grades.

The North West regional training team ran a one-day workshop event in late October 2017. Naturally a coastal location would have been best, however, the unreliable weather meant using an inland site in the end. Meeting at Capernwray Dive Centre, a freshwater quarry in Lancashire, would guarantee the diving, plus there was a decent classroom and other excellent facilities.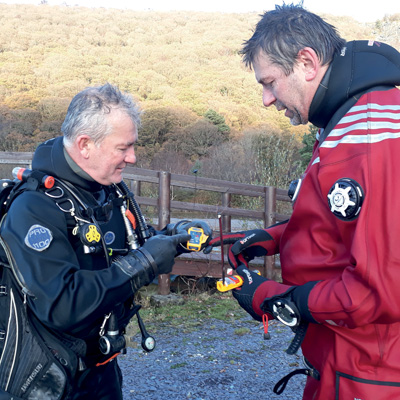 This event is a workshop, rather than a formal instructor-led course where students passively listen to presentations, so student participation and sharing of previous experiences goes a long way towards making a successful event. The delivery can be adapted as long as the instructor doesn't steer away from the syllabus, so it is ideal for delivery in a branch by Open Water Instructors assisted by Assistant Diving Instructors. All the learning materials can be downloaded from the Support for Instructor section on the BSAC website, keeping costs to a minimum. Students can apply separately for a qualification card costing £15.
What's involved
A full summary of the workshop and an introductory video is available on the BSAC website, but essentially the day consists of six theory lessons, each preceded by a short video, then there's a dive planning session followed by two dives. Specific topics covered include:
Dive planning and management, including considering the role of the dive manager with an introduction to minimising risks; dive site identification through basic chart work; getting information from charts; the use of chart 5011; weather forecasts; and a dive planning exercise.
Preparing dive kit, including identifying failure points, maintenance including ideal length of hoses; safety equipment such as DSMB's, flags, torches, strobes, signalling mirrors.
Introduction to boat safety equipment, including the use of kill cords; radios; flares; oxygen first aid; first aid kits; throwing lines; fire extinguishers; and additional floatation devices.
Out of gas emergencies and in-water rescue.
Being seen at the surface, including the use of location equipment such as delayed surface marker buoys (orange, yellow or black); flags; signalling mirrors; whistles; air horns; and personal locator beacons.
Techniques for survival on the surface.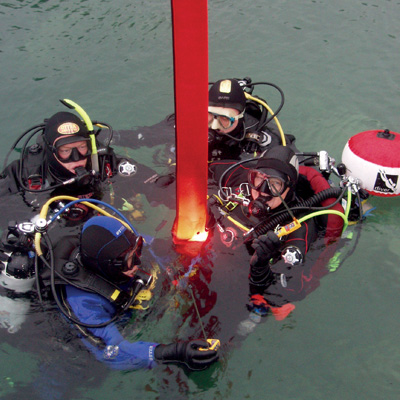 After the theory presentations there are two dives to do, planned in the dive planning exercise. The first includes refreshing the techniques for alternative supply ascents and the deployment of a delayed surface marker buoy, including awareness of overhead hazards. The second is a scenic dive using an SMB. Both dives end by practising surface skills that would be adopted in a real life 'adrift at sea' situation.

The North West region's workshop was well received by those attending, several of whom were instructors who wanted to deliver it within their branch. Their participation made a positive contribution to the day and certainly helped the workshop flow, as their existing theory knowledge and teaching of in-water skills came through. Before the first dive, one diver experienced some kit failure, but we had spares close to hand, so a swift resolution of the problem was possible. This also highlighted kit maintenance and the need to carry spares, which is covered in the theory sessions.

The students were keen to practice the skills discussed in the theory lessons, such as deploying a collapsible flag, weighting a DSMB to keep it upright, huddling together, and deploying a personal location device. This might all sound straightforward, but without practice, these apparently simple actions are not so easy, especially with thick gloves on.
Running a workshop
We delivered the theory along with the dive-planning exercise in less than three hours, but despite having a structured syllabus, it is very easy to be side tracked and digress onto other subjects. In your branch, it is possible to deliver the theory during weekly training nights, however, with a cross-section of diver grades within a branch, I would personally recommend delivering the workshop over a whole day. This allows the instructors to expand on each subject as appropriate to the audience and take the opportunity to supplement the lessons using different training aids as necessary.

If instructors attend the workshop themselves, it helps refresh subjects that may have become a bit rusty over time and provides them with the reassurance that they are delivering up to date material to their branch.

There is a lesson on boat safety equipment so if your branch does have a boat, it would be a good idea to use it as a learning tool, even if the weather prevents its use as a diving platform at sea. It would also be an ideal opportunity to get your less experienced divers involved with the boat.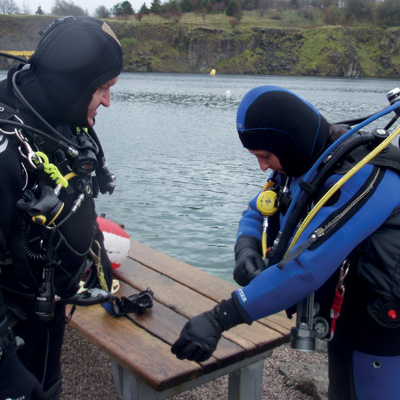 The instructor manual advises on items of kit to use so we had plenty of DSMBs, flags, strobes, glow sticks and signalling mirrors. I had several electronic location devices, which were used throughout the day. If you are able to source such devices, ensure you know how they work. Essentially, all emit a signal to locate the user but work in different ways. Some use radio frequencies 121.5Mhz or 406Mhz monitored by search and rescue services, others use the Automated Identification System (AIS) or Digital Selective Calling frequencies (DSC) monitored by the coastguard and other vessels that have appropriate receivers. You may be able to borrow examples from your friendly dive shop or maybe some of your members already have them. If you cannot source these, then you must rely on a video demonstration.

Dive planning and subsequent management of diving activity is the essence of safe diving practice, but we should be mindful that things can go wrong and prevention is the best approach. While becoming separated from your dive boat is a rare occurrence, this workshop gives divers a real insight into how to deal with the situation so that one can be prepared both with equipment but also psychologically.


Thanks to Ocean Signal for loaning us Personal Locator Beacons that operate on radio frequency 416MhZ, and a personal AIS (automatic identification system) device that sends out a signal for the Coastguard and other vessels equipped with receivers to pick up. These devices went down very well with the students on the workshop, and I subsequently bought one for myself. www.oceansignal.com

View the RNLI Diver Sea Survival workshop and how to book.