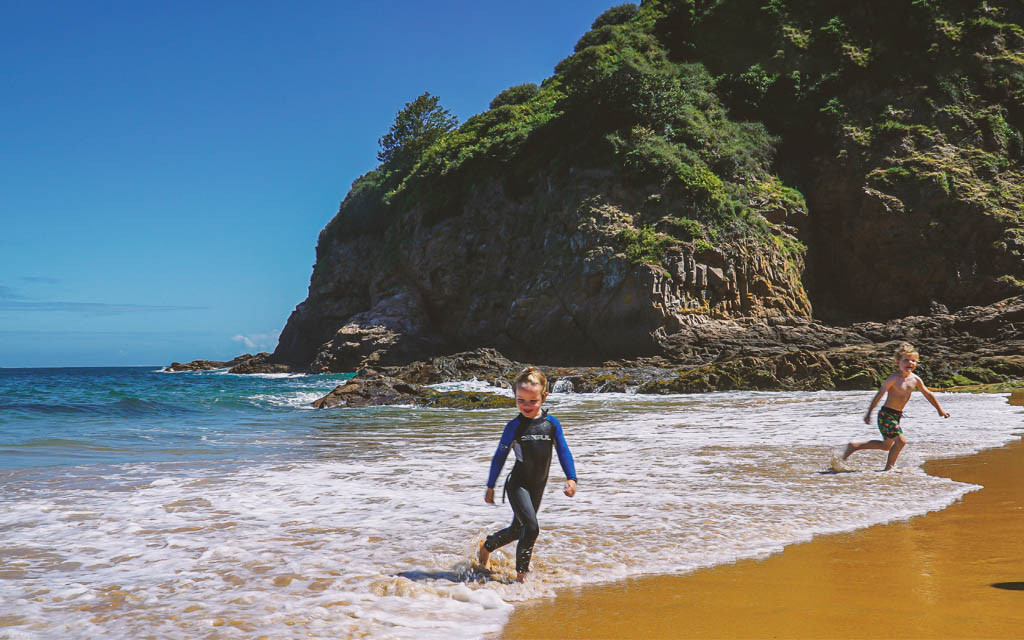 Andy Torbet and family strike out across the Channel for a beach holiday packed with snorkelling opportunities.
I'd never dived the Channel Islands. In fact, the only one I'd visited in the past was Alderney to film an episode for the BBC's Coast series. The episode was about storm petrels, and although I managed a trip to sea in a fishing boat, I didn't get the opportunity to jump off it in dive kit. However, on the recommendation of a fellow snorkeller who lives on Jersey, I headed to that island in my motorhome packed with snorkel kit… oh and my family.
Being a small island, there's usually always a sheltered spot to get in the sea somewhere around Jersey. As with any island, you can always head to the lee side to find calmer waters, easier entries, and hopefully, better visibility. It's one of the reasons Malta makes such a great shore diving destination. And just like Malta, Jersey has great dive spots all around its shores.
The beaches – there are dozens of them – are usually beautiful, clean sandy expanses flanked by rocky outcrops with small, citadels of rocks and reefs further out to sea. I'd either pick one side of the beach to swim around or push further out to get away from the sand.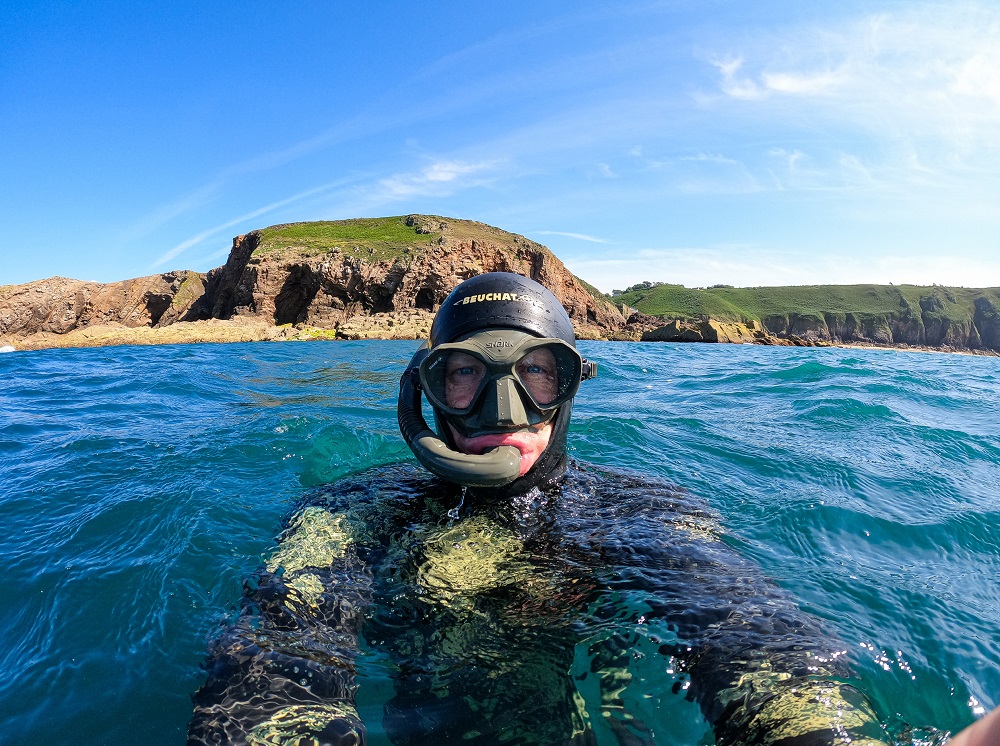 Snorkelling around the cliffs and beaches of Jersey
In general, there's usually more interest, marine life and visibility around the rocky areas compared to the swathes of sand.
This can be true of any small island in the UK, including those I've dived in Shetland, Orkney and the Hebrides. What made Jersey a little different was a balmy water temperature of 18°C. I had packed a five-millimetre wetsuit, and even that proved too much! I spent up to two hours at a time in the water, and was even grateful for the occasional trickle-and-flush of water ingress through a badly patched hole in the shoulder.
To be honest, the visibility wasn't the greatest. We had arrived during some northerly winds and just after some strong southerlies, so all sides of the island had been stirred up. However, duck-diving among the shadows of the huge fields of kelp allowed me to ferret out large wrasse, crabs and even lobster. The many sea caves and chasms were particularly good fun above and below the waterline. Islands like Jersey can be hot spots for marine life, an oasis of shallower waters amongst the deep pelagic environment.
But what impressed me, compared to the more remote islands I've snorkelled and dived in the past, is Jersey's approach to making its many beaches safe and civilised. There were lifeguards on duty at most of the beaches, and every one had well maintained public toilets, plus outdoors showers to shower off and clean kit. Crucially, they also had decent seaside cafés.
This all helps make Jersey a civilised location to encourage friends and family to have a go at snorkelling. And that's exactly what I did, coaxing Bex and my six and four-year-old sons into the water. Some friends were also camping with us and joined me for some shore-snorkels and longer excursions out to that pinnacle, further out to sea.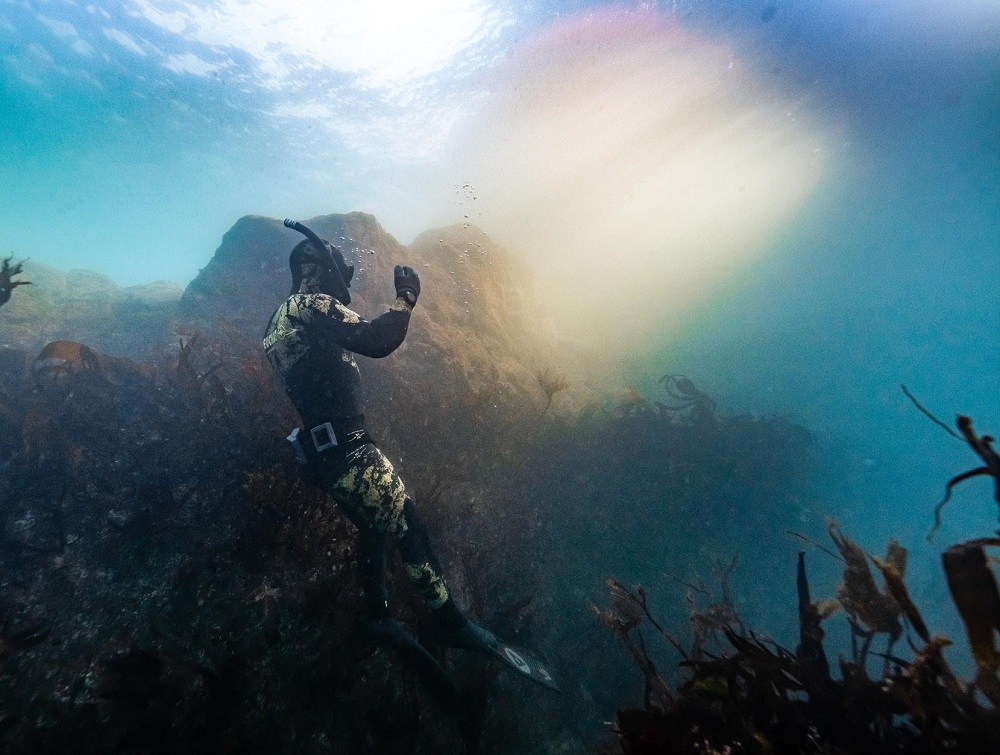 Andy's underwater sunbathing
We have a plethora of small islands off the British mainland, from Jersey to Jura [around 6,000 - Island Editor]. With their different locations, latitudes and environments, they offer a huge diversity of experiences to the travelling snorkeller, from full-blooded expeditions to bucket-and-spade holidays for young families such as mine.
There's something magical about islands, the feeling of somehow being out there, far from the madding crowd in your own private paradise. My advice for anyone contemplating a late holiday this year is to find your special island, take advantage of late-season availability and make the most of our amazing country.
Find out more about snorkel training.

BSAC promote and develop the 'best practice' in snorkelling safety for snorkellers in the UK.
If any of you have any suggestions, I'd love to hear them. Drop a note to me through the editor's email at SCUBA or on my social media below:
Facebook: OfficialAndyTorbet
Instagram: @andy_torbet
Twitter: @andytorbet
Article by Andy Torbet for SCUBA magazine, Issue [#] [month] [year]. For more membership benefits, visit bsac.com/benefits.
Images in this online version may have been substituted from the original images in SCUBA magazine due to usage rights.

Find out more about learning to snorkel or discover snorkelling in the UK.