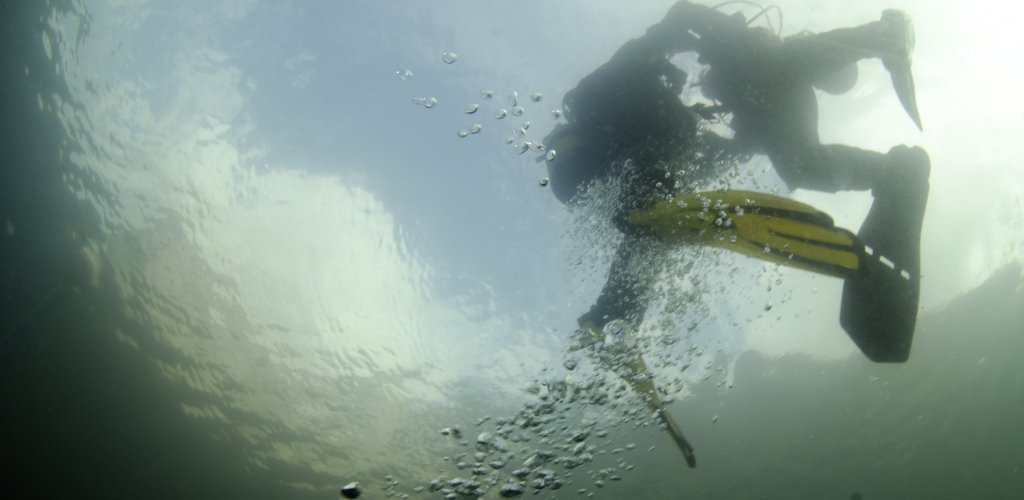 It's fortunate that your buddy was both well-trained and calm, and lucky for you for being married to her! Anyway, you both typify good examples of well practiced skills helping manage a stressful situation.
Incident analysis by Sarah Conner on the article Taking control: Wrong turn! Sarah Conner is an Advanced Instructor and former BSAC regional coach. In addition to being an accredited HSE commercial and cave diver, she is qualified to use hypoxic trimix on open and closed circuit.
Just as you did, a buddy check should only be done fully kitted-up just before you go in the water. If kit is left unattended at any point the buddy check should be repeated, as you can't be sure your kit hasn't been altered or changed in some unanticipated way.
On these liveaboards it's not uncommon for cylinders to be changed around (when someone's O-ring goes, for instance). Before actually putting on your dive kit the 'A' of your buddy check should be started. Though 'A' is for air these days 'gas' would be more appropriate.
Even if you are using air, do make a point of analysing your gas if you are using a facility that fills cylinders with nitrox or mixed gases. So always check that oxygen content yourself before you finish setting up your kit.
Once you know what gas you are breathing, attach your first stage and turn your pillar valve on. If you do this at the start of your buddy check, then you will know if your cylinder is on or off. If you have no reason to check the mix of your breathing gas, then your 'A' would be to turn your cylinder on. If in doubt turn it fully the way you think is off and then purge the system empty: if this takes more than a few seconds without any drop in pressure, then you know if your tank is fully turned on. Turning the pillar valve is part of the buddy check.
Dive centres, especially liveaboard dive boats, will always try to be helpful, but if you establish a routine of doing your full buddy check right before you jump in, you would notice if someone adjusted the pillar valve while you were waiting to jump in. You can then politely request they do not touch it.
Help us to keep diving safe – you should report any diving incident in confidence to the BSAC Incident Report (All incidents used in the report are anonymous)
Article source - SCUBA magazine issue 64