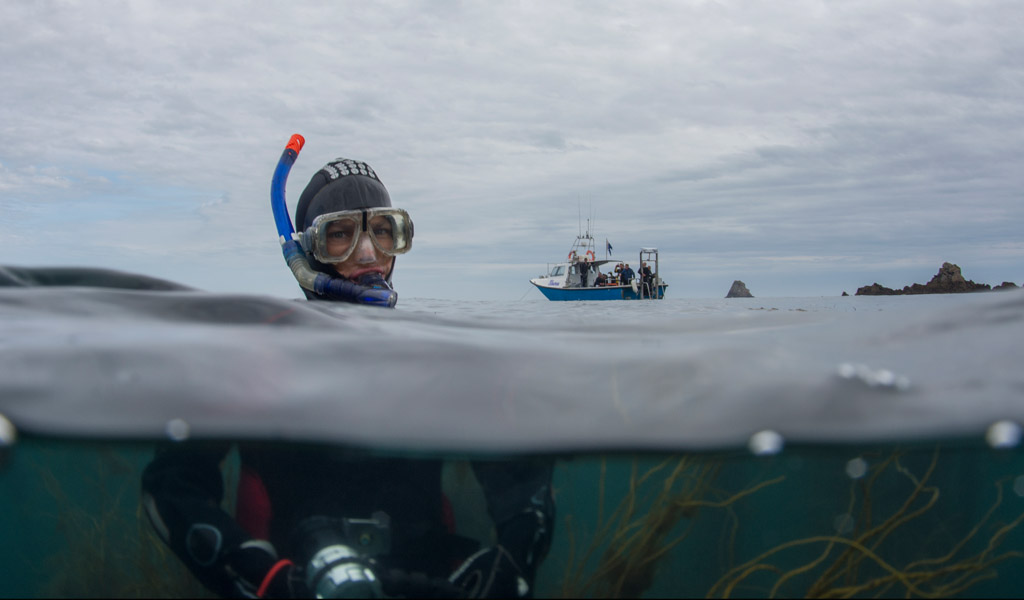 Some sunshine but the water is still cold!
You don't need me to remind you about the mixed wet/cold/snowy weather recently experienced. Usually, at this time of year, we can expect land temperatures to slowly start to rise and generally the water temperature will eventually follow the upward trend.

Currently, the water temperature in an inland diving lake near me is at 5℃ the coldest it has been in early April for several years. The sea temperature on the South Coast appears to be about 8℃ about 1℃ lower than normal at this time of year.

I suspect we are going to have to wait until possibly late May before any noticeable increases in water temperatures by which time there could have been a significant rise in the land temperatures possibly up to 18℃.

It is this significant gap between the water and land temperatures which should make us think about how, when and where to plan our early season snorkelling trips and the need to be cautious about the water temperature.

Perhaps a short but invigorating snorkel dive could be an option with time to warm up on the side before thinking about a second dip. Whatever we do thorough planning is vital to stay safe and to look after our 'creature comforts'.
- Marg Baldwin, Snorkel Instructor Trainer
What to wear when snorkel diving in cold water
Snorkellers themselves need to be fit and robust and I would suggest that this is an 'adults only' activity. A good well-fitting thick wetsuit or semi-dry suit, as well as suitable hoods and gloves, are essential. Snorkelling in a dry suit can be done but may compromise finning action.
Where to go snorkelling
Choosing the dive location needs care, if coastal, tides must be favourable. Inland or coastal the weather is important, good calm conditions with some sunshine is preferable, and easy access in and out of the water is essential – the last thing any of us want to do is struggle when cold.
Sheltered or inside changing facilities are highly desirable and well-equipped shore support essential. Getting into wetsuits should be left until just before for the snorkellers are to go into the water, if the sun is out they could get very warm before they enter the very chilly water – this could give them quite a 'shock'. Changing back into warm dry clothing is a priority after the dive as well as being supplied with a warm drink. Maybe our young snorkellers, with suitable adult supervision can be part of the shore party.
A known location – snorkel where you are familiar with the facilities. If possible a coastal location so the water is not too cold. As mentioned beware inland freshwater lakes, their water temperature will be lower than the sea and they can take a long time to increase in their water temperatures.
Pre-snorkel dive planning
Remind participants about hypothermia - a review the relevant section in the Snorkel Diver Course manual is a good starting point. This could lead on to discussions about the qualities and thicknesses of wetsuits/semi-dry suits.
Checking the condition and fit of suits as well as hoods and gloves is a must as part of the pre-dive planning and preparation. Only well fitting, good condition suitably thick suit, perhaps a 5mm main suit with a 'shortie' over the top giving 10mm of neoprene around the main body should be used together with thick well-fitting hood and gloves
The snorkel dive plan
Plan a short dive and a route where you can keep steadily moving and all snorkel divers should be briefed to indicate if they start to feel cold and need to terminate the dive.
Shore cover for snorkelling
A competent Snorkel Dive Manager is a must. Someone who knows the site, your dive plan and who knows what to do should something go awry. Establish a Dive Managers 'station' so the Dive Manager can see the Snorkellers yet shelter is close by where the 'Dry Robes'/towels/blankets can be immediately available as well warm drinks. The shore cover should be ready to assist the snorkellers to change back into warm dry clothing.
Should you venture out on a cold water snorkelling trip do share your experiences - email us with your stories and pictures.
Find out more about snorkel training.

BSAC promote and develop the 'best practice' in snorkelling safety for snorkellers in the UK.