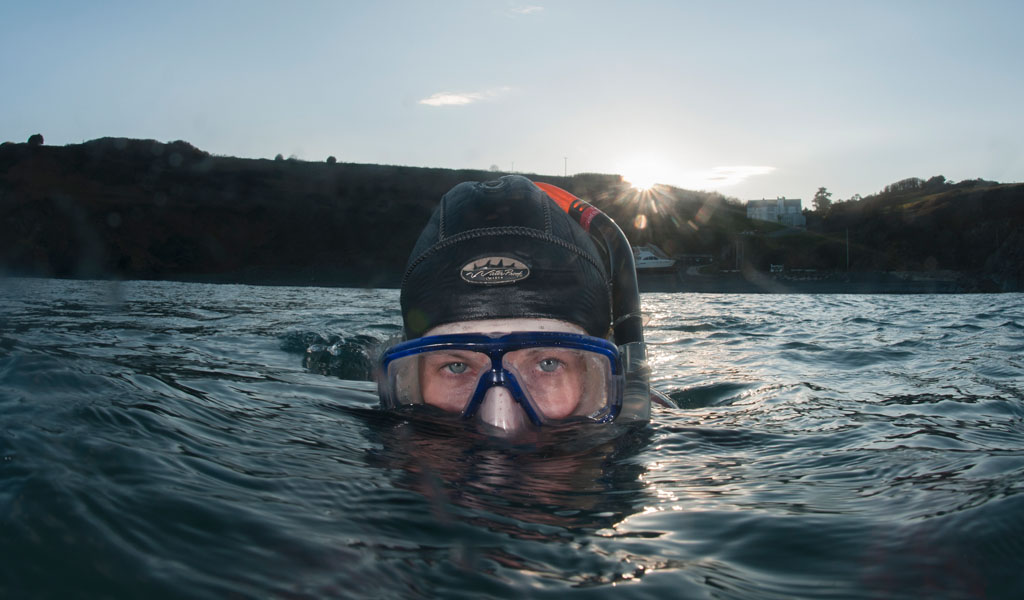 What a warm summer we have had, it might be getting a bit colder but keep on Snorkelling.
We have enjoyed a long dry warm summer, followed by a sunny autumn but now the temperatures have suddenly dropped, and gales are forecast. Time to put your snorkel away? – maybe not. The visibility underwater is generally improving but a major downside is the water is getting colder. Inland waters such as lakes, managed sites, and sea lochs will soon, if not already be at 10ºC and destined to go even colder. Sheltered coastal locations can be slightly 'warmer' and have very calm days. So perhaps a short but invigorating snorkel dive could be an option.

Snorkelling at this time of year with low air temperatures and cold water is a serious undertaking which is possible with a lot of thought and planning. Choosing the dive location needs care, if coastal, tides must be favourable. Inland or coastal the weather is important, good calm conditions with some sunshine is preferable, easy access in and out of the water is essential – the last thing any of us want to do is struggle when cold. The snorkellers themselves need to be fit and robust and whilst I might suggest that this is an 'adults only' activity, with suitable planning and appropriate care and attention all could enjoy the activity.
- Marg Baldwin, Snorkel Instructor Trainer
How to snorkel safely when the water turns cold
Choose suitable snorkelling equipment
A good well-fitting thick wetsuit or semi-dry suit, as well as suitable hoods and gloves, are essential. For some, a dry suit is an option to consider but can make finning difficult. Getting into wetsuits should be left until just before for the snorkellers are to go into the water and the changing back into warm dry clothing is a priority after the dive as well as being supplied with a warm drink. Sheltered or inside changing facilities will be required and well-equipped shore support.
Do your research/homework before getting in the water
Heading to a familiar site should be top of the list. Staying inland and into fresh water, again somewhere you have been before is preferable. For inland waters check you know;
the features of the river/ lake/ pond you plan to visit such as bottom type, deep areas, eddies, weirs etc.
Do you need permission to go into the water you plan to visit?
Are there other water users you need to consider fishermen, kayakers and canoeists.
Finding out the local history as well as the local flora, fauna and aquatic life will let you know what to look for and add to the enjoyment, as well as the possibility of identifying potential risks – such as the tendency in some areas to throw shopping trollies into the water.


Carry out a Risk Assessment before snorkelling
One of the golden rules of snorkelling is to ensure you always have safe access to the water with a suitable and safe place to exit the water.
For cold water

snorkelling make sure the water access (getting in and out) is really easy.

Remind participants about hypothermia, and reviewing the relevant section in the Snorkel Diver Course manual is a starting point.

Make sure no one is subject to 'peer pressure' to go into water that is too cold for them.

Ensure everyone understands and complies with short dive times.

Make sure your support team is fully briefed
The valuable people who know exactly where you are going and when, as well as the details of anything you are likely to encounter. They are your dive managers. Make sure they are fully briefed, and you follow the dive plan. Safe enjoyable fun is the aim which concludes by meeting up with your support group who have your warm dry clothes and loads of hot chocolate!


Join a BSAC club to enjoy safe and exciting snorkelling around our beautiful UK coastline.