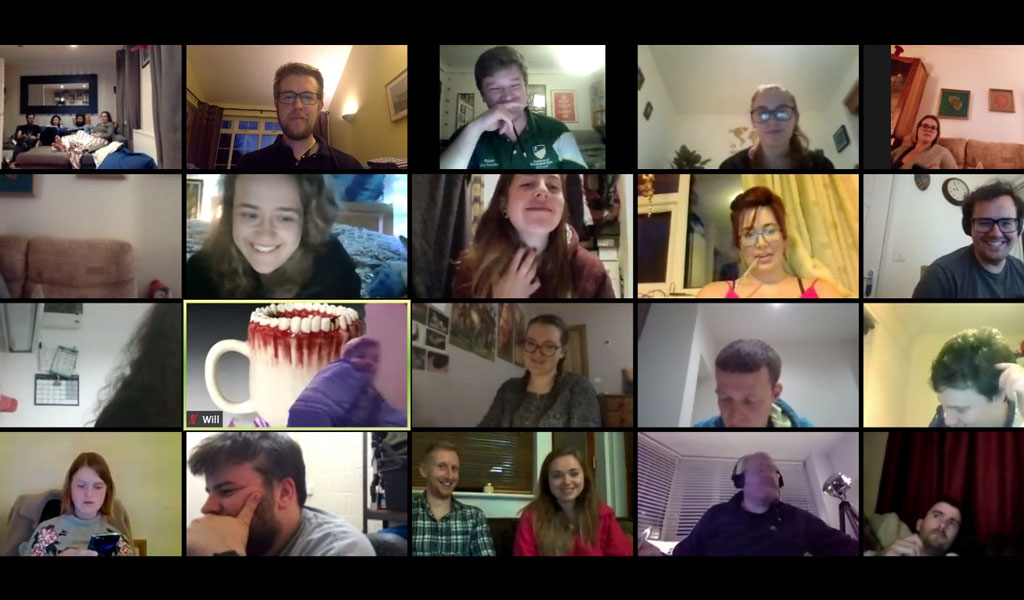 There are plenty of different ways to run a quiz online with your dive buddies or club members, but here are some suggestions of different software or rules you can utilise and some top tips from some of BSAC's own virtual quizmasters.
There are two key starting points for running a virtual pub quiz – the software and the format – and the options for both are near endless, so do some research and find the methods that work for you.
Where to run a virtual pub quiz
Much like online learning, you will need some form of video conferencing software. Ideally, you need something that ticks the following boxes:
You can socialise "face" to "face"
You can message each other without interrupting the quizmaster
You can screenshare / present screens


There are plenty of options for this, but here's a breakdown for you...
Full group
audio/visual

Messaging

Screenshare

Max.
users

Cost

Houseparty

8
Free
Visit

Microsoft
Teams

50
Free
Visit

Skype

50
Free
Visit

Twitch

Presenter only
Unlimited
Free
Visit

WebEx

100
Free
Visit

Zoom

100
Free for 40 mins or £11.99 / month
Visit
How to format and write a quiz
This is the part that is completely up to you – really there's no one way to run a quiz, but the classic format would be five rounds of ten questions. This might make quite a long quiz though, so if you're looking for a shorter time frame, make each round say five questions, or do fewer rounds. University of Nottingham Sub-Aqua Club's Davs Brander recommends 30 questions as the perfect length!

Usually, you'd expect a general knowledge round, a picture round and maybe a music round (though if you're less technically inclined, sound quality may make this difficult). We'd naturally encourage a scuba diving round, or if you're going for an all-out scuba and snorkelling quiz, make the rounds about whatever you like – the club, training, marine life, famous wrecks, UK dive sites and scuba general knowledge. The world is your oyster but it's best to keep it so all members can take part, not just the more experienced members in the club.
Some tips:
Don't make the questions too easy – you don't want too many people with full marks, but equally, you don't want everyone despondent about not knowing anything. Balance is key!
Consider coming up with a tie-break question in case there's a draw – generally, a good idea is a "nearest wins" type question, e.g. How many words are there in Harry Potter and the Chamber of Secrets book? The answer is 85,141!
If you're looking to do a weekly quiz, consider rotating the quizmaster – if you win, you present next week!


How to run the quiz
Now, you've got the software and you've got the quiz – time to get this show on the road!
1. Socialise
Get people to join the quiz 20 mins or so early so you can all catch up and chat before the quiz proper. If you're doing a picture round, maybe you could send that to your teams now.
2. Encourage teams
Some people are in lockdown with their families or housemates, but some are alone. Encourage people to team up and communicate via WhatsApp group or Facebook Messenger – not only is this great for keeping those who are isolating alone socialising and feeling included, but it's also easier generally when there are fewer teams and solo quizzers.
3. Patience is a virtue
Go through the quiz slowly, ensuring that everyone can hear the questions. Pause at the end of each round to check people haven't missed anything and go back over any questions. If you're doing a longer quiz, remember to take breaks to turn mics back on and socialise (and also go to the toilet!).
4. Put your trust in the teams
The easiest way to mark the quiz is self-marking, as having the quizmaster mark is a hassle. This works on an honour system, but you can always get the teams to send you pictures of their answers first so you can double-check the winners didn't cheat. You can always make it fun and add bonus points for funny answers – get the team to let you know so you can all have a good laugh!
5. We are the champions!
Announce the winner of the quiz (or do a tie-break if necessary) – keep a leader board if you're planning to do weekly quizzes and maybe come up with a prize for the overall winner (free drinks at the clubhouse for the next club night!)
Resources
There are plenty of websites online that give you ready-made pub quiz questions, though it's always fun to make up and find your own too. You may need to put more research into this than you originally thought! We have a few resources here that may give you a helping hand along the way…

Ultimately, Google and Wikipedia will be your best tools in this particular challenge.
Have you run a virtual pub quiz and have some advice?
Drop us an email and let us know your top tips for running an online pub quiz!