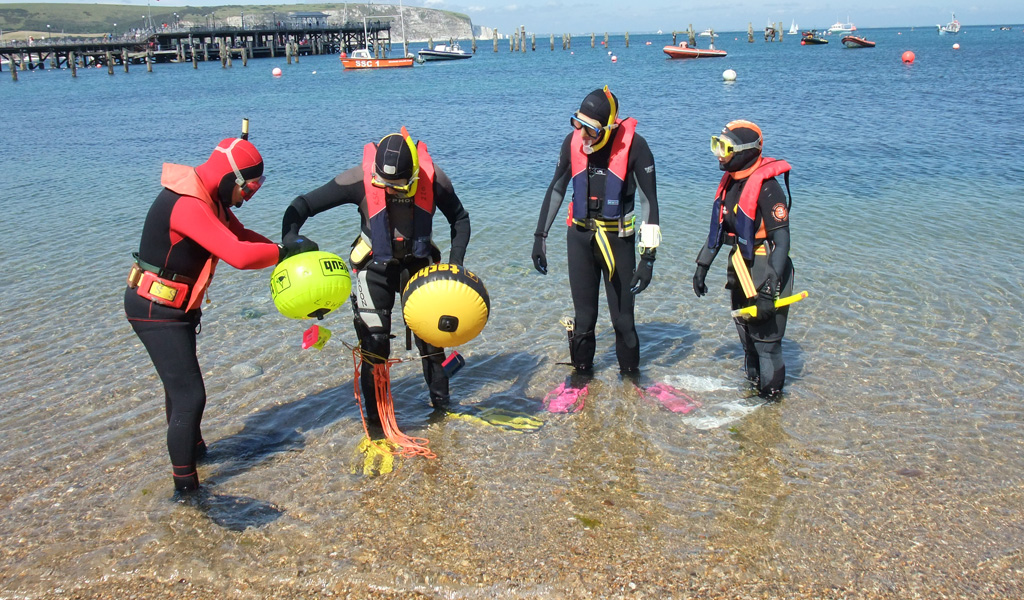 Instructing and leading snorkel dives
Hopefully the weather and sea conditions are going to be kind to us this summer, so we can all enjoy some good snorkelling. Many of us will be taking new snorkellers on their first open water snorkelling trip giving us the opportunity to help the less experienced to develop their skills. And for those who have been snorkelling for perhaps a season or more the chance to move on to gain other skills such as leading a snorkel dive.

Leading a dive for the first time can be quite daunting and as with every snorkelling skill a progressive approach should always be the first consideration.

A classroom / dry session on dive leading perhaps during the planning stage of a trip is a good place to start the introduction of dive leading responsibilities. For the first time / new dive leaders encourage them to start off on a snorkelling site they know well and with someone who is an established Snorkeller.

Snorkel Instructors / very experienced Snorkellers need to make sure a new dive leader is comfortable with their responsibilities. Your guidance and supervision from the dive briefing, through the dive, perhaps with in water supervision, and after the dive debrief can really help with the development of a new dive leader as well as boosting their confidence.
- Marg Baldwin, Snorkel Instructor Trainer
Instructing and leading new snorkellers
Remember to be a role model, your inexperienced buddy will be watching and learning from you throughout the dive. To an inexperienced buddy you may appear intimidating – be approachable and willing to completely engage with your inexperienced buddy.
Carrying out a SEEDS brief is very important in making the less experienced snorkeller feel involved as a buddy and therefore an important part of the dive. Experienced snorkellers can forget that things which are automatic reactions to them e.g. ear clearing and the easiest method of putting fins on are actions which could be still being learned by new snorkellers. They will have been taught something, but with everything else they are trying to remember, have simply forgotten.

Remember what it was like when you were at that level of experience, tactfully guide, reassure and don't rush them. You will also need to remember that your buddy could be over-eager and raring to go, or an apprehensive/nervous new snorkeller. In any situation your role is to calm, guide and above all make the snorkelling a safe and enjoyable experience.
Instructing and leading experienced snorkellers
Every dive, even with two experienced snorkellers, needs to have someone clearly appointed as the snorkel dive leader. When snorkelling with an experienced snorkeller it is still important to find out each others level of ability and experience, as well as any likes and dislikes.

Sharing a common interest, perhaps photography, and agreeing on the purpose of the dive is a key step towards a safe and enjoyable experience.

By the time you come to give the snorkel dive brief, you should know the level of your buddy and the snorkel dive plan, which will probably have been decided or briefed by the Snorkel Dive Manager.
Find out more about snorkel training.

Join a BSAC club to enjoy safe and exciting snorkelling this summer around our beautiful UK coastline.