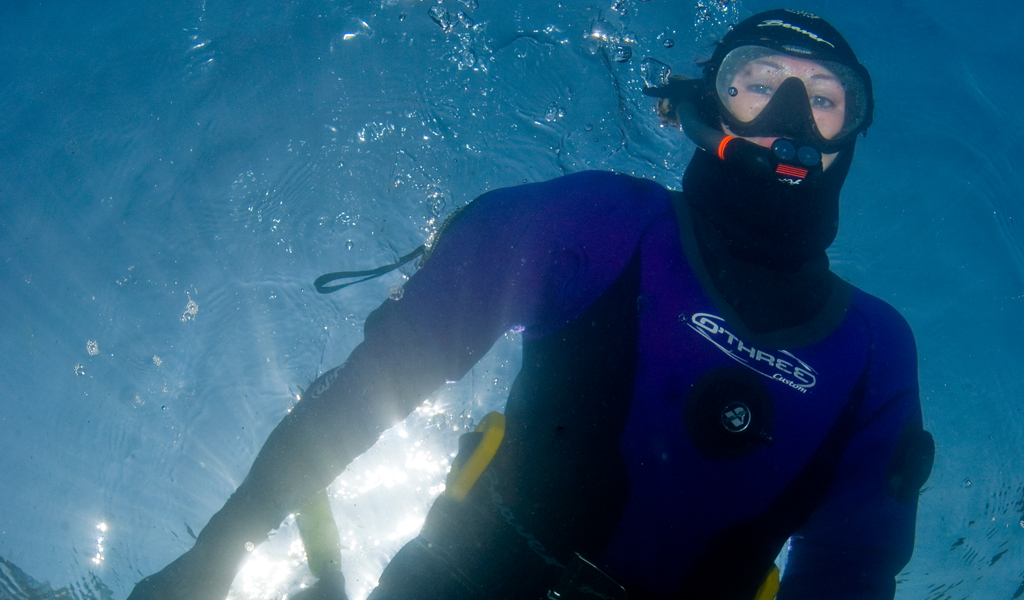 Andy Torbet maintains that anyone with mask fins and snorkel can be an underwater explorer – the question is where to start.
Torbet on the Tube: Expedition snorkelling – finding a site
I've spoken in many previous columns about the humble snorkel as a tool for exploration. How we have (depending on how you define and measure) about 25,000 miles of coastline, up to 10,000 miles of river and, coincidentally, the same number of lakes, lochs and llyns. And the vast majority of these are only a few metres deep and have never been explored by a human.

Ever wondered how you too can legitimately call yourself an underwater explorer? It is actually quite easy. Yes, you could mount large scale expeditions to remote parts of the world involving hypoxic mixed gas rebreathers and the like, but you can also head out an hour or two from home with a plastic tube. That's the truth, but one thing I have failed to address in the past is… where to start.

I often start by considering where and when I can fit in a quick snorkel session. Being less time consuming than normal diving, it's the sort of activity I can manage around a pretty hectic life. If I'm travelling for work, I'll look at the route or destination and see if there might be something promising on the way. Rather than scour an entire map it's worth hedging your bets towards something that might be worthwhile.

Of course, you could be positive about the merits of investigating a site that turns out to have zero viz – at least others will know not to bother thanks to your trailblazing efforts. But let's be honest – you'd much rather end up somewhere that turns out to be awesome. I've done quite enough of the former, thank you very much. So here's some food for thought on increasing your chances of a snorkelling success:
Expand from a known site
Look at areas near established dive sites, as they should share the same conditions. If you read in a book or website about a well known river pool, then check out the same river up or downstream. A coastline with plenty of recognised good shore dives will most likely be great all along that stretch. People tend to want easy access, especially with heavy dive kit. So sites will be based near parking. But with our lightweight snorkels we can hike to areas further from the road or surface swim further along the coast to find new locations. So identify some good, recorded dive site and work from there.
Research non-diving sources
Sometimes books, websites, forums and people who don't snorkel or dive can be mined for information about potentially good sites. The ever-expanding Wild Swimming community may not have ever noted underwater visibility, but they'll know details on some idyllic spots where the water might be deep enough to snorkel. Or speak to sailors or kayakers (both sea and freshwater), as they might point you to a spot of clear water they've gazed down into and seen all sorts of interesting rocks or areas where they always see seals or even dolphins close to shore. Fishermen and anglers can be helpful too.
Map recces
Sometimes I'll just take pot luck and look on a map of my route and try to spot a patch of blue. Although a little more investigation can save you disappointment. If it's a reservoir, the viz is likely to be poor and there are usually by-laws preventing you entering. Using satellite imagery can also be handy. I once almost took a detour into the Peak District to dive a perfect square of blue marked on a map that, when I checked on Google Earth, was in fact a perfect square of green, having been filled in sometime after the map was last updated. Look at local geology too. A slow river meandering through low farmland is likely to be as clear as the mud, whereas a river running through a gorge is likely to be a bit deeper and moving over bedrock so the viz should be good.
Weather
Check it. Not just for the day but leading up to the day. Your research may have thrown up a diamond but it'll appear as a lump of coal on your first, and last, scout if conditions are not in its favour. Rainfall in the catchment area of a river or the wrong winds on the shore will mess things up and give a negatively false impression of the site's worth.
Snorkel outside the box
Don't just think shore, lake and river. Without going into extreme or technical territory, we can still find unusual sites. Waterfall pools, high altitude lochans (mini-lochs), small harbours or even ponds are all sites that I've snorkelled, with great success and no serious dangers, and probably have been the first person to see that underwater world.
A final point on safety:
When considering your site, think about tides, current, entrance and egress points (bearing in mind you might be cold and tired at the end) and go with a snorkel buddy and someone else to act as as shore cover. If the land is private – don't busk it – ask for permission from the landowner and they may be able to tell you more about the site, it's backstory and also potential hazards. There can always be unknown hazards at unexplored sites that no amount of
preparation or research would've thrown up, so a buddy to help deal with the unexpected is a vital asset.


I'm ready to learn to snorkel, help me find my local BSAC club
Send your postcode to membership@bsac.com and we'll send you your three nearest scuba clubs. Or if you fancy a chat call us 0151 350 6226 (Mon - Fri, 9 - 5:30).
If any of you have any suggestions, I'd love to hear them. Drop a note to me through the editor's email at SCUBA or on my social media below:
Facebook: OfficialAndyTorbet
Instagram: @andy_torbet
Twitter: @andytorbet
Article by Andy Torbet for SCUBA magazine, issue 78 May 2018.

Images in this online version have been substituted from the original images in SCUBA magazine due to usage rights. Featured image by Jane Morgan.

Find out more about learning to snorkel or discover snorkelling in the UK.