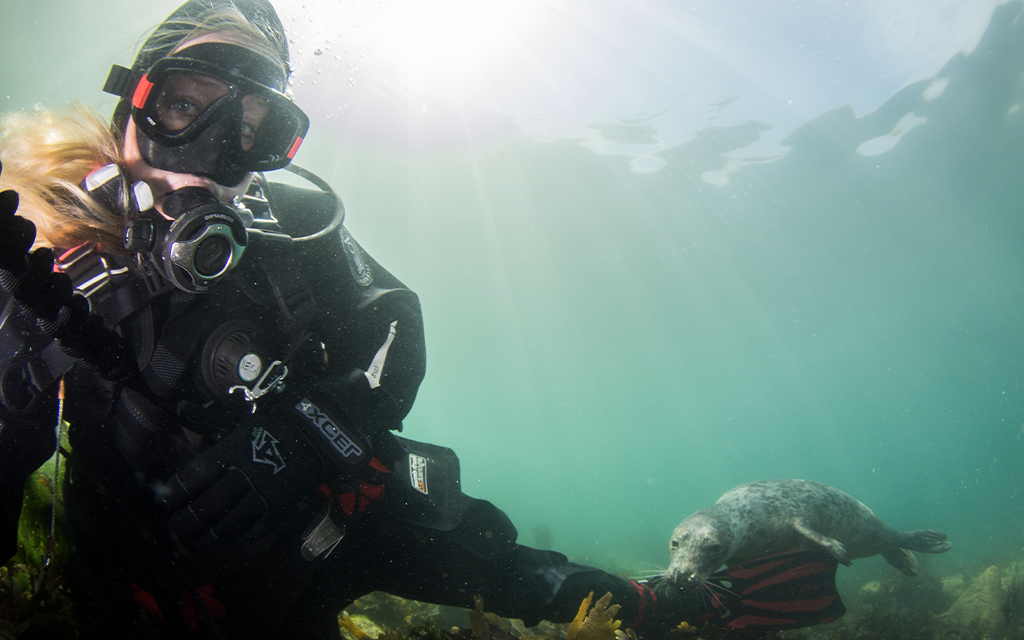 The world may feel like it's at a standstill, but that doesn't mean you need to put your scuba diving dreams on hold.
Planning a new adventure can provide you with a focus and something to look forward to, especially during this current lockdown. And being active and optimistic is good for both your physical and mental health.
While you may not yet be able to get into the water, you can still start your scuba journey with BSAC's Ocean Diver course.
Here's how you can become a scuba diver during Covid…
Firstly, why the BSAC way?
With hundreds of dive clubs around the UK and worldwide, learning to dive with BSAC is one of the easiest and most cost-effective ways to make your scuba adventures a reality.
Although we can't currently meet and socialise face-to-face, joining a BSAC club means you can still become part of this exciting scuba community. Our clubs are welcoming new members, and they can virtually support you to get started on your exciting scuba journey, so you are ready to take the plunge once the world opens up once more.
Becoming a BSAC trained diver starts with our Ocean Diver course, which will give you a scuba qualification that is recognised around the world. And, as all our BSAC instructors are fully trained, experienced and passionate about getting you safely into the water, with our Ocean Diver course you are in the best hands.
The adventure doesn't have to wait
As a qualified Ocean Diver, you will be able to dive anywhere in the world up to a depth of 20 metres and continue to progress through BSAC's series of diver grades. And if you want to start learning to dive now, you can get started online today with Ocean Diver training.
With our easy-to-use eLearning, you can complete the Ocean Diver theory in the comfort of your own home, supported remotely by instructors from your chosen BSAC club. Going at your own pace, this flexible way of learning means you have quality time to understand all the scuba diving theory you need to complete the first step of your training. And, once the swimming pools and open water training venues open back up, you are ready to put your fins on and start putting all that knowledge into practice!
Ready to go open water
Once you have completed your Ocean Diver theory, the next step is to start your practical training in a confined water environment, typically in your club swimming pool. Current lockdown restrictions mean pools are not yet open, but as winter moves into spring, we are optimistic that restrictions will be gradually eased. And the beauty of our Ocean Diver eLearning is that when they are, you will be ready!
After the eLearning theory training, you will spend several sessions learning and practising the core diving skills in a pool, before progressing to open water (the sea or a quarry) to complete your qualifying dives.

We think it will be totally possible to become a qualified Ocean Diver this year! Take the first step and sign up for eLearning today.
Be inspired and read BSAC member Becky Townend's personal experience of learning to dive during Covid.
The ocean beckons…
Completing your diver training with BSAC means that once lockdown eases, you will be able to indulge in the call of the ocean and get your first real taste of the sea and open water diving. And this will open up a whole world of adventure and scuba possibilities.
But in the meantime, there is nothing like the support of your club and promise of adventure, friendship and scuba fun to keep you motivated and looking forward to the start of your BSAC diving journey.
You can find and contact your nearest club using our online club-finder.
Ready to start your scuba adventure? Sign up for eLearning!
You can get started straight away with the theory knowledge element of BSAC's entry-level courses, Discovery Diver and Ocean Diver, and work at your own pace using the BSAC eLearning system.