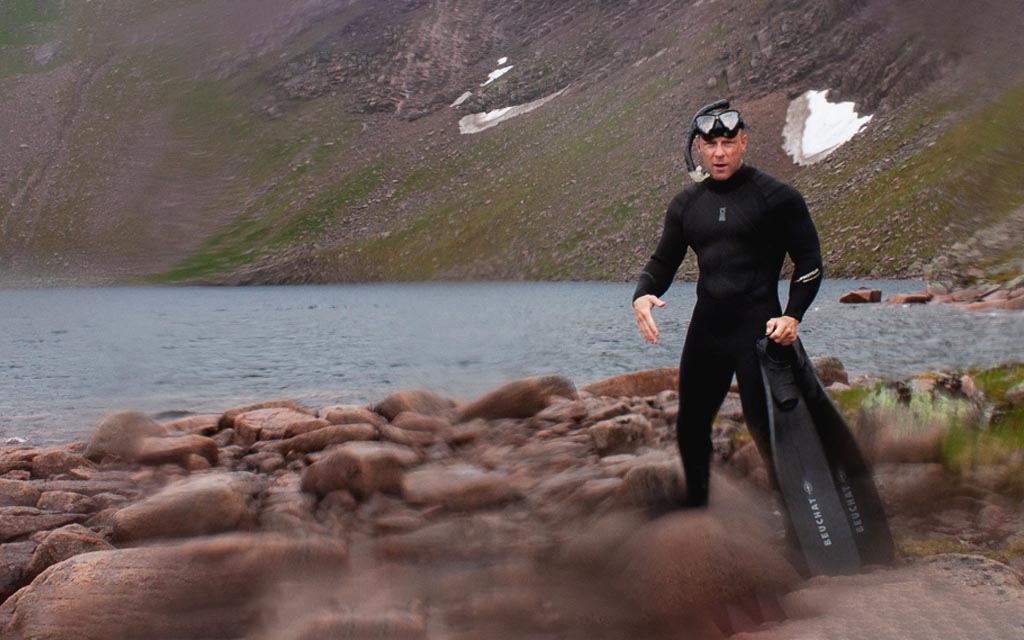 Andy Torbet suggests a few candidates for the greatest ever British snorkel sites. We think he may need your help...
The endless, depressing facts, figures and statistics we've been assailed with over the past year, coupled with people using the acronym 'GOAT' all over social media (it stands for Greatest of All Time) got me thinking about some record snorkel sites…
Hottest snorkel site in the UK
Aside from artificially heated pools etc, where is the hottest place to go for a dip? According to the Plymouth Marine Laboratory and Channel Coast Observatory, in 2018 Bracklesham Bay got up to 21.6 degrees Celsius, the hottest on record.

You could, of course, wade directly into the sea at Bracklesham. However, the pebble and sand beach isn't known for great snorkelling conditions. By way of compromise, I commend a visit to Selsey Lifeboat Station, the nearest snorkel and dive site, just three miles away.
Selsey is a working beach, so be aware of lines in the water, the potential launching of the lifeboat and currents outside of slack water. You must carry a surface marker buoy… and money for an ice cream to cool down afterwards.
Coldest snorkel site in the UK
A body of water 600 metres above sea level on the slopes of Wales' highest mountain is said to contain the coldest water in Britain. Llyn Glaslyn also claims to have multiple connections with the Arthurian myths and is home to its very own resident monster.
However, I'm not convinced about its claim to be the most frigid, especially as I've dived under ice in a number of Scottish lochs that reliably freeze over every year. However, having never dived this llyn, the promise of blue waters (Glaslyn translates as Blue Lake) and maybe even an encounter with an aquatic dragon means it's now on my list. But, regardless of whether it is 'The' or only 'One of the' coldest bodies of water in Britain I'll be taking a wetsuit and a flask.
Highest snorkel site in the UK
I've mentioned Loch Coire an Lochain in previous columns, having visited it a number of times. I first dived it with Monty Halls on our Three Lakes Challenge, as it is the highest lake in the UK at 998 metres above sea level.
It lies in the Eastern Cairngorms and is relatively small (Lochan means 'small loch') and shallow at only two or three metres at most. Perfect for a snorkel. I returned here in 2011 on my Britain by Snorkel project and I encountered the same clear, bright blue waters and clean, submerged granite boulders I'd seen before. It's a long walk, but a very special place to have in your logbook.
Fastest snorkel site in the UK
I should clarify the title of this one. Many rivers in the UK become super-fast maelstroms of boiling white during winter. However, this title goes to the fastest place to snorkel safely and for that, I'd suggest The Linn of Dee. This is another site that's cropped up in these pages in the last decade and is a gorge near Braemar, where the River Dee flows. The gorge forced the river to narrow and pick up speed. The water is deep enough to avoid hitting anything on your way down and it's a regular dive spot of the Aberdeenshire clubs.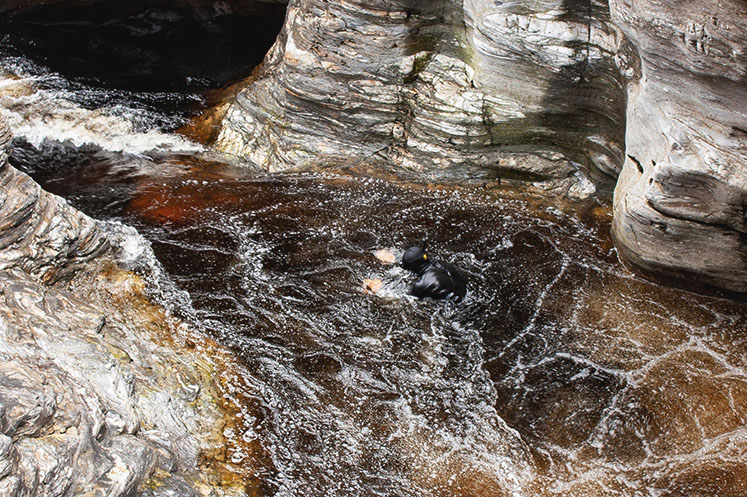 Churning waters of the Linn of Dee

My choices are eminently debatable. I'd be very happy to hear alternative suggestions – especially locations I may not have snorkelled. If I get enough good ones, I might write part two later this year where I visit some of the best ideas from SCUBA's readers. Drop me a line via the magazine or Instagram (@andy_torbet), or email the editor at simon@scubamagazineco.uk . Bad ideas are as welcome as good ones.
Find out more about snorkel training.


BSAC promote and develop the 'best practice' in snorkelling safety for snorkellers in the UK.
If any of you have any suggestions, I'd love to hear them. Drop a note to me through the editor's email at SCUBA or on my social media below:
Facebook: OfficialAndyTorbet
Instagram: @andy_torbet
Twitter: @andytorbet
Article by Andy Torbet for SCUBA magazine, Issue 117, August 2021. For more membership benefits, visit bsac.com/benefits.
Images in this online version may have been substituted from the original images in SCUBA magazine due to usage rights.

Find out more about learning to snorkel or discover snorkelling in the UK.