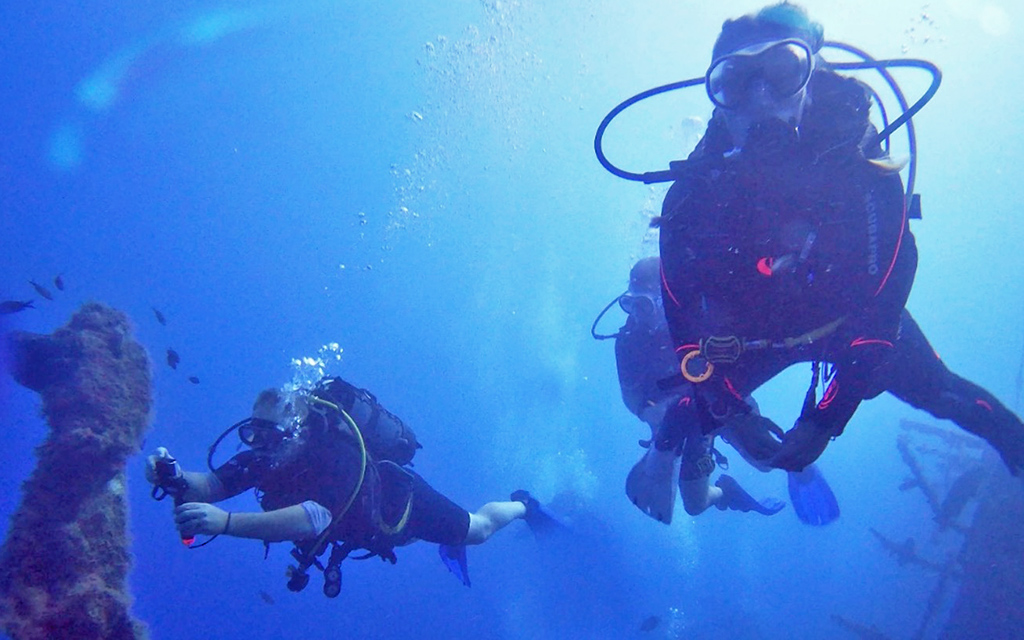 British Army members set out to progress from complete novices to Advanced Ocean Divers in a 10-day trip. Training Officer Andy Androsiuk shares how they all got on with the new Advanced Ocean Diver (AOD) course.
In early October, members of British Army BSAC club Drifting Divers based in Germany set out on the challenge of progressing from complete scuba novices to fully qualified Advanced Ocean Divers (AODs) during a 10-day expedition to Cyprus.
AOD qualifies the holder to dive up to 30m, which opens up more of our fabulous underwater environment to explore.
Blessed with the clear waters of the Mediterranean, the students were eager to begin their initial Ocean Diver (OD) training. After becoming comfortable with being underwater, there was no let-up and the students were quick to throw themselves into the four AOD theory modules, learning that the deeper they dive, the greater the risk and the hence the requirement for detailed planning and proficient drills.
Andy Androsiuk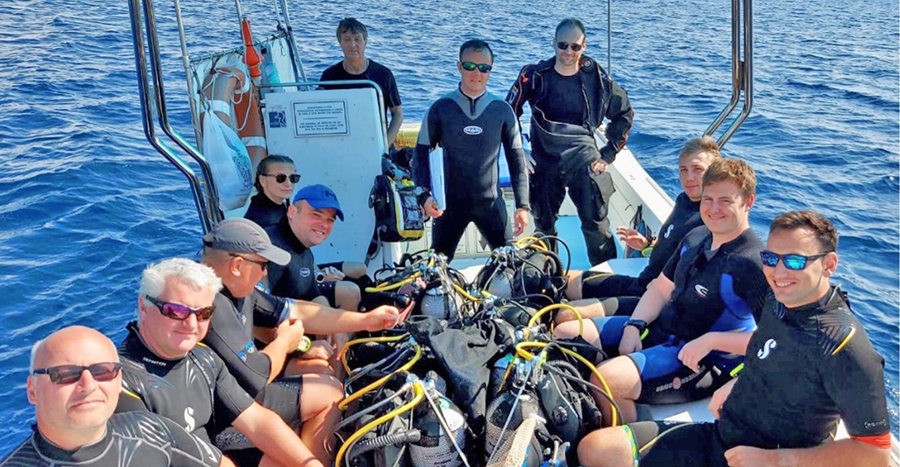 Smiles all round after students complete their first 30m dive
Students got hands-on with surface marker buoys (SMBs) and compass navigation, before progressing to delayed surface marker buoy (DSMB) lessons. After being on a continuous learning curve for six consecutive days, the soon-to-be AODs began their initial depth progression to 25m.
The following day the dive manager's dive brief reminded of the risk of nitrogen narcosis; suitably prepared, the team were both apprehensive and eager to depth progress further to 30m, which is the limit of the AOD qualification.
Benefits of Advanced Ocean Diver
With AOD all six AOD students successfully qualified, the 'Advanced' nature of their qualification quickly became apparent. The subsequent deep dives utilised gas planning skills taught as part of AOD and concluded with a night dive on the spectacular Zenobia wreck breathing Nitrox, which is yet another advanced element of the qualification.
Was the zero-to-hero approach from complete novice, to OD, to AOD worth it? Absolutely! Initially I had concerns that with AODs only able to dive beyond 20m with a Sports Diver (SD) or above, they wouldn't gain sufficient experience and confidence of diving in their own independent buddy pairs to 20m as ODs. On multiple occasions, I therefore planned the first dive with a max depth of 30m, in which the AODs could dive with SDs or above; followed by a second dive to 20m which allowed the AODs to gain that experience and confidence without an experienced diver watching over them. This proved effective, as diving with competent SDs on their deep dives allowed the AODs to absorb techniques which they seamlessly applied to their own diving to 20m.
Andy Androsiuk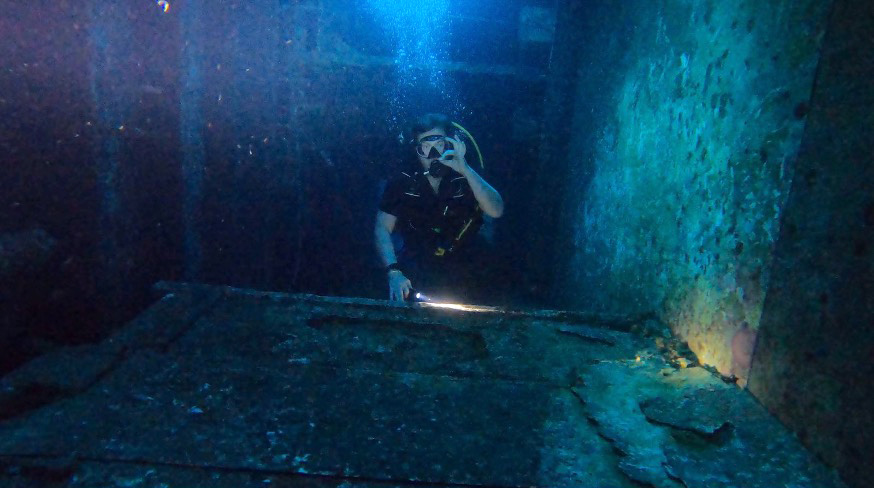 AOD Ethan penetrates the accommodation on the wreck of the MS Zenobia
An unintended benefit was that the SDs who were leading the AODs were also able to progress their own Dive Leader (DL) training by practicing their dive leading skills at depths greater than 25m, in a real time situation of leading less experienced divers. This ultimately led to both SDs achieving their Dive Leader (DL) during the trip.
Future AOD training
Would I deliver the AOD course again? 100 percent! Yes, the theory and practical training elements are more advanced but what you get is exactly what this qualification is designed to create, an 'Advanced' Ocean Diver; a diver who is notably more competent, with a greater skill set for deeper diving combined with a greater understanding. In addition, the AOD qualification reduces the leap to Sports Diver, which has encouraged all six of the newly qualified AODs to progress to the next level.
Here's what some of the trainees had to say:
Ben (AOD): "The AOD theory was challenging, but once I started diving deeper, everything I'd learnt in the classroom made total sense!"

Elliott (AOD): "Having now seen what the MS Zenobia had to offer beyond 20m, all the AOD training was 100% worth the extra effort."

Mike (AOD/former PADI OW): "I was a PADI OW diver who hadn't dived in over a decade. After completing the AOD course, I am more qualified than ever before and to a higher standard in terms of experience and knowledge."

Will (SD now DL): "Leading the AODs on their dives deeper than 20m helped me understand what dive leading is really about, which also helped me to achieve my DL qualification."

Nicole (DL/Assistant OWI): "The AOD course developed my own skills as an Assistant OWI, I found it formed a more experienced diver and will in turn better equipped people to progress to Sport Diver."

Dan (AD/OWI): "Delivering the AOD course as part of an expedition was highly beneficial. AODs learnt the skills and knowledge needed at depth, which relieved the pressure to dive shallower, less interesting sites."

Andy (AD/AI): "It was rewarding to see the transformation from complete novice to AOD. The additional training delivered as part of the AOD course ultimately produced a higher standard and more competent diver, but also developed those already qualified divers and instructors."
Become an Advanced Ocean Diver
BSAC Advanced Ocean Diver can be taught in a club, or by a training centre in the UK or overseas. Ask a Branch Officer to order the AOD training materials, ready to begin your journey to 30m.