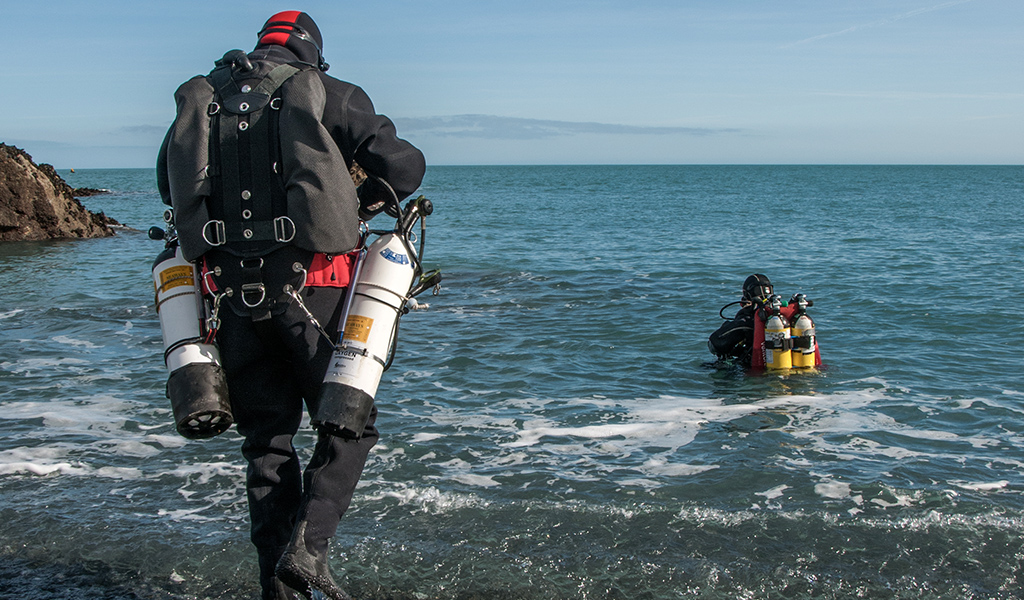 While some of us may be ending our extended surface intervals, there is still plenty going on online and now is the perfect time to indulge your love of tech and brush up on skills online… especially for tech diving wannabes and old-hands needing to refresh.
During lockdown, the BSAC Technical Group has been energetic in getting members involved and keeping up spirits online. From a daily challenge on their Facebook Page to skills videos, special interest webinars and training webinars, the tech diving community has had a lot to get its teeth into, and it's still coming.
If you're new to tech diving, there's something for you here too. It's a great time to get online and get involved. Here's how you can do that…
Technical skills videos
Available to all BSAC members on-demand, we have a series of short skills videos covering a variety of diving topics, including technical diving. The tech team and other volunteers have put together some fantastic videos to support both tech divers and those thinking about moving into the exciting world of tech diving. The videos include:

Upcoming Tech training and special interest webinars
The following technical diving training and special interest webinars are online and waiting for you to sign up.

Sun 21 Jun
19:30

The lowdown on gas density tables

Whilst it has been known for some time that oxygen becomes toxic and nitrogen produces narcosis at elevated partial pressures, the role of gas density and its relevance has not previously been included in diving education. This webinar will teach you what gas density tables are, who they are for and why they're important, as well as the background behind them.
Sign up

Tue 23 Jun
19:30

BSAC Technical planned changes and updates

This webinar provides an update on BSAC Technical developments and offers the opportunity for a Q&A. Subjects covered will include revisions to CCR courses, technical standards, technical instructor training, gas density tables and the new Advanced Wreck SDC. Courses under development will also be discussed including primary donate workshop, DPV and sidemount.
Sign up

Thu 25 Jun
19:30

CCR common core refresher

This webinar will provide a recap of the common core elements of the various unit-specific BSAC CCR courses. It is suitable for anyone with an existing CCR qualification who wishes to be brought back up to speed or ask questions.
Sign up

Thu 2 Jul
19:30

CCR unit-specific (AP Diving) refresher

This webinar will provide a recap of the unit-specific elements of the BSAC Air Diluent Course for AP Diving CCRs. It is suitable for anyone with an existing CCR qualification on an AP Diving Rebreather who wishes to be brought back up to speed or ask questions.
Sign up
We're hoping to build on the above sessions with more online technical training. If there is a specific course you are interested in, please let us know using this online form.
See full training webinar schedule

Tech-related talks – deep wrecks, destinations and more
While our special interest webinar schedule is updated regularly, we also have a back catalogue of recordings in case you missed any of the webinars already passed. There have been brilliant contributions from the BSAC Technical Team and, if you're interested in some of the exciting wreck sites accessible to tech divers – there's definitely a few to check out.
Check out upcoming special interest webinarsCheck out previous webinar recordings
Thank you to all the technical volunteers who have worked to help other divers over the course of lockdown. Many thanks to Stewie Andrews, Gary Fell, Simon Fryer, Jason Hammond, Fran Hockley, Nick Jewson, Mark Lewis, Dave Pegler, Dom Robinson, Mike Rowley, and Dennis Wigg.
The BSAC network is working together to keep people connected to the sport. With online training, special interest webinars, competitions, support to clubs and the trade, and much more...we'd love you to join us.