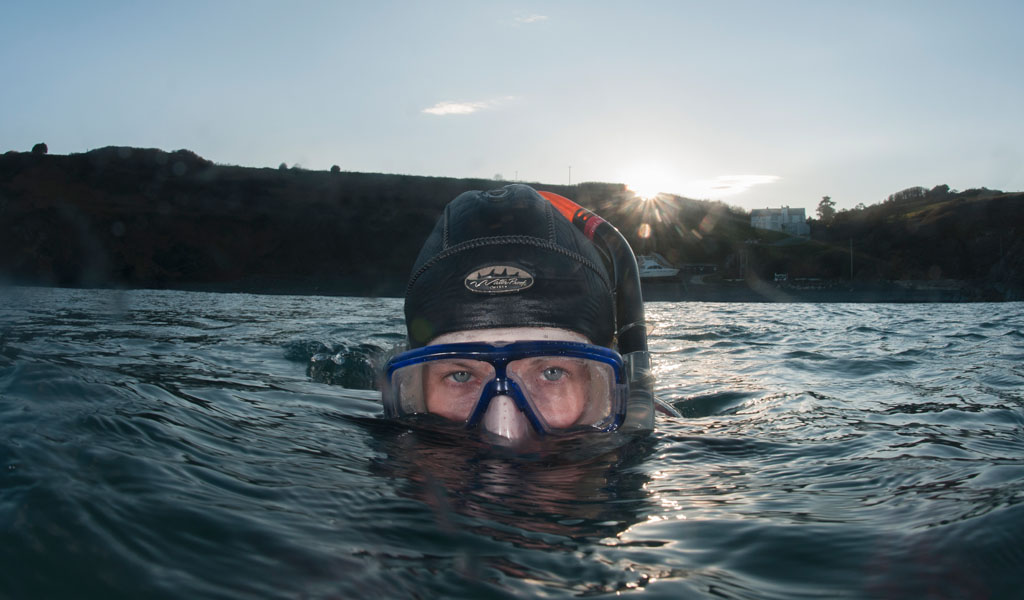 With everyone desperate to get back in the water, we need to get creative to find a patch of sea to call our own, says Andy Torbet.
Now we're truly back in the water, there is an enormous appetite to make the most of what remains of summer 2020. With the need for continued social distancing, boats and inland dive centres have had to make adjustments to their usual practices. And of course there's no doubt that shore diving, as the safest and simplest form of diving right now, has seen a rise in popularity. But this means that when the weather is great over a weekend, the popular shore dives and snorkels can get busy.

But that doesn't mean we have to avoid those prize sites and select ones that were not on our hit list. We simply have to visit at different times. This may, initially, seem like a compromise, but avoiding the standard dive times can give a whole new experience to once familiar sites.
Here are some possibilities:
Up and down with the sun
Dragging yourself out of bed early or staying out of the pub when everyone else has hung up their masks for the day is the name of this game. Not only will it give you the sea to yourself, you could find wildlife you've not seen before. You may get a glimpse of those nocturnal creatures normally restricted to the hours of darkness as they wake, or stay up late, but still with enough natural light to see them and without the extra logistics required on a night snorkel.
A night's tale
The next option is to go the whole hog and hit the water in complete darkness. During the summer months that requires a very late start. But outside of the romance of a snorkelling on the stroke of midnight, you'll also see a different ecosystem come alive and, in your torch light or, if you're lucky, the light of the moon, a familiar landscape will look like a completely different dive site.
To slack or not to slack
A shore dive might be popular at either slack water, particularly if tides make it problematic. Clearly if it's too difficult or dangerous, avoid it outside of slack. However, if a safe drift snorkel can be achieved to a safe exit then you'll have the waters to yourself.

Likewise, a site's main attraction could be the start/end of a nice drift dive. The main area for exit or entry may hold plenty of interest for those willing to focus on it during slack.
Poor weather, rich snorkelling
I've snorkelled in some horrendous weather. However, it's not all bad. Rain puts a lot of divers off but, unless it's so heavy it creates visibility-disrupting run-off, it rarely makes a difference once you're in. The water will be the same temperature and just as wet regardless of the what's falling on you. I'd also recommend a short duck-dive, spin on your back and look up. Watching the rain strike the surface from beneath is a mesmerising view. And, of course, we have the advantage of plenty of poor weather here in Britain. Lucky us!


Snorkel with your local BSAC club!
Not yet a BSAC member? Let us help you find your local BSAC club
Send your postcode to hello@bsac.com and we'll help you find the right scuba club for you. Or if you fancy a chat call us 0151 350 6226 (Mon - Fri, 9 - 5:30).
For more information on snorkelling with BSAC go to bsac.com/snorkelling. Looking to introduce snorkelling into your club? Find out more at bsac.com/snorkellinginstructor.
If any of you have any suggestions, I'd love to hear them. Drop a note to me through the editor's email at SCUBA or on my social media below:
Facebook: OfficialAndyTorbet
Instagram: @andy_torbet
Twitter: @andytorbet
Article by Andy Torbet for SCUBA magazine, Issue 106 September 2020.

Find out more about learning to snorkel or discover snorkelling in the UK.
Images in this online version may have been substituted from the original images in SCUBA magazine due to usage rights.