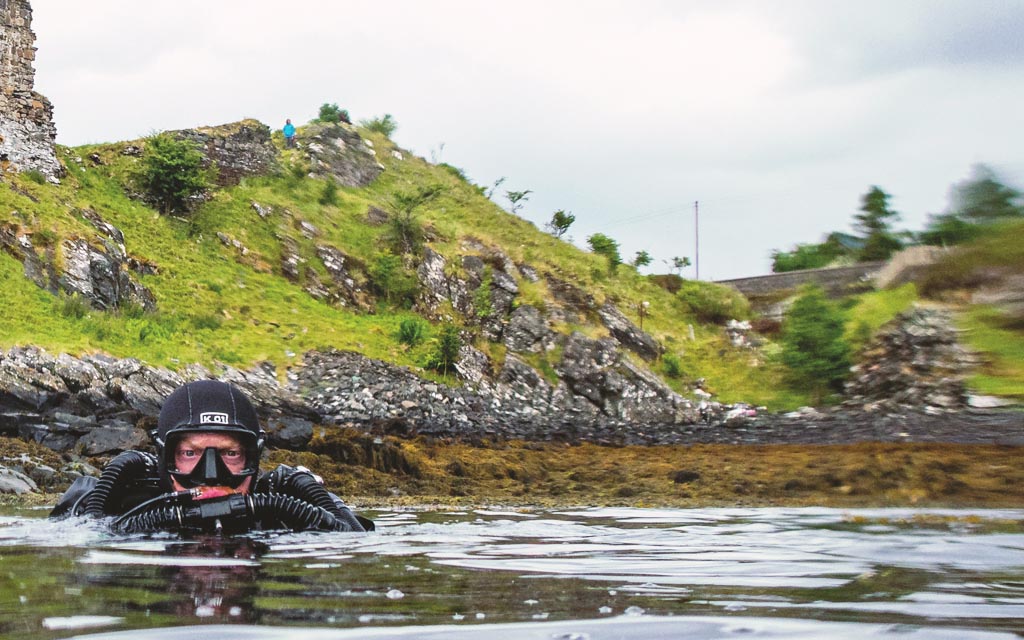 Alex Diffley of Huddersfield BSAC joins an ambitious three-part expedition to support local science projects and highlight the shallow marine habitats of Britain's west coast...
I expect most of SCUBA's readers have missed out on at least one dive trip because of the pandemic – I'm one of them! But some good came from all those lockdown hours glued to screens instead of being underwater! For me, it all led to an expedition to remember, and some new buddies for life in the process.
Some of you may be listeners of the 'Fancy a Brew?' podcast hosted by Advanced Diver Andy Clark. Having spent hours enthusing about diving with experts the world over, Andy decided to get together a team of adventurous UK-based photographers, videographers, marine biologists (and me) to plan a Covid-secure, back-to-basics shore diving expedition.
The plan was to show off what Britain's west coast had to offer, explore less frequently visited locations and support ocean conservation projects along the way. We would visit the west coast of Scotland, then head south to the Llyn Peninsula and Pembrokeshire coast of Wales. This was the Western Ecology Tour, also known as Expedition WET.
1. Diving the Scottish Highlands
Lateral-flow tests completed, we rendezvoused at the renowned 'Big Green Welly Stop' in Crianlarich, gateway to the Scottish Highlands. Introductions complete, we convoyed further north to our first stop – Lochcarron. The core team of seven became acquainted with each other and even more intimately with Culicoides impunctatus, the Highland midge, as we set up camp and settled into our back-to-basics approach to the Great Outdoors. From my converted campervan to Donavan's pop-up tent, we weren't exactly on the five-star trail, but who needs a B&B when you have a circle of camp chairs, a BBQ and a midge net?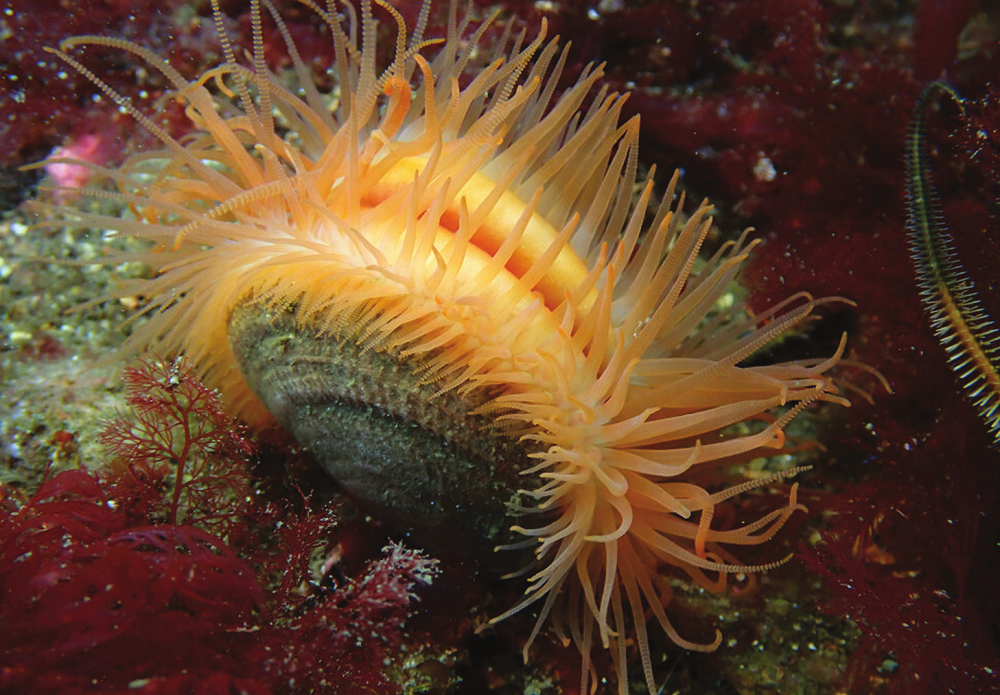 Flame shell in Lochcarron
Day one saw us diving around Loch Duich, the sites visited being Ratagan Youth Hostel, the Rubbish Dump and School Bay. We had the benefit of some local experts in BSAC divers Chris Rickard and Lauren Smith, the minds behind Shark and Skate Citizen Science Scotland.
They enthused the group with their knowledge of the abundance of life in Scottish seas. From sea cucumbers to Norwegian topknots, their marine life expertise was hugely appreciated. We even found some discarded egg cases that suggested the presence of thornback rays in the area, although the elusive flapper skate wasn't to be seen. For me, the star of the show had to be the eerie vistas of slender and phosphorescent sea pens in School Bay. The naturally low visibility at this site almost added to the mystique. As I hovered around the site with my dive buddy Mike, I couldn't help but think that few other divers were likely to have ticked off this dive, which made it all the more adventurous to me.
Talking of adventure, access to the aptly named Rubbish Dump isn't for the light hearted. Even at high water, the team found themselves clambering down a 10-metre cliff face to get in, quite a challenge for the camera operators in the group. Still, a bit of teamwork goes a long way and we all managed it unscathed.
The site lived up to its name, but one man's rubbish is another's treasure; I secured myself a china cup and saucer, which came in handy around camp for the remainder of the trip. Having overcome the hardship of the post-dive climb back up in full kit and with Hannah's drone still in the air, the expedition spirit took hold as some, myself included, took the Leap of Faith, plunging back into the dark waters, after de-kitting of course!
Evening activities included an honour seven football match (Eng 0 - 0 Scot) thanks to the gods of wi-fi, broadcast live from the comfort of my camper.
An early rise was required to catch slack water at Lochcarron, just after 8 am. We dived Conservation Bay and later a drift from Strome Castle to Lochcarron Slip - check out Anita Sherwood's brilliant 'Top 100 British Shore Dives' for more information on how to dive these sites.
We had an amazing first dive at Conservation Bay. The nudibranchs and flame shells were enough to keep me entertained, but there were also masses of crustaceans, playful butterfish and even a catshark egg case with embryo clearly visible.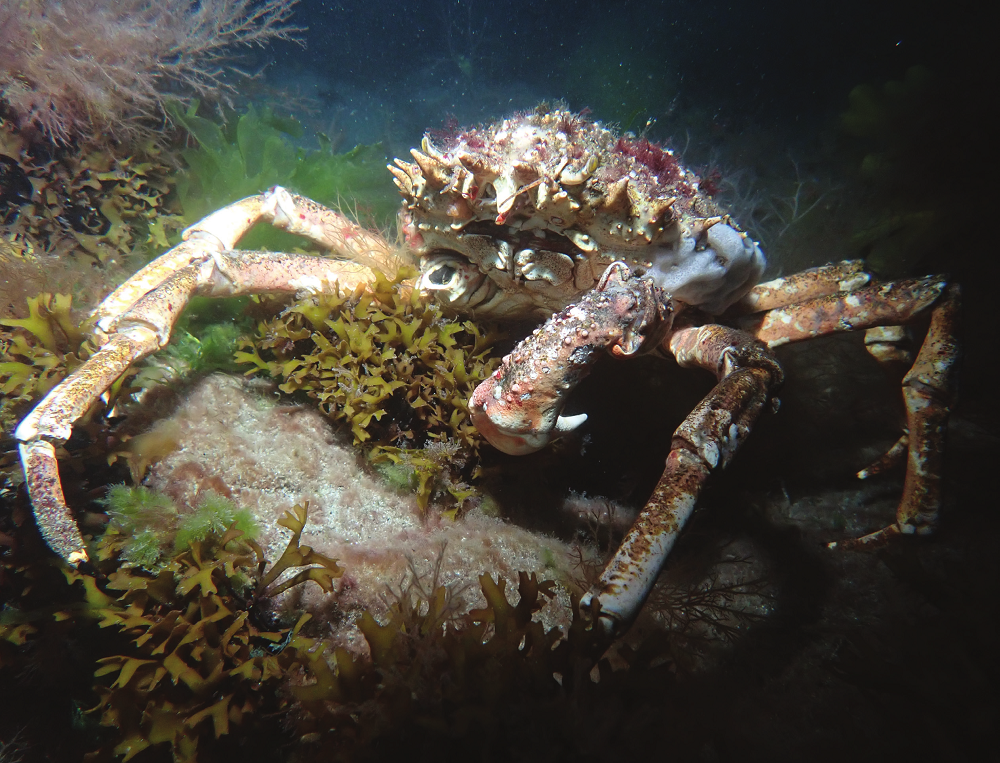 Spider crab at Porth Ysgaden
Then it was onto Strome Castle, where after a long swim out we were treated to a drift dive across channels of dead men's fingers. Once we emerged from the water, Scottish summer had finally arrived, the beaming sun a welcome opportunity for some topside filming and attempts to dry out some of the more fragile drysuits. The most 'northern diver' of the clan, Ross McLaren (of Kilmarnock Sub Aqua Club) and I compared notes, and photos on previous dive adventures. We concluded that Lochcarron offered some of the best shore diving we'd ever experienced... and that Ross' campervan is bigger, bolder and yellower than mine.
2. Journey to Welsh dive sites
The expedition was truly on. We had a day to travel more than 500 miles across three countries to reach our next campsite, on the fields above Porth Dinllean. The spirit of the group was incredible, so nothing – not even our still soaking tents – was going to dampen our spirits as we headed south to Wales.
Being the early riser, I sneaked from campsite to dive site to see what lay ahead. I was greeted by a picturesque beach hidden behind a golf course, a bay of seagrass dotted by small fishing boats and fringed by a few buildings, including the fantastic TyCoch-Inn on the beach itself.
A pub on a beach? Surely a goldmine. Jake Davies, Project Seagrass trustee, was our guide and gave us all a sneak peek of video series 'Wales, Best of the West', a project he and our exped fellow Olly are putting together to help us piece together what Project Seagrass are hoping to achieve.
The tides wouldn't allow us much time at depth, so we optimistically aimed to snorkel and in reality, had a paddle in neoprene. Nevertheless, the lack of water was a great demonstration of the vibrant and healthy seagrass beds on display here.
Next, we donned the dive cylinders and headed for Porth Ysgaden, a harbour dating back to the bronze age - based on previous historic artefacts found. Our interests were more rooted in the present day; hoping for a marine life paradise, we kitted up and headed in. The beach was littered with nursehound egg cases, evidence of more marine life than humans! A rare but welcome sign.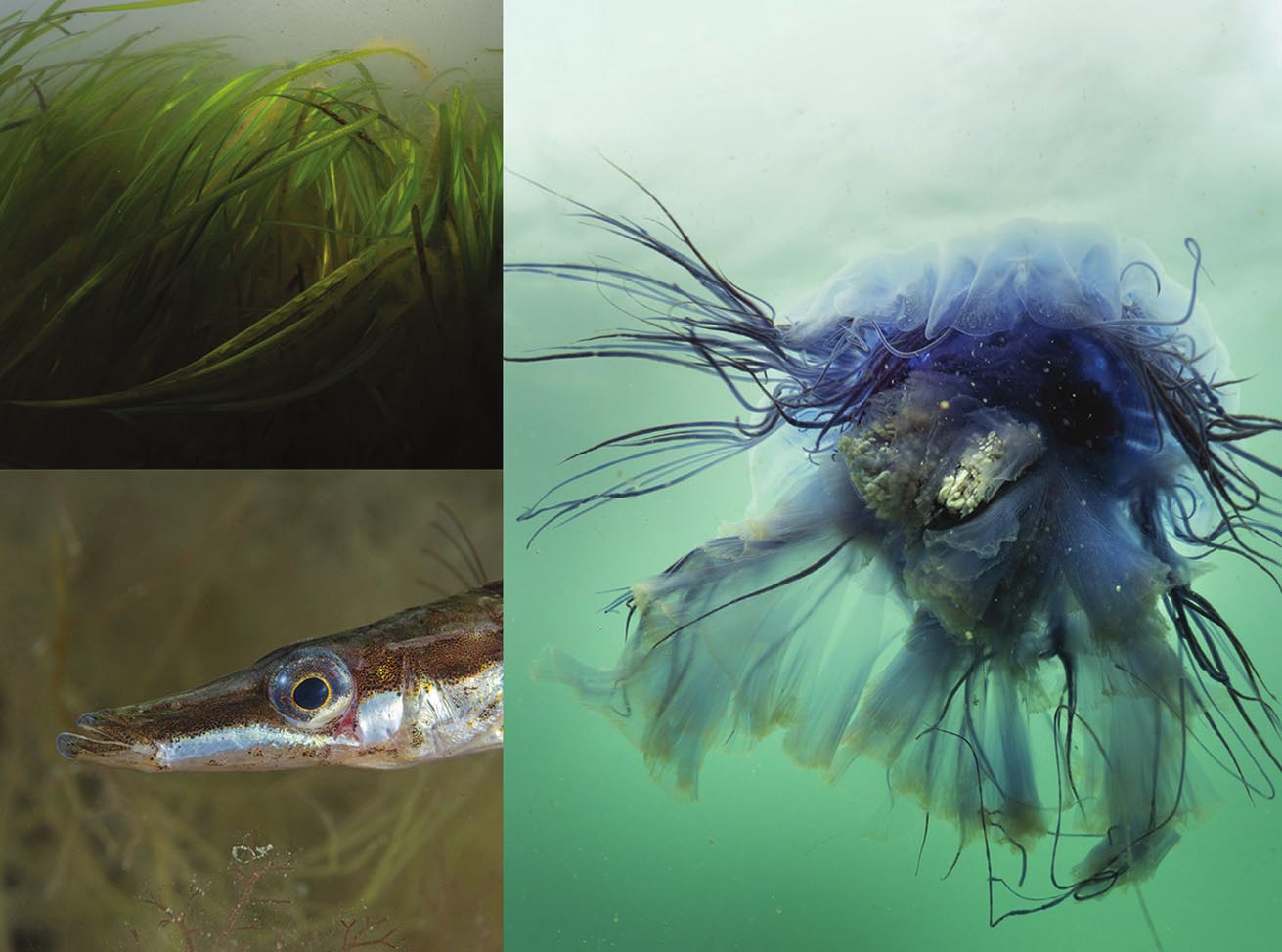 Top left: Seagrass at Porth Dinilean; Left: Stickleback, Porth Ysgaden; Above: Purple stinger
As for the dive, all I can say is... Yes! There were plenty of spider crab, but also stickleback, wrasse, gobies, cat sharks and even a freshwater eel. The place is a photographic paradise, where you can sit still in 5m of water and just wait while a procession of marine life presents itself to your viewfinder. We all manged over an hour, were smiling ear to ear and agreed to come back for a second dive at night! Problem was, nightfall was a long way away in June! It was worth the wait, though, as being underwater in the UK so close to midnight is another tick in the 'adventurous trips' column for ExpeditionWET.
However, all good things come to an end, and our time with Jake in North Wales had done just that. For those unaware, as I was, all Welsh trips end with cream tea. So, whether it's a scone or a 'sc-own', afternoon tea or midnight snack, I enjoyed the sugar boost of my post dive treat.
3. The final leg: Pembrokeshire
Next stop, Pembrokeshire. The drive was, admittedly, not as far as the earlier one from the Scottish Highlands, but the torrential rain and absence of motorways made it challenging; frequent Starbucks (other coffee chains are available) were a welcome sight along the way. Now becoming a tradition, the rain continued until just after we'd set up camp near Martin's Haven. We'd reached the final leg, we'd earned a night away from camp and our new guide Lloyd Jones recommended a local pizza, even if we confused the staff by our frankly bizarre requests of a post-dinner coffee liquor.
A week into our expedition, we hooked up with David Kennard of NARC (Neptune's Army of Rubbish Cleaners) who runs a volunteer-based group of divers cleaning up their local area. Today we were on hand to help at Hobbs Point.
My buddy, John Scrivener, had been with involved with the project since the beginning in 2005. I felt in suitably safe hands, which given the prevailing zero visibility, were gratefully received. Given the conditions, a short dive was the order of the day, but in just 30 minutes the team found several oil drums, a supermarket trolley, a scooter, a significant amount of fishing line and even a loose net. It's out of the water now.
Pleased with our hard work, Lloyd treated us to a dive in the Skomer marine reserve. Scallops, sea fans and photogenic blue jellyfish were the order of the evening, followed by a barbeque cut short by another rainstorm.
Ah, what a summer 2021 gave us! I retreated to the shelter of my camper van and enjoyed a great night's sleep. Apparently one of our gazebos went for a wander in the storm, but it was back where I last saw it when I woke up in a state of serenity.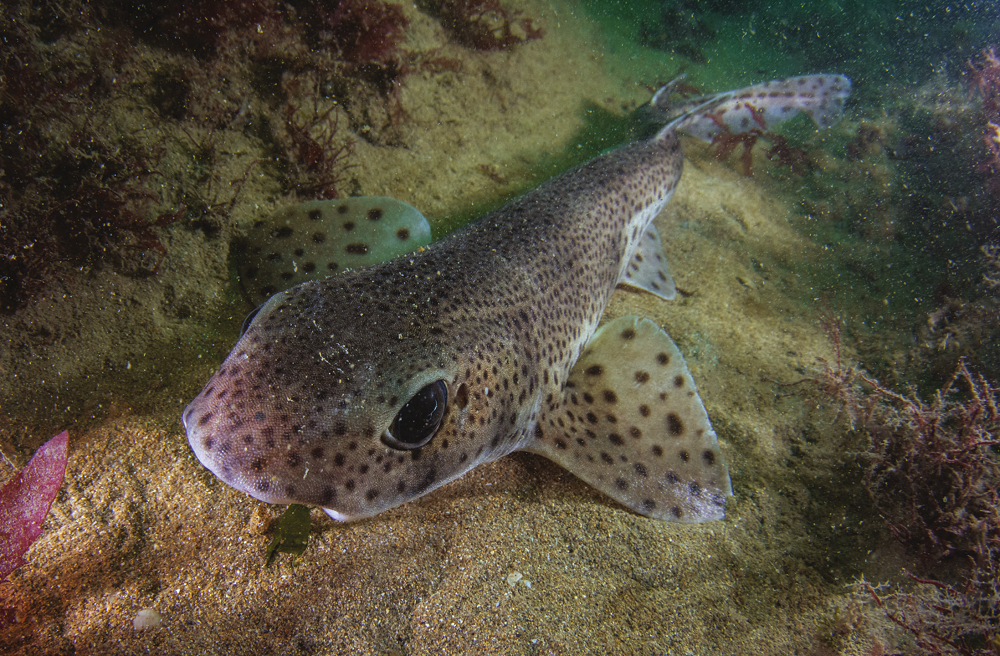 Greater spotted cat shark, Porth Ysgaden
I rustled up hot breakfast butties while necessary tent maintenance was managed and it dawned that our last day together was upon us. Stackpole Quay was the plan of the day and my 10th dive of the expedition. My buddy Donavan didn't hide his disappointment that outside of his aquarium work he hadn't encountered a living cat shark in UK waters, so Lloyd suggested we put that right. We finished our buddy checks, waded in for the final time together, exchanged our 'okay' and 'down' signals... then within five seconds a cat shark swam under us. Neither of our cameras caught it but there was no denying that Lloyd's dreams had been fulfilled. Still, this wasn't a case of game over; over the next 53 minutes, the three of us encountered at least 15 small-spotted cat sharks. Lloyd says maybe even more. It was a fantastic dive to end on, with photos to treasure and, yes, more cream tea to celebrate. Is this a Welsh thing?
Expedition WET- Conclusions
So... Expedition WET. An idea born from lockdown; a core group of seven, rising to 15 when you include our local experts, scientists and facilitators. And not forgetting the endless hours watching Felicity meticulously cleaning her camera housing. It all resulted in more than £1,000 being raised for the three conservation projects; friends made forever; an epic adventure and a reminder that UK diving rivals all those holiday destinations we've missed since March 2020. Sure, there were moments of hardship along the way, be it a windswept apocalypse of a campsite in Pembrokeshire, or dragging a trolley full of camera gear across a golf course. It all demonstrated the saying: "The more effort you put in, the more reward you get back."
BSAC members save £££s every year using BSAC benefits.
Join BSAC today and start saving on everything from scuba gear, diving holidays and diver insurance, to everyday purchases on food, online shopping and retail with BSAC Plus. Click to join BSAC today.
This article was originally published in SCUBA magazine, Issue 120, November 2021. For more membership benefits, visit bsac.com/benefits.
Images in this online version may have been substituted from the original images in SCUBA magazine due to usage rights.