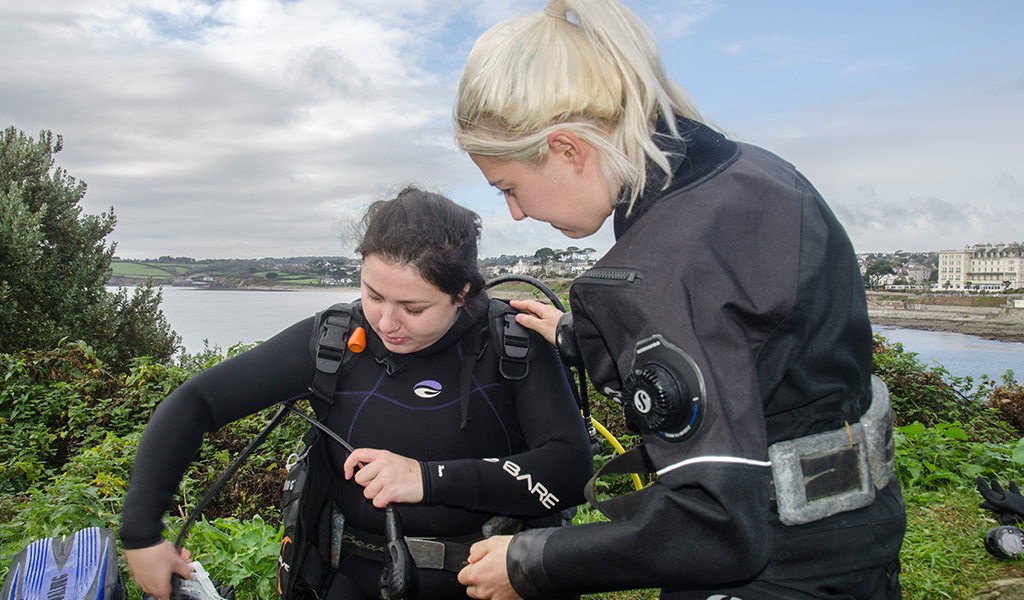 Safety and Development Manager, Jim Watson, reflects on the importance of basic safety measures in the run-up to the diving season.
It's this time of year, even if you have continued diving over the winter, that there is an inevitable drop in the frequency of our diving. It is not uncommon, as we approach what many consider the start of the diving season, that the inevitable reminders begin to be promoted to 'get ready for the new season'. Of course, it all makes a great deal of sense and yet many, if not all of us, take the view that either it 'won't happen to me' or if something were to go wrong that 'I will be able to sort it myself…'
Over the last couple of weeks, I have had time to reflect during the relative lulls between successive storms, Ciara and Dennis. In part, that reflection began with the sad death of a diver whilst on the surface preparing to dive during the first of those storms - there is no indication at this time that the storm was an actual factor in the death but it doesn't prevent the speculation. The time available to reflect was provided by lengthy drives around the country in order to attend a number of inquests into previous diver deaths.
Information from the outcomes of those inquests will be included in the incident database and form part of the Annual Incident Report to allow all divers to review and learn from information surrounding incidents. However, following some very basic steps from our initial training can go a long way to minimise the impact of problems occurring during a dive.
Buddy system
Throughout diver training, there is an increasing emphasis on developing self-sufficiency and self-reliance. Such self-sufficiency helps you resolve problems as they arise and limits the extent to which you may need to rely on a buddy, but does not remove the value of a buddy entirely. Firstly, having a similarly experienced buddy available allows for critical checks to be made and potential faults to be spotted early especially given the restricted view we may have of our own equipment, hence the now almost standard 'bubble check' during a descent. Secondly, if a diver suffers any form of restriction in their ability to resolve a problem, for example through entanglement, medical incapacity, or simply being overwhelmed by an incident, support from another diver may be the means of avoiding a catastrophic outcome.
Weighting
The Annual Incident Report has included many incidents over the years where weighting has been a factor. As well as being too heavy, failures of buoyancy can significantly contribute to a tragic outcome if a diver is unable to ensure a safe return to the surface. Perhaps even more tragic is that we still continue to have instances where a diver at some point is seen alive on the surface but subsequently sinks and is relocated sometime later with their weight belt/weights still in place. Had a diver in trouble on the surface been able to drop their weights they may possibly have survived. Even an incapacitated diver assisted by a buddy to drop their weights has a chance of recovery from the water, and not be lost underwater, potentially for some time, which is difficult for all concerned.
Equipment care
Traditionally, winter is the preferred time to get your regulator serviced and, given it is a critical life support item, we can all appreciate and understand the value in that. However, don't forget to do some basic checks on the rest of your kit. Replace those broken or cracked clips on your BCD and do some basic integrity checks by fully inflating it and leaving it for a period of time to check it stays fully inflated. If it deflates slowly over half an hour or more then there may be minor leaks that will ultimately deteriorate, and certainly won't fix themselves. Holding full inflate for less time is an indication for a more immediate need for servicing or repair.
Think SAFE – Dive SAFE
Jim Watson
BSAC Safety & Development Manager
BSAC members save £££s every year using BSAC benefits.
Join BSAC today and start saving on everything from scuba gear, diving holidays and diver insurance, to everyday purchases on food, online shopping and retail with BSAC Plus. Click to join BSAC today.