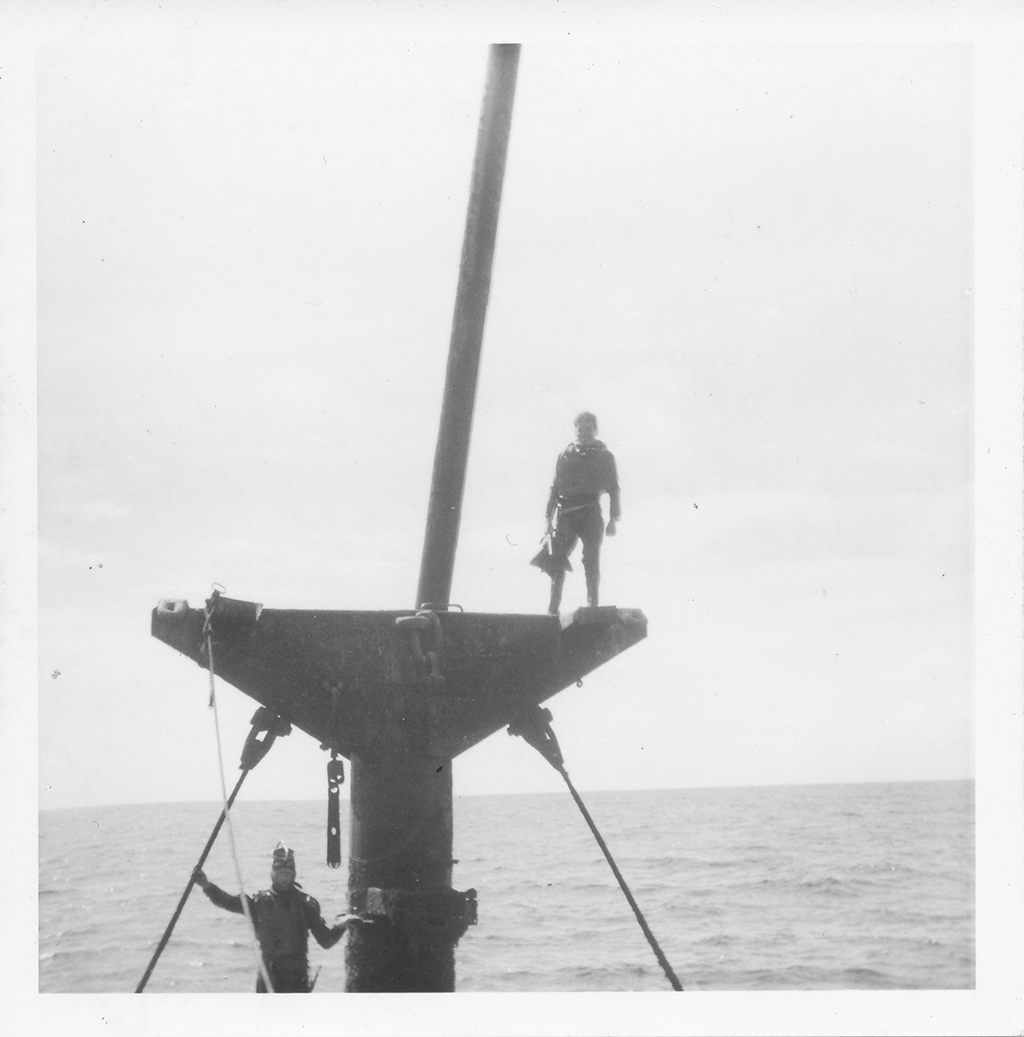 After the success of BSAC's #ThrowbackThursday films and documentaries, Carol Marzuola got in touch to share the stories and photos of North Glos club member Adrian Eyre...
At our club's 60th-anniversary party, Adrian Eyre, one of our founding members, brought along one of his favourite photos. It was of him and his dive buddy standing on the mast of the James Eagan Layne in Whitsand Bay (above). The photo was from 1960.

"It wasn't too long after the war and the mast was still there and it moved around a lot," says Adrian, who is the diver on the bottom. SS James Eagan Layne, an American liberty ship carrying supplies for Belgium, was torpedoed by a U-boat in 1945 and eventually was grounded closer to shore and sank. She still had some cargo in her holds, despite extensive salvage, and Adrian says the local boatmen would ask them to collect pickaxe heads from the wreck for use as ballast. Her mast eventually snapped off in the 1970s.
Some sixty years after that photo, divers are still exploring the James Eagan and remarkably Adrian is still an active member of our club, North Glos BSAC. He is a retired aircraft technician, former commercial diver and, before the Covid-19 pandemic, still trained beginner divers during our pool nights.
Adrian said his foray into diving started in 1959 when he saw an ad in a local paper looking for people interested in learning scuba. Twenty-two people - many inspired by Lloyd Bridges in the famous TV series Sea Hunt - showed up for that first meeting in Cheltenham. For six weeks, two divers from Bristol trained them on equipment and encouraged to form their own club, which they did in December that year. There were 13 founding members of North Glos, which was BSAC's 80th club, and they eventually moved to pool facilities in the city of Gloucester where our club still operates today.
Adrian's first ocean dive was a few months later in the summer of 1960. Browsing through old photos that he has generously shared we are offered a rare glimpse of early British recreational diving.

In this 1961 photo from a hard boat in Seaton, Devon, the divers (Adrian at the front) are equipped with twin-hose regulators, standard weight belts, a pressure gauge tucked up under their right arm, and strap-on knives. They are wearing neoprene wetsuits, gloves and hoods.

The most notable feature is the lack of buoyancy compensators, or as Adrian always calls them, stab jackets. (The Stabiliser Jacket was not actually invented until 1971.) In the 1960s, BCDs were rudimentary and most divers were at the mercy of their buoyant wetsuits and weight belts. "We used to get trimmed out just right," says Adrian, who adds that they never really thought about it, even on 50m dives, as it was the only thing they knew.
Adrian's' first wetsuit was a £23 mail-order job from France known as the Tarzan. Then he switched to a local British company that charged £11 for a sheet of neoprene with tailor-made patterns, which they themselves cut out and glued together. Adrian mostly shunned drysuits, even though they were available at the time because they had no inflation or dump valves and an uncomfortable squeeze starting at 20 meters.

At the time, Adrian explains that the only available cylinders were small 5-litre oxygen bottles taken from aeroplanes. It cost them 10p to have them filled with air at the fire station, which was convenient as North Glos' Diving Officer was its chief. Occasionally, some divers picked up larger cylinders that had been taken from scrapped Blue Steel missiles.
In this 1960s photo on the Devon coast (right), the shore divers used a car inner tube as surface cover. By now they are wearing life-vest style jackets with CO2 bottles that became inoperable at 10m depth, due to a lack of pressure, though they could still be orally inflated.
One of my favourite pieces of kit in these photos is the lowly snorkel. As an avid shore diver, I always dive with one even in UK waters, despite teasing from my fellow club members. So, I was pleased to hear Adrian describe them as indispensable, especially for long and sometimes unexpected swims to other dive sites or the beach.
In the early days, Adrian says that local authorities occasionally contacted the club to assist with investigations, like here (below left) at the Gloucester Docks in 1963 where they searched for stolen artefacts.
They were also sometimes involved in body searches and recoveries in places like the South Cerney gravel pits. On one occasion at the pits, they tied thick steel cables around a sunken crane, which was eventually retrieved. The operator was so pleased he donated £50 to North Glos.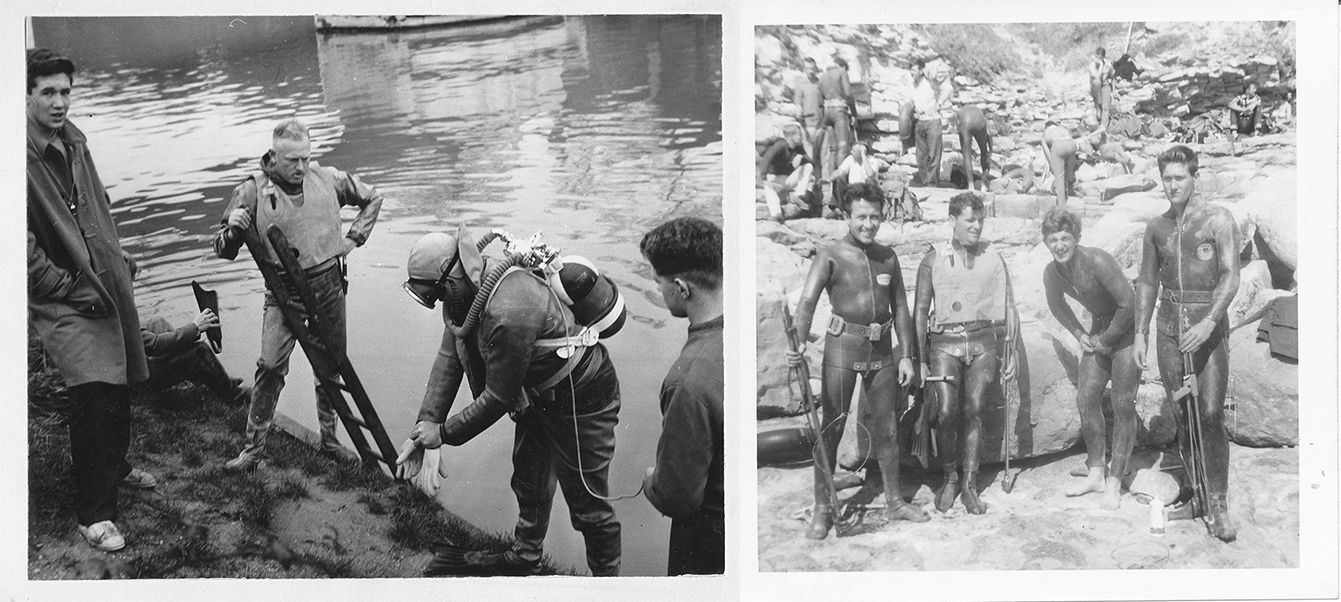 At the time, BSAC allowed spearfishing amongst freedivers (no tanks allowed). Above right is a shot of them at a BSAC competition in Kimmeridge in 1961.
For some of our older divers, these photos bring nostalgia, but for many of us, they are a lesson - taken before we were even born. Thank you, Adrian, for sharing this valuable peek into diving history.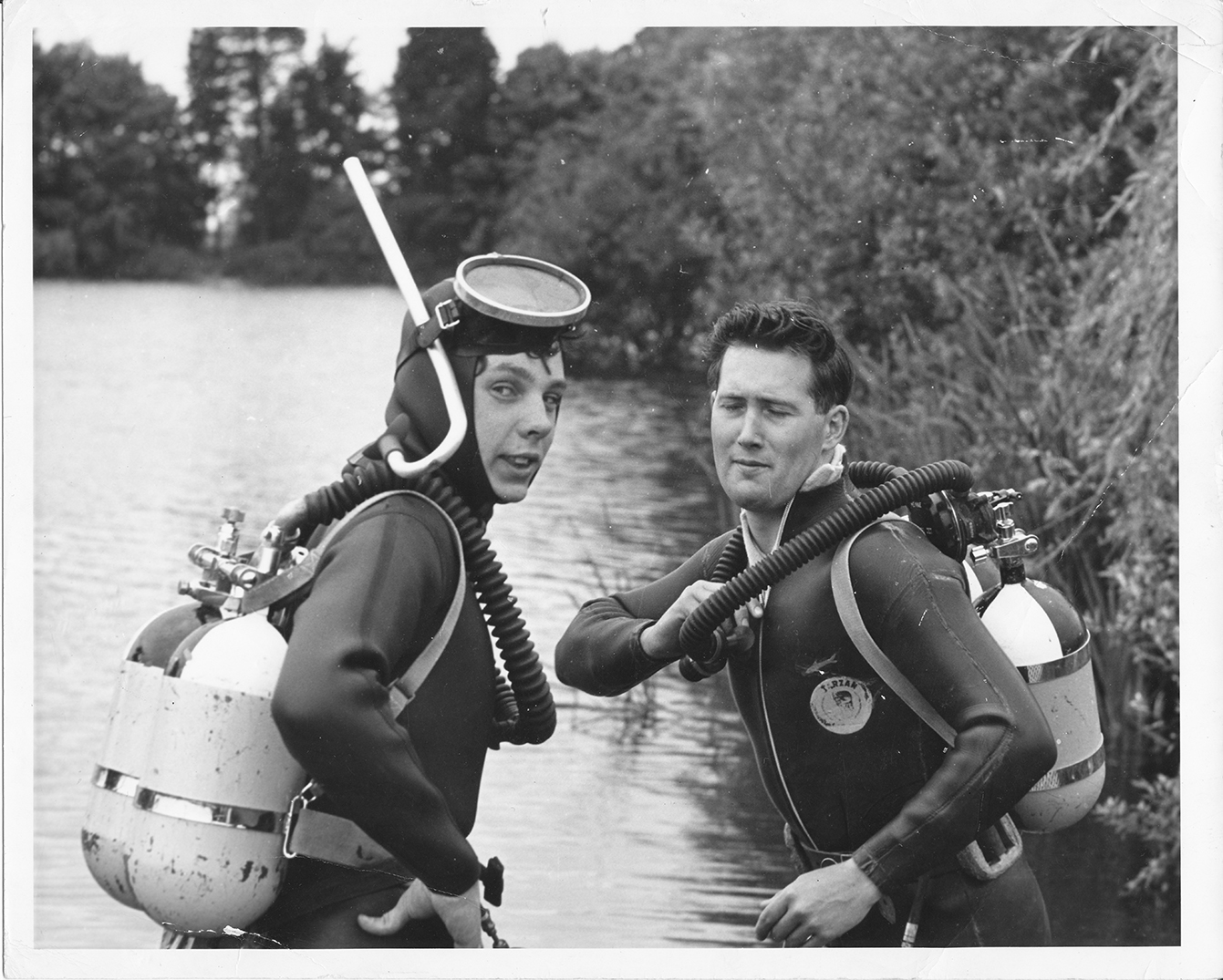 Adrian (on the right) and fellow diver helping police search for stolen objects in a lake near Frampton, Gloucestershire, 1961. Note twin hose regulators, recycled aeroplane cylinders and absence of BCDs.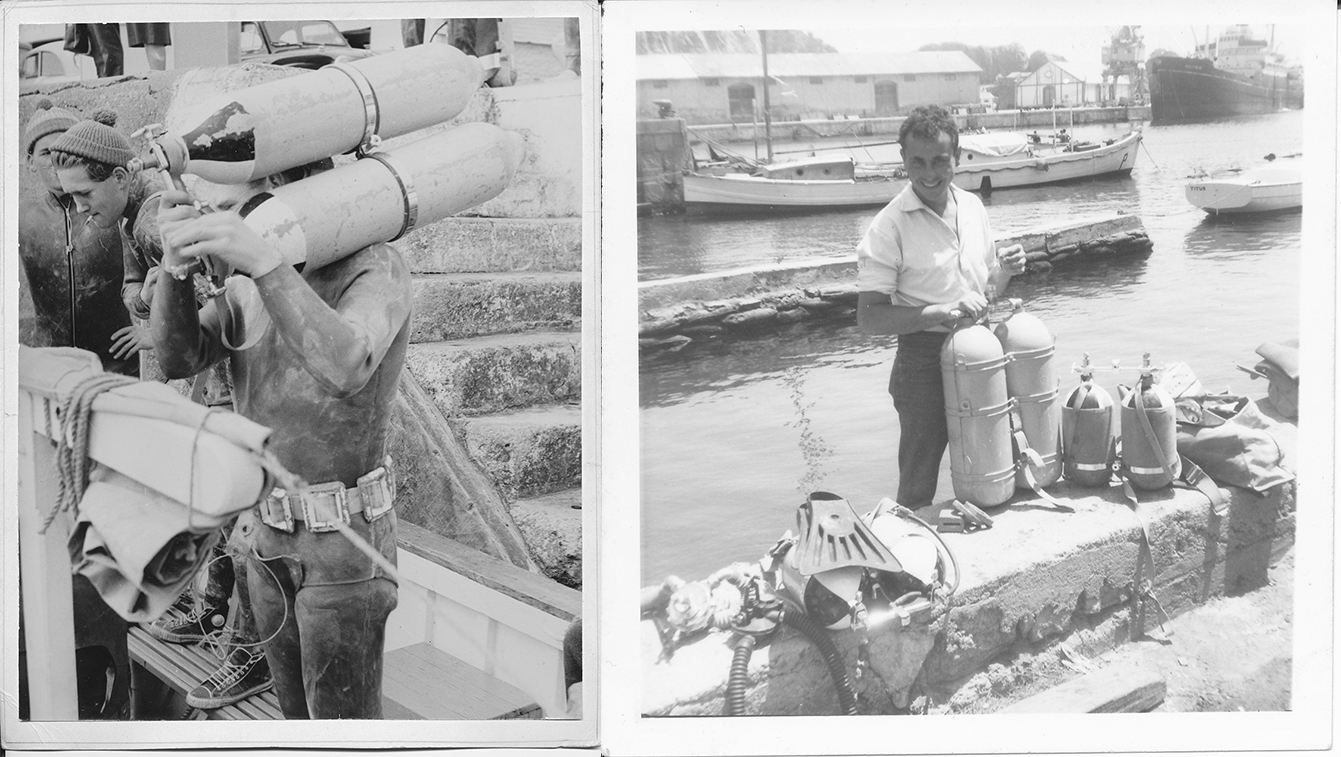 (Left) Adrian says the only other air cylinders available at the time were like these carried by the diver in front. They had been stripped from actual Blue Steel missiles that were once carried by Vulcan warplanes (Dartmouth hard boat dive, 1962).
(Right) On a trip to Spain in 1961, Adrian says locals laughed at the size of their tiny cylinders, which they had brought with them from the UK. After a two-day journey in a Volkswagen Beetle to the Mediterranean coast, they found Luis who took them boat-diving for two weeks.
(Left) Traditional December dive, South Cerney, 1960. "Someone in North Glos said 'let's have a Christmas dive' so we carried on and did it for years" explains Adrian.
(Right) Another view of the mast of the James Eagan Layne, Plymouth, 1963. Adrian describes his first dive on the wreck as "fantastic, full of fish swimming around the mast." They saw big pollock, plaice and lots of lobster under the keel.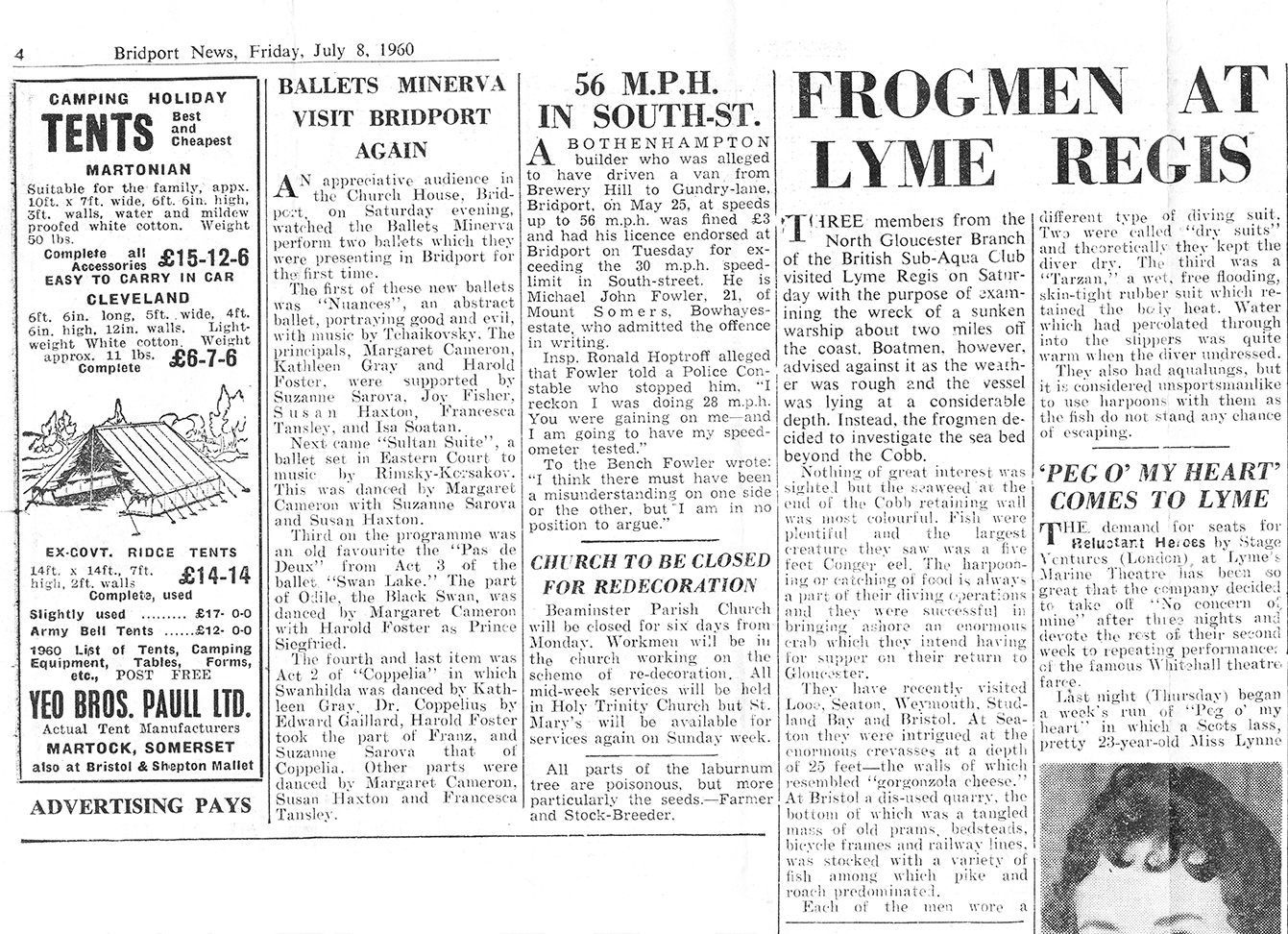 The above newspaper article is about North Glos BSAC at Lyme Regis in Bridport News, 1960. Divers always caused a stir with the public back then. Adrian said people often asked him if he was Lloyd Bridges or related to him. The reporter describes Tarzans as "wet, free flooding, skin-tight rubber suit which retained the body heat. Water which had percolated through into the slippers was quite warm when the diver undressed."
Adrian still has his original cylinder and set of twin-hose regulators... though they get considerably less use these days!
Share your scuba (or snorkel) story!
We want to hear from YOU. Tell us your scuba (or snorkel) story - how you got into the sport and what brought you to BSAC. Whether you were already trained with another agency, started as a young snorkel diver or found us later in life. Email your story to imogeng@bsac.com with the subject 'My scuba/snorkel story' and some pictures and yours might be the next story we share!