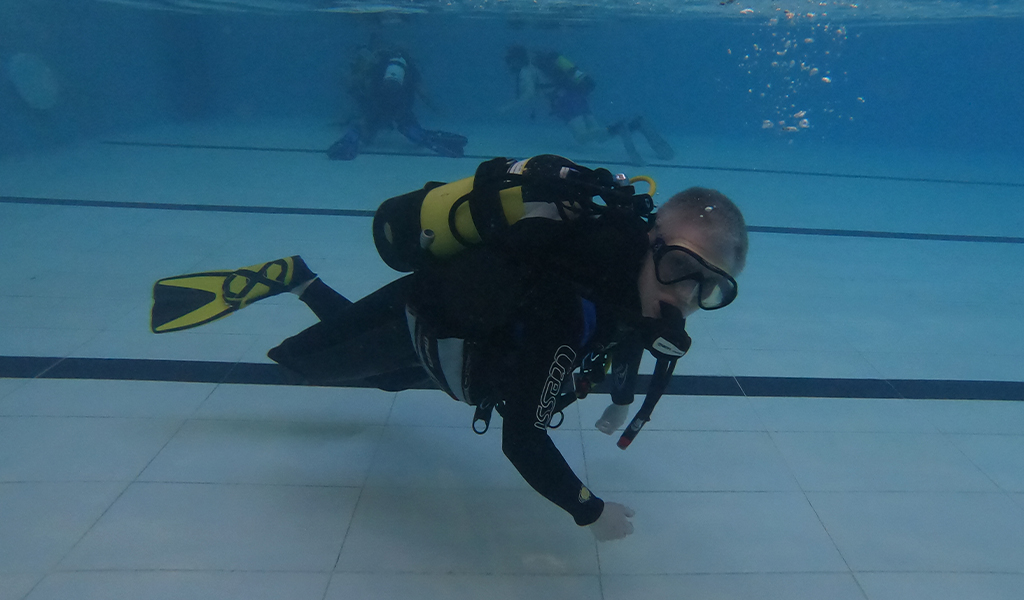 Is your club able to accommodate a member of the public with special educational needs or a disability? What about letting a qualified diver who has a disability join your club?
With over 11 million people in the UK living with a long-term illness or disability, there is a high chance that at some point you will receive a join request either from a disabled diver, or a potential member who has a disability. BSAC has Diving for All courses to help qualified instructors prepare dive managers, buddies and instructors to safely manage, dive with and instruct those who may need additional assistance or adaptations.
Divers with disabilities should get the same out of your club as any other member; learning to dive, other training, socialising, forming a group of lifelong buddies to go on trips & day dives, and everything else that comes with being a BSAC member.
How can your club help to make diving accessible to everyone?
You welcome them, the same as everyone else. Any instructor can teach a person to dive, but how do you know whether that person needs extra help, or what adaptions they may need? Well, as everyone is different, it's simple… you ask! After all, this is what we would do with any diver – disabled or not.
In most instances, if you feel there is no need for additional support, the club can simply get on with business. If the instructor or club needs some help, there is lots of advice and support available through the Diving for All network.
A disabled person knows their condition better than anyone. They know what they can and cannot do, what they need help with and to what extent. The biggest mistake a club or an instructor can do is assume they know what help is needed. Something that may seem a major problem to you, could be a minor issue to the diver in question, and they may already have a solution. So, how do you know? You ask and they'll tell you!
If they don't already have a solution, then you work it out together through trial and error, or ask for support from the Diving for All network. Sometimes a little bit of thinking outside the box is needed. The key is communication - there is always a way. Explain what it is you are trying to achieve, listen to the diver and between you come up with a solution. Above all, listen to the person. Some will need more help than others, some will need no help at all.
Advice and support
If your club wants to further prepare itself to take on divers and trainees who need additional assistance, take a look at our Diving for All (DfA) section and get in contact with the Diving for All chief instructor, Mick Stewart at dfa.chief@bsac.com.
Through the Diving for All course, you will see that there is rarely a "one size fits all" solution and you will learn to come up with tailored ideas to help. Instructors will learn that, disability or not, everyone can dive. Above all, know that you can, and should, include disabled divers and potential divers within your club.
The BSAC network is working together to keep people connected to the sport. With online training, special interest webinars, competitions, support to clubs and the trade, and much more...we'd love you to join us.