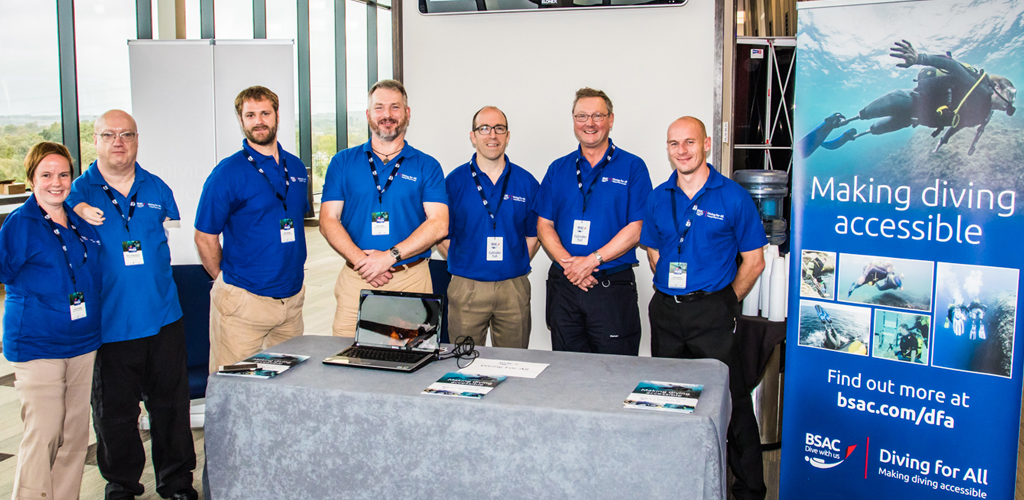 The full BSAC Diving for All course programme was launched at this year's DivingConference, with a series of truly inspiring films telling the real stories of how the programme has helped people overcome their disabilities in the water.
Diving for All – or DfA – has been designed to give BSAC instructors the skills to teach people with impairments to qualify as BSAC divers and BSAC divers the skills to buddy divers with disabilities.
Book a Diving for All course
The two Diving for All courses – DfA Dive Managers and Buddies and DfA Instructor – are now up and running and are fully compliant with the UK's anti-discrimination legislation.
John Gibbon, BSAC's Diving for All Chief Instructor and a former Diving Officer of the Army Sub-Aqua Association, has also filmed an introduction to the programme, and the real and long-lasting benefits it can bring to clubs and all members. Watch all the DfA videos.

If you fancy diving it is a great thing to get into…I'm surprised by how many disabled people I have met who are involved in diving. Lots of people are prepared to help and get you involved. It's part of what keeps me fit and healthy.
Neil Heritage, Diving for All
The DfA programme is being actively promoted to both associations for disability and individuals and BSAC clubs and instructors are encouraged to complete the DfA courses.
The next DfA Instructor courses are scheduled for 19th November at Yeovilton and 17th February 2018 at RAF Honington.
To find out more about these two scheduled courses or how to get involved go to Diving for All.
For future course details please email us.