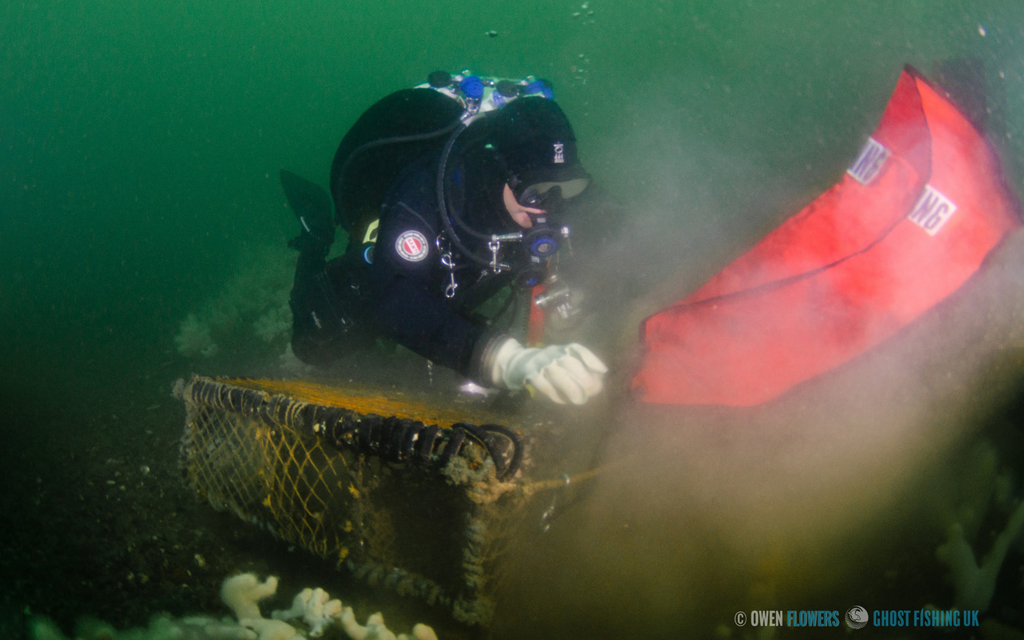 Jane Maddocks turns her gaze to ghost nets as she uncovers the dangers they pose to marine life and divers...
Marine litter is in the news, and we are being encouraged to do underwater litter picks and beach cleans. When it comes to litter on wrecks, the obvious forms of litter such as drink cans and bags or facemasks are fairly easily dealt with, but what about fishing line?
I carry a small container for fishhooks, a line cutter and a small mesh bag. I also make sure that my buddy and I take turns - I take out the litter while my buddy acts as 'shark guard' to make sure I don't get carried away, then it is her turn. I watch out for their safety as they get stuck into litter removal.
The challenge comes when some wrecks having large fishing nets that have drifted in open water before becoming caught and draped over them. What do you do when you find one? These things can be really dangerous; they are designed to trap living fish, and don't discriminate. They continue to catch fish after they are lost or abandoned.
Removing large nets safely is a skilled business, with particular techniques required. A good response is probably to alert one of the organisations that exist to remove nets. They have the training and the infrastructure, as well as the MMO licenses, to remove the nets safely.
It isn't just removing the net that matters. What do you do with a huge load of smelly, wet, and dirty net? Where do you take it? Taking it to be recycled is not that easy. Storage and delivery must be thought about, you can't just dump it on the jetty and walk away.
Check out the following organisations' websites to find out how they would like you to report ghost fishing gear:
They are all involved in the removal of abandoned, lost, and discarded fishing gear and should be the first port of call for anyone who sees a large net on a dive. The nets can be safely removed, we can continue to dive the site safely and marine life isn't needlessly killed by the abandoned gear.

The BSAC network is working together to keep people connected to the sport. With online training, special interest webinars, competitions, support to clubs and the trade, and much more...we'd love you to join us.
This column was originally published in SCUBA magazine, Issue 117, August 2021. For more membership benefits, visit bsac.com/benefits.
Images in this online version may have been substituted from the original images in SCUBA magazine due to usage rights.
Image credit: Owen Flowers, Ghost Fishing UK