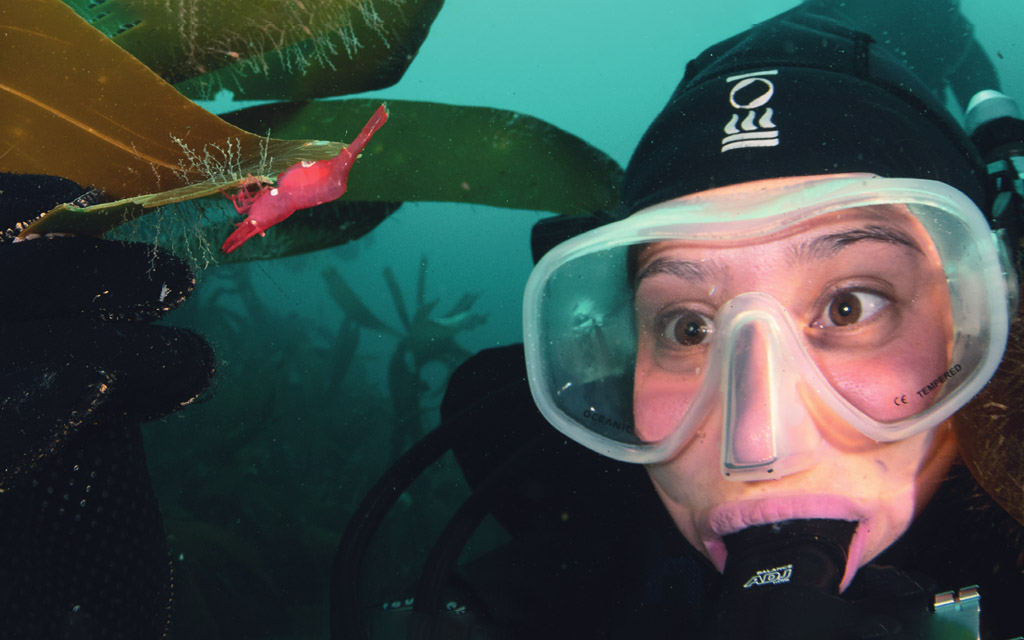 Curiosity underpins much of what we do as divers, says Kirsty Andrews, who finds that it comes in different guises
Recently I found myself on a training course, lauding the benefits of curiosity as it applies to my working day. The ice-breaker question was to name something you've been curious about recently. Well - where to start?!! Questions flooded my mind, such as… What really causes nitrogen narcosis and what does it do to my brain? When will the cuttlefish start their mating aggregations this year? What is the ultimate kit configuration for shore diving? Why do the scientific names of nudibranchs keep changing? I'm not sure these are the questions our trainer had in mind, but I had plenty more, I assure you.
Albert Einstein has many regularly quoted sayings about curiosity, including "I have no special talents. I am only passionately curious" ... and if it's good enough for him, it's good enough for me. I'd debate the first part of his statement as it applies to Einstein, but I am firmly convinced that natural curiosity is something to be cherished and nurtured. It's also something that we divers possess in spades. I mean, why else would we throw ourselves into a relatively unknown element on a regular basis? We see the water and we have the irresistible urge to explore it, to conquer it, to understand it.
Curiosity about the sea; how we can survive in it; how pressure affects our bodies; what wildlife inhabits seven tenths of our planet. The drive to discover has pushed our sport forward over decades, from the earliest pioneers to the cave divers and wreck explorers of today.
Turning back to my training course, I gather (from esteemed psychologists Kashdan, Disabato, Goodman and Naughton) that there are five dimensions of curiosity (bear with me, you may just recognise yourself here). The one most familiar to me is what has been termed 'joyous exploration' – the desire to seek out new knowledge, and the joy of learning and growing. After decades of SCUBA, I can happily say that my favourite pastime continues to inspire my curiosity, fill me with joy and the opportunities to learn and grow. Lucky me!
Believe it or not, curiosity can also manifest as 'deprivation sensitivity' which is perhaps the most emotionally charged type, linked in some ways to anxiety, and relating to the need to solve problems and reduce gaps in knowledge. Have you come across a diver who has challenged themselves to learn diving skills or progress their qualifications, perhaps to overcome their anxieties and push themselves? I certainly have, and bravo to them. The next dimension is 'stress tolerance' and this also rings some bells in the diving world - the willingness to embrace the stresses that arise from exploring new, unexpected, complex events. An underwater cave system, perhaps? A new technical equipment configuration to master?
There is a 'social curiosity' of wanting to know what other people are thinking and doing. I possess a good sprinkling of that, and within our network of BSAC dive clubs there's plenty about. Finally, the 'thrill seeking' mentality: the willingness to take physical, social and financial risks to acquire varied, complex and intense experiences. Most certainly. In fact, for many, that is diving in a nutshell. Our sport is not usually a high adrenaline one, but I'd say it provides innumerable opportunities to satisfy our need to joyfully explore as well as our thrill-seeking curiosity.
Ready to start your scuba adventure? Sign up for eLearning!
You can get started straight away with the theory knowledge element of BSAC's entry-level courses, Discovery Diver and Ocean Diver, and work at your own pace using the BSAC eLearning system.
This article was originally published in SCUBA magazine, Issue 125, May 2022. For more membership benefits, visit bsac.com/benefits.
Images in this online version may have been substituted from the original images in SCUBA magazine due to usage rights.