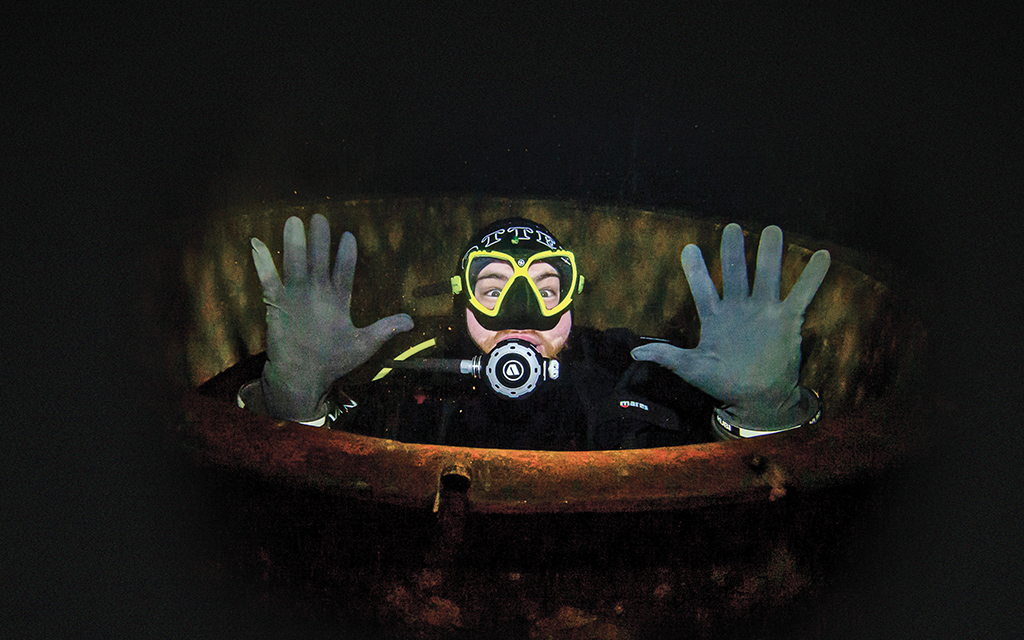 Planning on a dry winter? Yo-Han Cha has some compelling arguments in favour of diving through the UK winter.
I am told the UK dive season comes to an end in late October. There's usually a load of training in November, especially for University clubs, but, by January, there are usually only a few eejits who are still diving for fun. If you've been in Capenwray or Stoney Cove in January these past few years, you'll have had a good chance to bump into me as I'm one of those eejits. There are some potentially good reasons why the dive season never ends for me, and some potentially silly ones.
Diving regularly throughout winter means that I get to keep practising my diving skills through the year. This might be my only valid 'serious' argument for winter diving.
I think I am potentially slightly addicted to scuba diving. My work colleagues have noticed I'm grumpier than usual if I haven't been diving or a couple of weeks. This is temporarily mitigated with chocolate, but the only real solution is going diving.
The visibility in quarries such as Capernwray and Stoney Cove is great in the winter. There are fewer divers kicking up the silt and no algae blooms, so it's a great opportunity to get some much needed wide-angle photography practice. And I get lost less frequently.
There's usually at least one other person in your club who is itching for a dive. I don't know if it's just coincidence, but for a couple of years, my winter buddies were both football-mad scousers. One of them is definitely a Liverpool fan, the other claims he is but I did hear him say that he loved Manchester United once. He says he was being sarcastic but none of us detected any sarcasm in his tone.
Talking of doing something daft, there are fewer people to witness you do it and laugh at you. One year in Stoney Cove, as I was getting into my kit, my drysuit zip got caught without me noticing and somehow it managed to undo itself by an inch or so. I usually double-check that the zip's done up just before I get in. But not that year and I don't think my buddy Steve (the 'sarcastic' scouser) has ever seen me move so fast. He was, as expected, full of sympathy. But at least my ego only had to cope with one person laughing at me. I still did two dives that day.
The sea around the British Isles is still full of life. I've found that the sea lochs in the west of Scotland usually have somewhere diveable, regardless of Mother Nature's fury. Last year, I managed to successfully combine a trip up to Aberdeen for my mate's stag do with a dive trip to Loch Sunart, despite my sat nav trying to kill me by stubbornly insisting that I needed to take the A939 in January. The A939 is a beautiful scenic drive... in summer. But I did get to see thornback rays and my first gurnard.
Finally, my birthday's in January and on my birthday I like doing things that I enjoy. So, if I can find a buddy and if I can find somewhere to dive, I'll do the unthinkable and wake up to my alarm at some ungodly hour on my birthday. What better way to celebrate another year of getting older than by going for a couple of dives and chewing the fat with some mates?
This column was originally published in SCUBA magazine, Issue 98 January 2020.