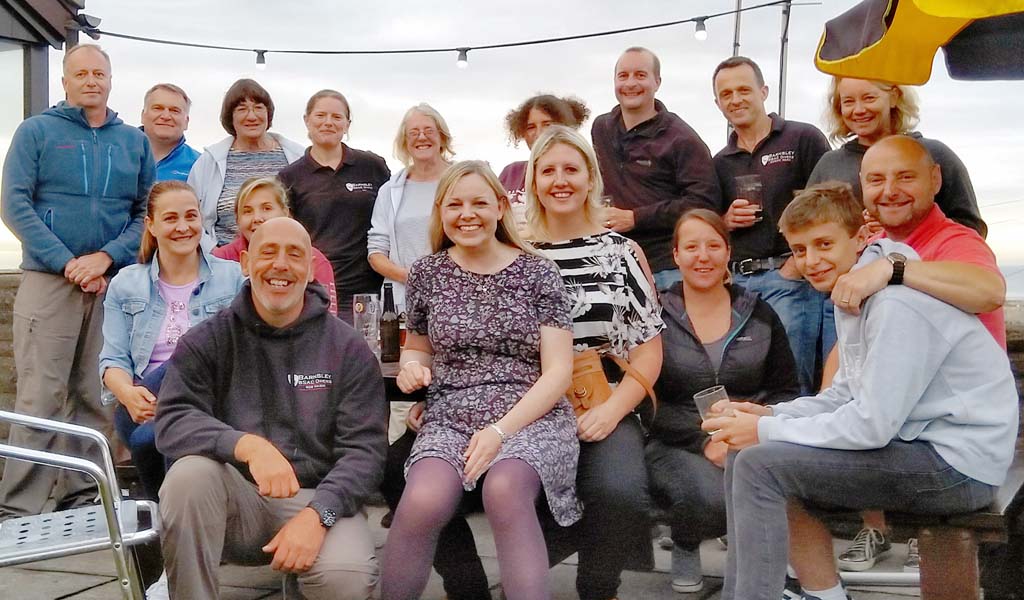 Kristina Pedder reports on a joint project between two South Yorkshire clubs that could have been rivals but became successful partners – Barnsley BSAC and Dearne Valley Divers.
When BSAC clubs experience difficulties, lose instructors, lack active members to organise trips and regular activities, or are unable to support training, this does not have to end in disaster. Over the past two years, two Yorkshire clubs have worked together to secure the future and growth of both clubs, with many positive outcomes. There is an opportunity to turn around our thinking to see this as an opportunity to enrich individual clubs, to reciprocate, by working in true partnership with others, says Paul Tarn, Diving Officer at Dearne Valley.

The cooperation came about when Barnsley's DO, Rob Mason, wanted to finish his Advanced Diver training but his branch didn't have the resources to help. He visited a neighbouring BSAC club, Dearne Valley Divers, based just seven miles away. It had only 16 members at the end of 2016 and had just sold the club boat, but many members were experienced instructors. By contrast, Barnsley was bottom-heavy; it had worked hard to increase membership to about 50 members including lots of Ocean Divers and Sports Divers, but only a handful of instructors.

Looking at their location, and catchments, logic says that these clubs should have been in competition.

Rob says,
But BSAC isn't about competition. It is the biggest dive club in the world, so why not have two branches that cooperate?
Culturally, the two clubs remain very different. They have separate committees, they make separate decisions on trips and training, but collaboration is key. It took the best part of two years to work out the relationship, including identifying any threats, says Rob, as some members were sceptical.
It wasn't plain sailing…but the cooperation is now embedded. We have achieved the three outcomes that we wanted: increased training; increased socialising; and, of course, increased diving.
Photo: The two clubs managed to fill William Shiel's big boat with 26 divers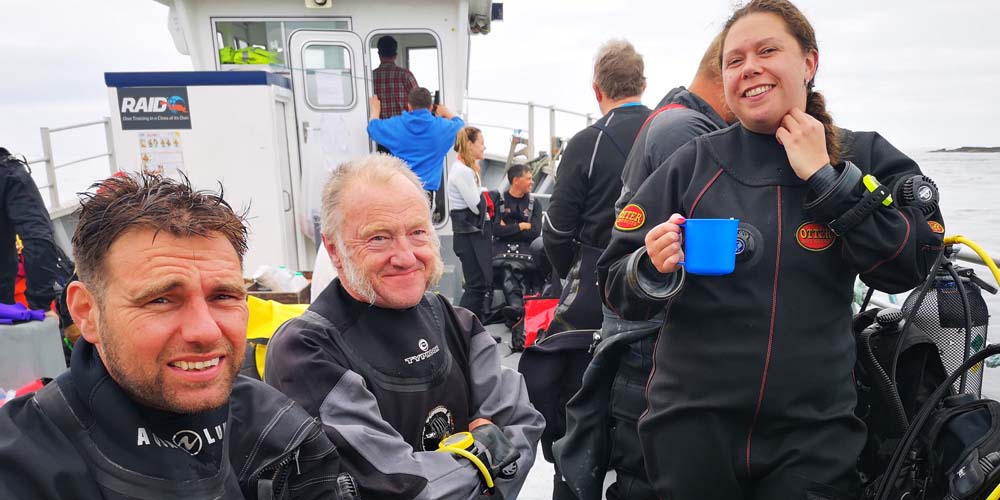 The technicalities
The two clubs spent the best part of 2017-2018 working each other out. Both Diving Officers recognised that there would be some suspicion and a fear that one club would lose members to another. Rob and Dearne Valley Diving Officer Paul Tarn became members of each other's clubs, giving them a formal voice on both committees, but this was definitely not a merger. They wanted to put policies in place to protect both clubs. It was inevitable that members would ask, what's in it for us?
In fact, the clubs put in place an associate membership scheme, as they wanted to discourage members migrating between the clubs. As a result, any member who contributes to club activities can become a BSAC joint member of the other club; they just need to ask. The joint membership rules allow the use of both club pool sessions and get you onto the mailing list for all open-water training and trip plans. Associate members have no voting rights, and can't become committee members at the associate club. They tend to be the more active divers, and around 20 of them now benefit from the scheme.

Now the two clubs can use each other's pool facilities. Barnsley's Secretary Linda Marsh said:
We were worried that with both clubs using our pool, it could get like 'diver soup', but the Training Officers have been able to coordinate enough so that doesn't happen.
The Training Officers regularly work together on club and open-water training. A definite benefit is that the clubs can ensure consistency of instructing and run more in-house Skill Development Courses to add value for members. For 2020, each club planned its regular monthly open-water training dates during the previous autumn, and the two series are a week apart so that instructors can teach on either. It's great to have extra instructors to call on now the club is so busy, says Ann Bailey, Training Officer at Barnsley.

Barnsley trainee Lee Saunders joined his club just over a year ago when the collaboration was well underway.
I was emailed every weekend and told what training I would be doing the following Tuesday and I could attend open-water days when I possibly could to complete my Sports Diver qualification. Unbeknown to me, each time I received any training, or buddied someone on a dive, I could be diving with someone from another club.
It was only in passing that someone mentioned this, he says, making the point that the link between the two was seamless.
There was no competition, no club was better than the other. It just seemed everyone, despite where they paid their subs to, was pulling together to help and encourage people to dive.
And, if students can't make a particular date they can take advantage and attend the other club's session.

Dan Stephenson from Barnsley says,
As someone who has a job where hours don't tend to be set and can vary from day-to-day, I've been able to take advantage of there being a large set of instructors. When I've been available for my Sports Diver training there has usually been an instructor available too.
The collaboration on training has also been great for instructor development. During 2018, the clubs sent nine members on Instructor Foundation Courses, and the Assistant Diving Instructors get plenty of experience. Assistant Open Water Instructor Richard Slater, from Dearne Valley, says the collaboration has given him the chance to instruct twice a week regularly. "This has helped to speed up my instructor development and given me access to a wide range of trainees at all different skill levels," he said.


Photo: A Barnsley trip to North West Scotland made possible by Dearne Valley taking up spare places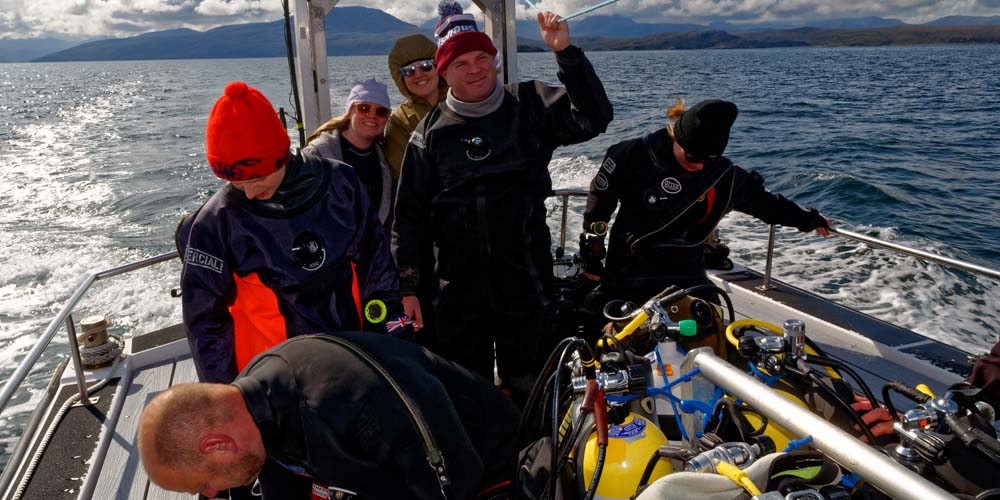 Going diving
There is also a joint trip policy. For any club trip, once announced, members and joint members have four weeks to sign up before the trip is opened to both clubs. There are also a couple of formal joint trips a year. It was a Barnsley staple to go seal diving in the Farne Islands and this became a joint trip in 2018. The organisers chartered Billy Shiel's biggest boat and 26 members dived together. After successful trips in 2018 and 2019, this is scheduled again for 2020. Dearne Valley organises a joint technical trip each year. In 2019 it was part of the Scapa 100 project and in 2020 a trip to Narvik, Norway, has been booked.

Mick Gwilliam, a Dive Leader trainee at Barnsley says,
Both clubs offer excellent expertise and knowledge and work well together to share this with members. Joint club trips offer different experiences for all members at all levels and gives support to divers.
Suzie Robinson, an instructor at Barnsley, says collaboration between the dive clubs has expanded the club's horizons more than she could have imagined.
We are now doing more diving, in a greater variety of locations and all of our dive trips run at full capacity. There are so many more opportunities to go diving now.
Leigh Holmes, a Dive Leader trainee from Dearne Valley agrees. It's great meeting up with Barnsley's members, she says. "Having this close a link to another club has meant large group dive trips, such as the now annual and extremely popular Farne Islands trip, can go ahead.
What has changed?
Both clubs have grown during the formal collaboration. Divers and instructors are much more engaged, and both clubs are much more interesting places to be around, with joint monthly presentations open to both.

Barnsley, which still focuses mostly on standard recreational diving, has grown its membership steadily from 2016 to the present, doubling numbers in three years. The collaboration was an outcome of this growth.

Rob says,
It was a bit like Whack-a-mole. With so many new members coming through the doors, we had problems delivering training, providing resources and keeping newly trained divers interested and engaged. Once above 50 members, it became apparent that we needed an extensive annual programme of events to achieve this.
So in October 2019, for the first time, both clubs agreed 2020 dates for open-water training, diving, and social events.

Dearne Valley, on the other hand, had been struggling to grow. Since the collaboration began in 2017, however, it has seen exponential growth. It became one of the top 10 BSAC clubs for recruitment, growing from 16 to 40 members in a year, and now has more than 50 members. Dearne Valley focuses more on technical diving, and more challenging trips, and has the instructor capability to offer in-house technical training such as Twin Set Diver, Buoyancy and Trim, and Accelerated Decompression Procedures skill development courses, which are open to both clubs.

The result is there are two huge clubs in the area running lots of diving activities. Before, it was difficult to organise and get a good number of people to attend trips, as the club members were attracted to different types of diving, says Dearne Valley Assistant Diving Instructor and Dive Leader trainee Kerry Thomas.
Now there are a wide variety of trips in the UK and around the world, which suit all tastes and budgets. The club has gone from a few people who got together for an occasional dive trip to a vibrant joint community that has lots of fun and social events both in and out of the water.
The collaboration was key and central to the growth of both clubs. The collaboration also feeds into the region, Paul says. Both clubs now support regional activities and training by providing members of the regional team – the joint working has supported and encouraged members to get involved.

There is no reason why any town club can't repeat what we've done, says Rob. "Selfishly, from a Diving Officer's perspective, we have standardised training, exposed our divers to more trips and more social opportunities," he said. "We set aside our pecuniary interests and did something we think is special," Paul agrees. "This collaboration is about trust, integrity and commitment, putting aside parochial interests to grow and develop each club."
"If we deliver value to members, we can't help growing the club. And after all, what is BSAC? It's a club. So let's use the club system to our advantage…"

The BSAC network is working together to keep people connected to the sport. With online training, special interest webinars, competitions, support to clubs and the trade, and much more...we'd love you to join us.
This Club Focus was originally published in SCUBA magazine, Issue 104 July 2020. For more membership benefits, visit bsac.com/benefits.
Want to know more about the diving clubs Barnsley BSAC and Dearne Valley Divers? Please contact the clubs using the details below:

Barnsley BSAC
Email: diving@barnsleybsacdivers.co.uk
Website: barnsleybsacdivers.co.uk
Facebook: Barnsley BSAC Divers
Dearne Valley Divers
Email: hello@dearnevalleydivers.org.uk
Website: dearnevalleydivers.org.uk
Facebook: Dearne Valley Divers
Feature image: Members from both clubs on their annual Farnes trip (all taken pre-Covid)