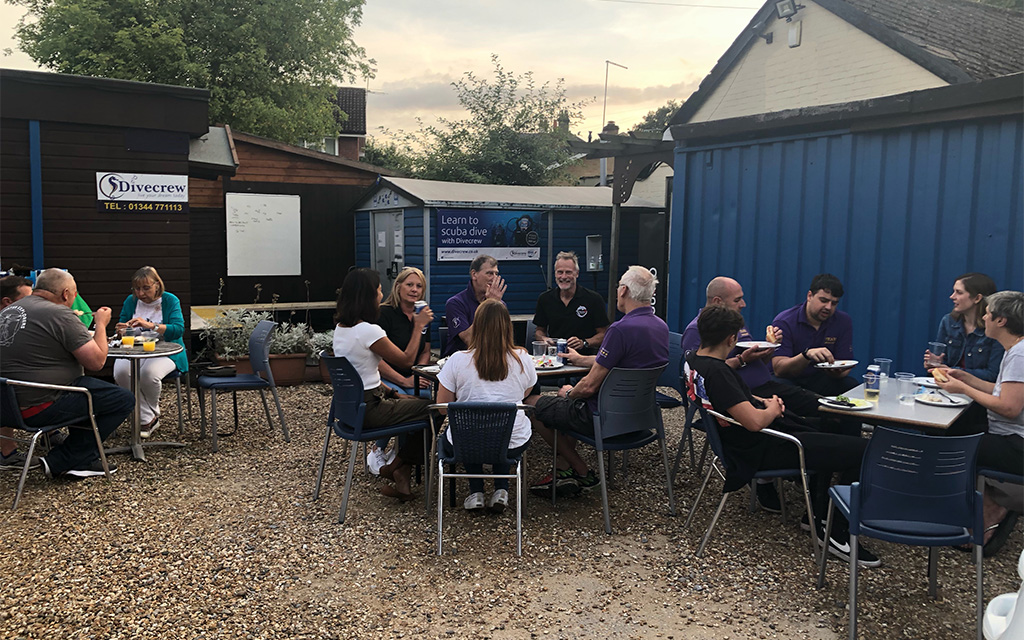 BSAC's Branch/Centre partnership scheme has held its first meet and greet session with more information sessions now set to follow.
The Branch/Centre partnership initiative has been designed to support resource-stretched clubs to grow their membership while offering trainees a choice in how they learn to dive.
In the first information session, Berkshire-based Divecrew hosted a barbecue at their Crowthorne dive centre for members from eight clubs taking part in the scheme. The clubs spent their time meeting the Divecrew team and discussing how the initiative will help their own training and potential new member recruitment.
Similar meet and greet sessions with other centre partners, DM Scuba and RoHo are also scheduled for October.
So far, seven centres are participating in the scheme, with more around the country set to come on board. Over 50 BSAC clubs are also taking part, with interest from many other clubs looking for additional ways to support their trainees and members.
Meanwhile, as the Autumn training season starts, the first Ocean Diver trainees are starting to come through the Branch/Centre partnership scheme.
Salisbury Civil Service Club, who have partnered with Bristol-based DM Scuba, said the initiative had been a real boost to their new Ocean Diver training. The club's Diving Officer, Chris Ingham added:
We're off to a flying start! Our two Ocean Diver trainees went through the pool session 'boot camp' organised by Paul at DM Scuba and it's gone brilliantly. Alex and George came back full of enthusiasm, having really enjoyed it and with all their pool stuff signed off.

We're now streets ahead of where we would be without the partnership, and it's a real pleasure working with DM Scuba.
Want to know more about the Branch/Centre partnership scheme?
Created in response to the training capacity and member retention challenges faced by many branches as well as growing demand for more flexible, fast-tracked training, the scheme buddies up branches with nearby BSAC Training Centres.