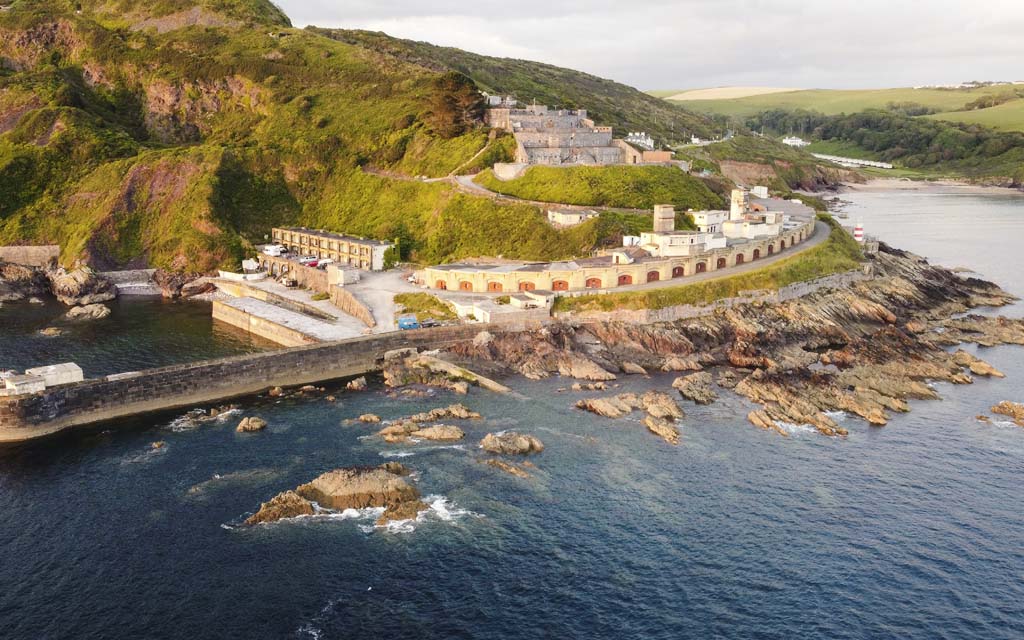 As Fort Bovisand closes its gates for redevelopment, Kirsty Andrews traces its military history and enduring significance for UK divers.
Earlier this year I spent a fond and a little bit emotional weekend diving out of Fort Bovisand in Plymouth. It's a regular haunt of mine, but this was to be the last weekend I would have the pleasure of visiting for quite some time. Bovisand Fort will be closed until 2023 to allow a £26m programme of development to be completed.
The history of Fort Bovisand
In some ways, this is just the latest reinvention of a location that has been pretty special to British divers for many decades, and of military significance for centuries, particularly the mid-19th Century. The Fort is in fact a combination of fortifications: Staddon Point Battery, Breakwater Fort and Fort Bovisand, part of a ring of Palmerston forts built to defend the entrance to Plymouth Sound from attack. The original guns were taken out in the 1890s, but there were still defence forces present until 1956, and until relatively recently there was training taking place through the Joint Services training centre based there. The pier and harbour themselves are also Grade II listed.
Fort Bovisand is one of the best-preserved remaining examples of these Victorian-era forts but has certainly been showing its age, and is now on Historic England's 'at risk' register, as well as being a Site of Special Scientific Interest due to the many protected species living there. I for one will cherish memories of swooping peregrine falcons and bat noises as I admire the stunning sunset over Plymouth Sound with a sizzling BBQ next to me. Even the shore dive there is well worth a mention: ancient cannon can be found among the bustling marine life.
Diving at Bovi
From a diving perspective, the glory years were probably the 1970s and 1980s, with considerable commercial and sport diving training taking place. In 1975, the Fort Bovisand Underwater Centre was established as the first Government-approved Commercial Training Centre and the Fort became a spiritual home for divers; the harbour was often filled with club RIBs as well as the resident training divers, and from what I have heard, the bar was usually filled to bursting as well!
There are probably plenty of divers reading this with some very happy (and potentially explosive) memories of diving at Bovisand. I would encourage them to check out the Fort Bovisand Underwater Centre (RIP) Facebook group for some great photographs of the glory years and perhaps to reconnect with old coursemates.
In the modern-day
Discovery Divers took up residence at the Fort in 2004 and that's probably about when I started to visit as well. For the last few years, the Fort has continued to host divers, but the spectre of development has been present since Greg Dyke purchased the land and planning permission was granted in 2017.
In recent times, works to stabilise the access road have meant locked gates allowing entry only by the lucky few booked to dive with Danny Daniels on Red Alert. The new development will be mostly 80 private residences but will include catering and commercial units including… a dive centre. Discovery Divers will be based elsewhere while the works take place, but I firmly hope that in time, diving will return as an integral activity at Fort Bovisand and this very special part of our South Coast.
The BSAC network is working together to keep people connected to the sport. With online training, special interest webinars, competitions, support to clubs and the trade, and much more...we'd love you to join us.
This column was originally published in SCUBA magazine, Issue 121, December 2021. For more membership benefits, visit bsac.com/benefits.
Images in this online version may have been substituted from the original images in SCUBA magazine due to usage rights.