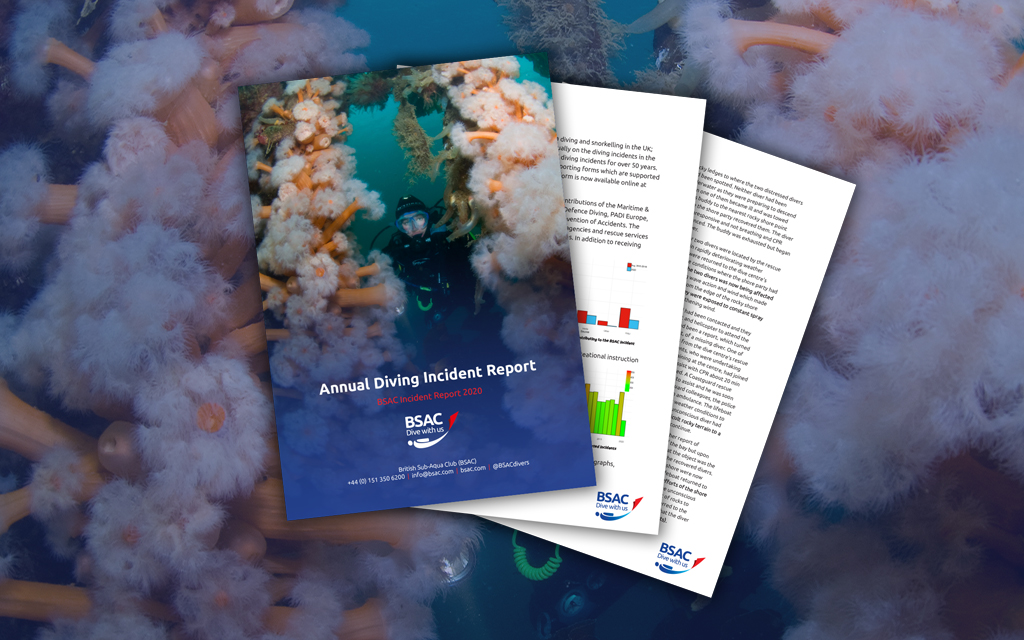 Published by BSAC every year, the 2020 report recorded a reduced total of 128 incidents throughout the UK, impacted by Covid-19. The report is compiled by BSAC Safety & Incidents Advisor, Jim Watson.
The Annual Diving Incident Report for 2020 has just been released and is now available to download.
View and download BSAC Incident Report 2020
Published by every year, the incident report and its data analysis aims to promote diver safety as well as understand any trends that can support all the diving agencies in their diver training programmes and safety advice.
The 2020 report covers incidents from 1 January 2020 to 31 December 2020. During this period, a total of 128 incidents throughout the UK were recorded, which sadly includes six fatalities. The significantly reduced number of incidents reported in 2020 can be attributed to the restrictions on diving activity due to the Covid-19 pandemic.
Impact of Covid-19
The diving year of 2020 was impacted by restrictions on diving activity which changed throughout the year and differed across the devolved nations. The published report includes an illustration of how the number of incidents varied by month and how these numbers were related to the restrictions in place across the UK which prevented diving. As noted above the number of incidents reported for 2020 was significantly reduced.
This reduction in diving incidents is, of course, a good thing but it does make it harder to draw any definitive conclusions or lessons learned from this extraordinary year. However, there was no great change in the pattern of distribution of incidents across the different categories, even though the number of incidents reduced across the board.
Some other key features of the 2020 report include:
The number of reported incidents, significantly reduced due to Covid-19, reflects limited diving undertaken during the year.
The monthly reporting shows a correlation with the progressive easing of restrictions on diving.
Sadly, there were six fatalities in the UK and of these one involved cave diving, one involved snorkelling and one occurred prior to diving.
There are indications for likely medical causes, including immersion pulmonary oedema, in some of the fatalities although these are yet to be confirmed.
View and download BSAC Incident Report 2020
Incident report presentation
A presentation of the incident report is scheduled to take place as a webinar on Saturday 15 January 2022 at 11 am. You can book your place online now.
A recording of the webinar will be subsequently available to watch on the incident report webpage.
Help us to keep diving safe
If you have been involved in or witnessed an incident, please report it – in confidence – and help us to continue to shape a safe future for diving.
Whether you are a BSAC diver or dive with another agency, a recreational or technical diver or if the incident happened in the UK or overseas, BSAC wants to hear about it. You can find the form online at bsac.com/reportanincident.
The BSAC network is working together to keep people connected to the sport. With online training, special interest webinars, competitions, support to clubs and the trade, and much more...we'd love you to join us.