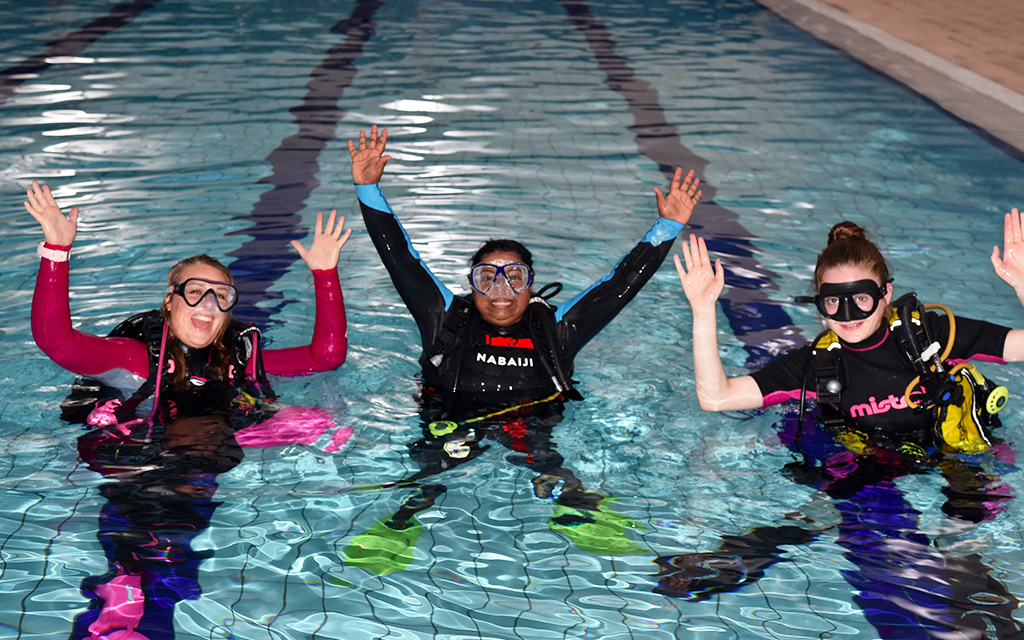 In recognition of this year's World Mental Health Day, let's consider the role that our community can play in supporting those with mental health challenges.
The World Health Organisation recognises World Mental Health Day on 10 October every year. The overall objective of World Mental Health Day is to raise awareness of mental health issues around the world and to mobilise efforts in support of mental health.
This year's theme set by the World Federation for Mental Health is 'Mental Health in an Unequal World'. This is because, the reality is, people from racialised communities, young people, and people living in poverty are disproportionately affected by mental health issues.
Struggles with mental health affect one in four adults in the UK in any given year and it can be just as limiting as an issue with your physical health. The good news is that scuba diving, snorkelling and the nature of our community can have a tremendous impact on boosting self-esteem and reducing stress and tension.
Here are a few things we can all consider this World Mental Health Day to help ourselves and support others in our community that may be suffering…
Taking part in club activities
Even when you want to pull away from everyone around you (a common symptom of many mental health issues), that's often when it's best to surround yourself with people you trust. Taking part in club activities can be a great way to get involved with a community you love without necessarily having to talk about what's going on right now. Sometimes, taking your mind off things and doing something completely different is exactly what you need.
Equally, if someone is a little quiet during club night, support them! Allow them to be involved as much or as little as they want to and let them know you're there if they do want to talk. Sometimes, people just want to sit in the corner of a room and be by themselves but with people around them.
Starting conversations around mental health
Scuba diving and snorkelling can play a huge part in sparking conversations about mental health, whether that's at the pool, on the waterside, at the clubhouse, in the pub, or in the changing rooms. It provides a natural environment for an established club network of people which helps facilitate engagement in mental health awareness.
The more we talk about and are open about mental health, the more we break down the barriers and stigma. Let people know that you're there to listen if they need someone to talk to.
This too shall pass, but also feeling this way is valid
Mental health can be debilitating at times but remember that you are not a problem that needs fixing. Much like our moods, our mental health fluctuates and while your feelings are valid, things won't always be as bad as they may be right now.
If mental health is something you've never struggled with before but you now find yourself feeling bad, that's also totally okay. Some mental health issues are chronic, while others are reactionary, and just because you feel one way right now, doesn't mean you will forever.
The best thing you can do if you're struggling is speak to your GP and a therapist. Alternatively, speak to someone you trust; for many, just speaking through things can help resolve much.
Be kind!
You don't know what people are going through, so spread kindness everywhere you go. There have been scientific studies that can now prove that acts of kindness help your immune system, reduce stress, give you energy and are good for your heart!
Kindness is contagious and can significantly improve the physical and emotional wellbeing, not only of those receiving the kindness, but the giver too.
It sounds like such a simple thing, but you'd be amazed by how much good that small act of kindness can do. Reach out to someone, help a stranger in the street, or plan something wonderful within your diving and snorkelling community.
The BSAC network is working together to keep people connected to the sport. With online training, special interest webinars, competitions, support to clubs and the trade, and much more...we'd love you to join us.