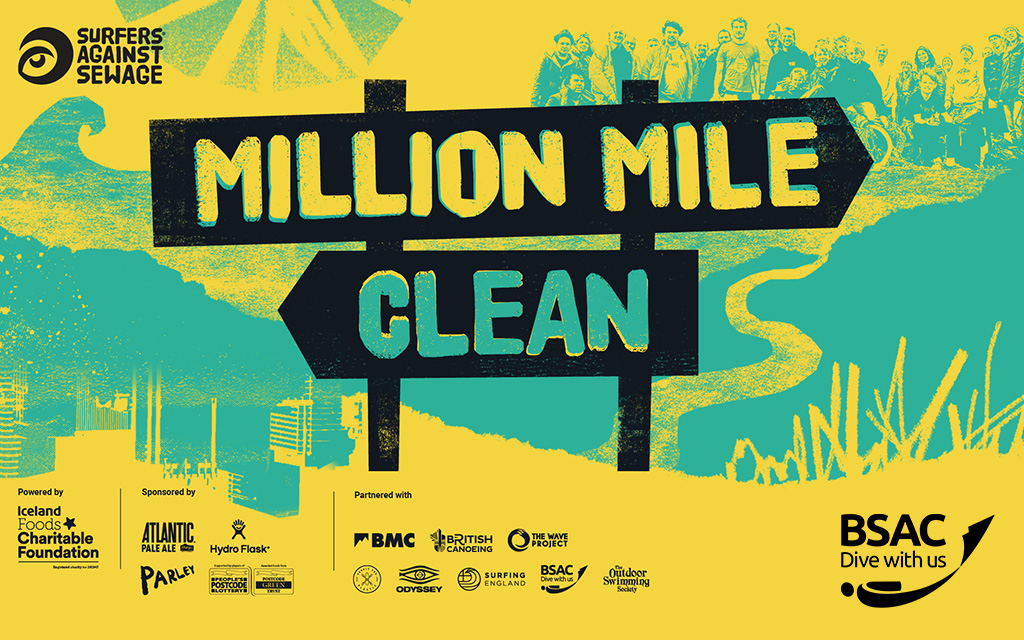 From plastic straws to ghost nets, plastic waste is entering our oceans at an alarming rate of about 11 million metric tons a year. As divers, many of us will have witnessed the devastating impacts of plastic pollution on the environment first hand.
BSAC is now partnering with Surfers Against Sewage to bring to you the Million Mile Clean. The new campaign, led by Surfers Against Sewage, aims to encourage 100,000 volunteers to get outside and explore 10 miles while litter picking over the year.
100,000 volunteers x 10 miles each = 1 million miles cleaned
Created in response to the pandemic, the campaign will connect everyone's collective beach, street, river, mountain - and now underwater - cleaning action. BSAC is working with Surfers Against Sewage so the campaign can extend to underwater litter collection. It will be the biggest and most impactful cleanup event ever!
Research shows [1]:
Over half of Brits (54%) think Covid-19 has led to an increase in plastic pollution
69% of litter collected during beach cleans in 2020 was PPE [2]
Almost two-thirds (59%) have seen more waste in their area over the last 12 months
51% say they see more plastic on UK beaches than wildlife
41% Brits feel their mental health has deteriorated as a result of lockdown


[1] The survey of 2,000 British adults was conducted by Opinium between 9 March – 13 March 2021 and balanced demographically by age, region and gender.
[2] Marine Conservation Society, Source to Sea Litter Quest 2020
This campaign reflects and celebrates a national mood of hope and optimism as the country emerges from a dark winter spent in lockdown. Now more than ever, it is crucial for us all to reconnect with the outdoors and the Million Mile Clean provides an opportunity for people to prioritise their health whilst also creating a positive impact on the environment.
Collaborating for greater environmental gain
Surfers Against Sewage is a grassroots movement that has grown into one of the UK's most active and successful environmental charities. Dedicated to the protection of oceans, beaches and wildlife the charity declares it won't stop until these environments are completely clean, safe and protected for everyone, forever.
The new BSAC Strategy places the environment at the centre of its mission and values. By partnering with Surfers Against Sewage, an organisation at the forefront of environmental conservation, BSAC is able to bring its community to a high profile UK project, while working with members to help protect our favourite sites with every dive.
BSAC CEO Mary Tetley said:
We're excited to announce this new collaboration. Just like our diving community, the Surfers Against Sewage community loves our oceans and would like to see them better protected. This is a fantastic community project and we encourage as many members as possible to get involved.
SAS CEO Hugo Tagholm said:
We are really pleased to be partnering with BSAC in our Million Mile Clean campaign. The diving community will complete our coverage from summit to sea, and help to tackle plastic pollution from below the surface. We can't wait to see what they find.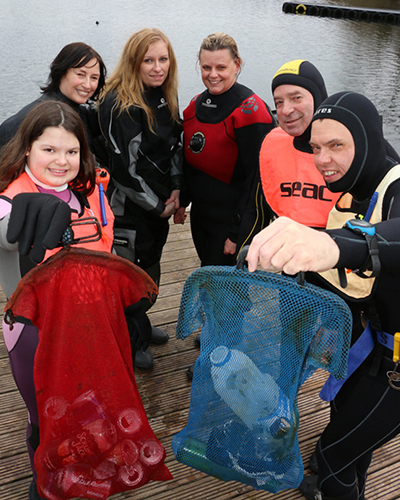 Get involved!
We are calling on clubs, centres and members to sign up, get involved and organise or take part in underwater and/or beach cleans in 2021.
For those of you unable to return to the water for now, or for non-diving members, the clean-up action doesn't have to take place underwater, you could organise a land-based clean or join a clean-up event near you.
Underwater, beach, street, river or mountain, you can take part anywhere, anytime. All of your cleaning action counts towards the million-mile goal.
When organising litter picks, please remember to comply with Covid-19 safety guidelines and organisers should implement the guidance for organised events.
To set up an underwater litter pick or beach clean (or for more info), visit the Surfers Against Sewage website.
If you like, you can track your cleans via the 'Surfers Against Sewage: Million Mile Clean' Strava club.
Registering an underwater litter pick or beach clean
To set up an underwater litter pick or beach clean (or for more info), visit the Surfers Against Sewage website.
Please include in the notes section when you sign up that the event is a 'private BSAC underwater litter pick'. This will ensure the event remains open to divers within your club and assists with dive planning and management.
Utilise BSAC guidance on litter pick planning and safety when organising your litter pick.
Keep us posted! Remember to submit your results and use the hashtags #MillionMileClean and #BSACdivers when posting on social media.
Support from us
If you have any questions for BSAC on this campaign, please get in touch at debbiep@bsac.com. You may find the following resources useful for organising your underwater litter picks.
The BSAC network is working together to keep people connected to the sport. With online training, special interest webinars, competitions, support to clubs and the trade, and much more...we'd love you to join us.