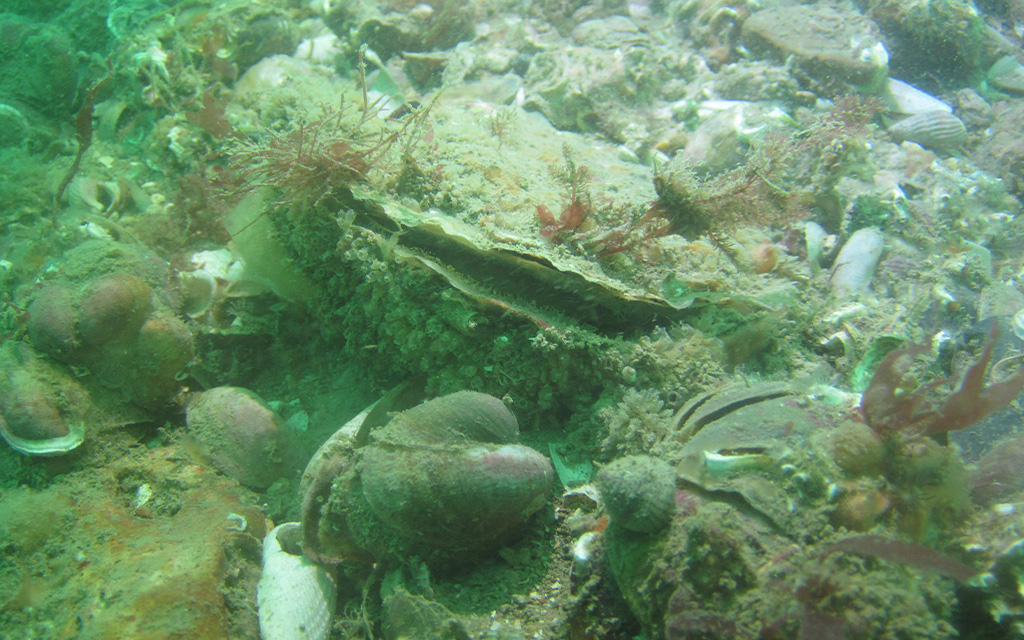 BSAC's newly launched environment project, Operation Oyster, has welcomed three key partners on board – ZSL (Zoological Society London), University of Portsmouth and Blue Marine Foundation (BLUE).
The partnership means that data gathered through Operation Oyster will now directly support vital work already underway to restore and protect the UK's threatened native oysters.
Operation Oyster aims to engage BSAC members, divers and snorkellers in helping to rehabilitate the UK's vulnerable native oyster habitat. The initiative will incorporate a nationwide citizen science project – to be launched this summer – through which divers can directly contribute by recording sighting of existing native oysters whilst diving, enabling the wildlife charities to get a clear picture of existing native oyster populations around the British Isles.
The UK's native oyster (Ostrea edulis) is under ever-increasing environmental stress. The population has declined by an alarming 95% over the past 200 years due to historical overfishing, disease, pollution and habitat loss. Once abundant, the loss of our native oysters also has consequences for the wider environment and climate change, with oyster habitat playing an essential role in filtering seawater and boosting biodiversity.
By working directly with its new partners, Operation Oyster will now be able to contribute to the understanding of existing oyster populations and ultimately help in the long-term restoration of their habitat and populations.
BSAC's Expedition Advisor Andy Hunt, who set up Operation Oyster after being inspired by the Native Oyster Network – UK & Ireland's native oyster photography competition – in 2020, said he was delighted that the BSAC project now had the full backing of its new partners.
"Operation Oyster is one of the largest environmental projects ever launched by BSAC and will positively showcase that diving with a purpose can have long-term benefits," said Andy.
"And by working with ZSL, the University of Portsmouth and BLUE, we now have the perfect opportunity to ensure that the data gathered by our divers will feed into real-time research to ensure the protection and rehabilitation of our native oyster species."
The opportunity to work with BSAC and its divers was also welcomed by the project's new partners.
"Operation Oyster provides an unprecedented opportunity to get boots on the ground, or fins in the water, on a geographic scale that wouldn't otherwise be possible," explained BLUE's Dr Luke Helmer. "The results will hopefully enable more restoration projects to be established around the UK over the coming years."
Celine Gamble, Zoological Society of London Project Manager and Visiting Researcher at University of Portsmouth, agreed.
"Images taken by UK divers exploring our complex marine world will allow us to gather important information about native oysters while sharing the beauty of our oceans in a way that's not been possible before," she added.
Find out more and get involved with Operation Oyster
About our Operation Oyster partners:
Blue Marine Foundation is a London-based charity dedicated to restoring the ocean by addressing overfishing, securing marine protected areas, and restoring marine habitats. www.bluemarinefoundation.com
ZSL (Zoological Society of London) is an international conservation charity working to create a world where wildlife thrives. From investigating the health threats facing animals to helping people and wildlife live alongside each other, ZSL is committed to bringing wildlife back from the brink of extinction. Their work is realised through ground-breaking science, field conservation around the world and engaging millions of people through their two zoos, ZSL London Zoo and ZSL Whipsnade Zoo. www.zsl.org
University of Portsmouth (Institute of Marine Sciences) is a co-founder of the Native Oyster Network with ZSL, which included last year's Native Oyster Photography Competition. www.port.ac.uk