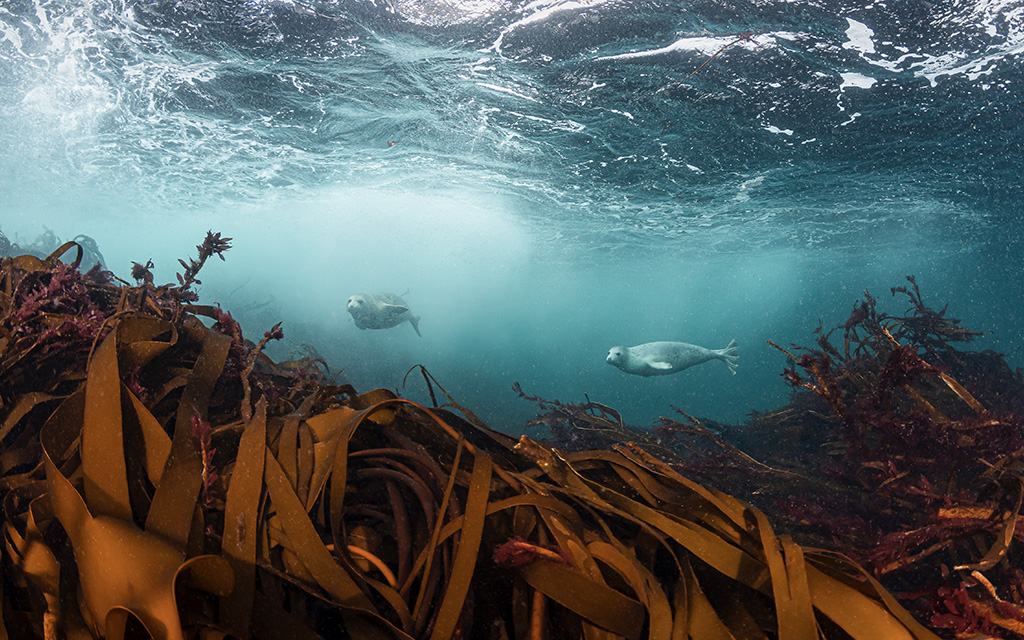 BSAC is encouraging its members to take part in the Marine Conservation Society (MCS) and Natural History Museum's first Big Seaweed Search Week from 26 July – 1 August 2021.
There are over 650 species of seaweed found around the UK. From dabberlocks to bladderwrack and sugar kelp, each seaweed plays a vital role in supporting the health of our seas, and the planet.
From 26 July – 1 August 2021, the Marine Conservation Society and Natural History Museum will be asking people across the UK to get involved and spot seaweed at the seaside as part of Big Seaweed Search Week. As divers and snorkelers, BSAC members are in the prime position to take part and help out!
The Big Seaweed Search equips beachgoers with the knowledge to identify 14 of the most common types of seaweed found at the UK seaside. This vital information is then shared with the Natural History Museum and Marine Conservation Society, who use the data to inform research on how the presence of different seaweed has changed over time due to environmental factors such as climate change.
Professor Juliet Brodie, Merit Researcher at the Natural History Museum and Big Seaweed Search, says:
By taking part in Big Seaweed Search Week you'll be helping to contribute to our ongoing scientific research into seaweeds.

As climate change affects our seas, we're seeing temperature increases, sea level rise and the impact of ocean acidification. These changes can affect the distribution of different seaweed species around the UK coastline. For example, dabberlocks, a large brown seaweed, is declining in abundance around our coasts, and the number of non-native species in the seaweed flora is increasing year on year. By mapping where different seaweed species are, we can create a baseline from which to determine the impact of environmental changes on our seas.
Some of the most common and best-known seaweeds are brown seaweeds: bladderwrack, with distinctive air-filled bladders and spiral wrack, which often has a spiral twist. Also easily identified is sugar kelp, which has a tough, elongated strap-shaped frond that has a crinkled, dimpled or ruffled surface. Kelps are cold-water species and form kelp forests in many parts of the world's seas.
Not only are seaweeds a great source of nutrients and energy for animals such as crabs and sea urchins, but they also create critical habitats for other species, acting as nurseries for young fish and places where other sea creatures can take cover from predators.
Seaweeds such as kelp are also vital 'blue carbon' stores, absorbing carbon from the water and atmosphere just like forests on land. The storage of blue carbon can be in the plants themselves, like seaweed and seagrass; in the seafloor sediment where plants are rooted; or even in the animals which live in the water, including seabirds, fish and larger mammals. Unfortunately, 38% of kelp populations are reported to be declining around the world, limiting ocean ecosystems' abilities to absorb carbon and fight the climate crisis.
Justine Millard, Head of Volunteer and Community Engagement at the Marine Conservation Society, says:
We're hoping lots of people will join Big Seaweed Search Week this year as they head to the coast. We want people across the UK to learn about the wonders of seaweed, spread the word, and help us collect vital information which will support our ongoing research.
The Natural History Museum and Marine Conservation Society have developed a helpful guide, highlighting key features of the different seaweeds likely to be spotted by the seaside.
How to get involved
Just complete the simple survey on a mobile, tablet or computer that can be carried out as an individual or in groups.
Register to take part and download the guide and recording form
What to do:
Choose your 5m of coastline to survey (from the top of the shore down to the sea)
Fill in your survey form
Take LOTS of clear, close-up photographs for your survey to be accepted
Submit your survey through bigseaweedsearch.org
Don't forget to upload your photographs when you submit your survey


You can visit the Big Seaweed Search website for all the information you'll need to get started!
The BSAC network is working together to keep people connected to the sport. With online training, special interest webinars, competitions, support to clubs and the trade, and much more...we'd love you to join us.
Feature: Kirsty Andrews