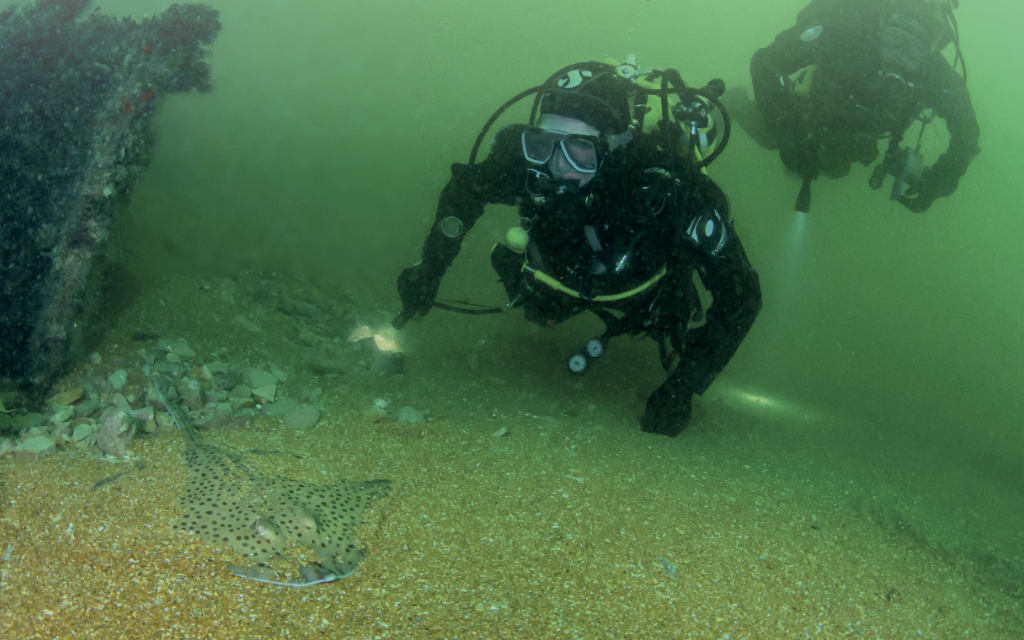 Finally back in the water and feeling all the better for it, Yo-Han Cha recounts his return to diving after the final restrictions were lifted.
A sign of how desperate I was to get back to diving was my booking up diving of some sort or another in the first three available weekends we were free to do so. I'm not going to lie, the conditions on the first dive out of Weymouth on Tango could have been better. When I say it was one metre viz, I'm rounding up!
But the main thing was that we were back scuba diving. My buddy had a great time scalloping, while I tried and failed to take photos. But we were diving and it felt great. All the stresses of life were forgotten, while the current gave us a whistle-stop tour of Lulworth Banks. Visibility aside, it was a beautiful day for it; the sun was out, there was hardly any wind and Sue Mitchell had brought her most excellent homemade sausage rolls and flapjacks.
I was back diving out of Weymouth on Tango again a couple of weeks later, but this time, rather excitingly, it was for a whole weekend. The visibility, which had been improving, dropped again – but it was just about good enough to see my first spotted ray. My camera had decided to refuse to turn on during that dive (it just needed its battery taking out and putting back in again, but that's difficult to do during a dive) but I managed to get a photo of one the next day. There were no sausage rolls that weekend, as I was diving with a different club. But the sun was back out and I enjoyed getting to meet members of my new club in real life rather than just virtually [Yo-Han has moved again, this time to the Bristol area].
I decided to stay at home in Bristol after Saturday's diving, so I feel like I've not had the complete diving weekend experience yet, but I've loved what I've been able to get from diving so far. Meeting old friends and making new ones; feeling the stresses of life lift from my shoulders while I sink below the waves, and the challenge of taking photos underwater – what more could I ask for? I'm going to pre-empt the editor by saying 'good viz', but, honestly, the lack of it didn't take the shine off going back to doing what I love.
I even found myself relishing doing the tedious menial stuff around diving, such as washing down my dive kit, tasks normally carried out with a reluctant sigh. Photographers might find this blasphemous but I find processing photographs particularly dull and normally put it off continually for 'another day' but I've even loved doing that.
That and the tiring long drives home after a dive trip, the stiff muscles on Monday when the alarm goes off far too early for work, the sunburn from forgetting to apply sun cream continually and having to lug my cylinders about to get them refilled. It might just be the novelty of normality, but it's all been amazing and I've loved every minute of it.


The BSAC network is working together to keep people connected to the sport. With online training, special interest webinars, competitions, support to clubs and the trade, and much more...we'd love you to join us.
This column article was originally published in SCUBA magazine, Issue 116 July 2021. For more membership benefits, visit bsac.com/benefits.
Images in this online version may have been substituted from the original images in SCUBA magazine due to usage rights.