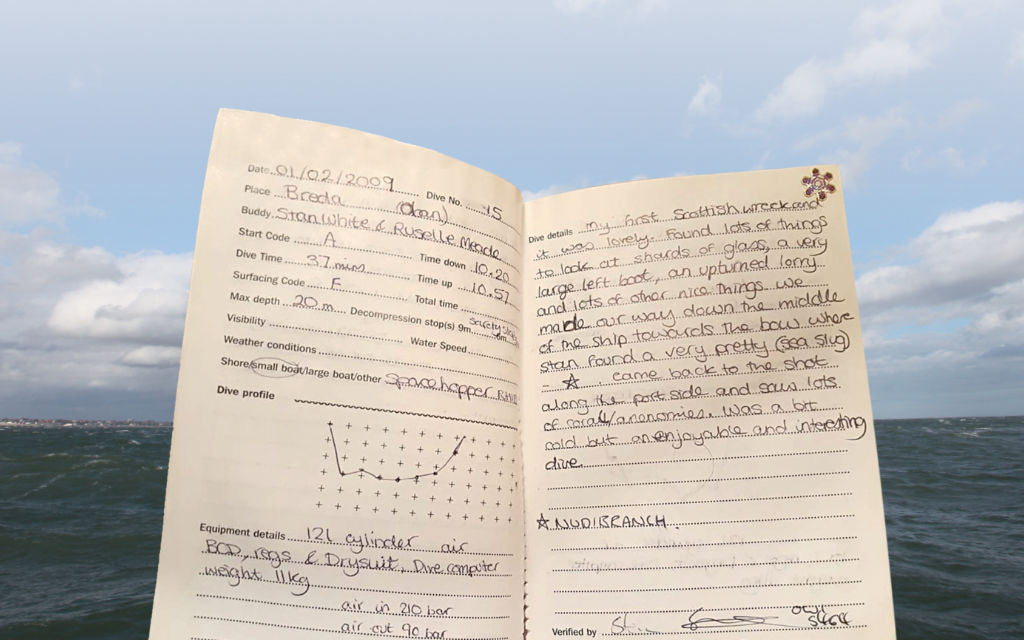 Yo-Han Cha — 800 dives and counting — makes the case for keeping a good old-fashioned dive logbook.
Some people put a lot of effort into their logbooks, they write essays about their dive and draw the most beautiful pictures and dive profiles. Not me – these days it's pretty minimalistic, just basic dive information: the time, depth, temperature and sometimes how much weight I used, especially if I had changed my kit configuration.
I may note down a few species that I was particularly chuffed about seeing underwater and that's about it. At the end of the day, I mainly go through my old dives to find out weight I used that last time I wore a wetsuit; or to remember whether 12°C is 3mm or 6.5mm gloves territory, so I can only put the slight obsessive dive logging nature down to me having, possibly, some wee compulsive disorder.
That aside, I would say that it's more important to keep a log of your dives earlier in your diving life than later, especially if you're doing training, so there's no judgement from me on those experienced divers who have stopped logging them. If you're in the middle of doing Sports Diver or Dive Leader training, definitely log your dives. Those conditions don't get signed off by themselves and if the same few instructors are diving with numerous buddies throughout the course of a week-long trip, their memories may need some jogging to remember what exactly happened on your dive with them. Especially if you all wait en-masse until the end of the trip to ask your instructor to fill out your QRBs.
I've currently logged more than 800 dives and I'm still logging them. On paper. Apparently, a lot of experienced divers stop logging their dives well before they get to my tally and if they still do, they've stopped bothering with paper logbooks. Apparently, there are these things called spreadsheets, which in any case can be downloaded straight from your dive computer? But I still stubbornly continue to log my dives the old-fashioned way.
I guess I find paper logbooks so much more personal and sentimental. It's hard to ask a buddy to sign a spreadsheet or if you're abroad, to use the dive centre stamp on them. Dive computers can fail and lose all their recorded dives, so they're not 100 percent safe as record-keepers. That being said, the safety of your logbook is very much dependent on the individual. They're not immune to cups of tea and salt spray.
If, for instance, you leave your logbook on your car roof and drive off without realising, you will indeed lose those very personal and sentimental bits of paper and give yourself a gut-wrenching moment in the process. I may have done just this in Connemara as I drove off feeling very satisfied after a successful weekend of diving, and only noticed that my logbook was missing after a couple of hours of driving. But thankfully, the Irish are a clever and wonderful bunch, and they managed to get it back to me.


The BSAC network is working together to keep people connected to the sport. With online training, special interest webinars, competitions, support to clubs and the trade, and much more...we'd love you to join us.
This column article was originally published in SCUBA magazine, Issue #112 March 2021. For more membership benefits, visit bsac.com/benefits.
Images in this online version may have been substituted from the original images in SCUBA magazine due to usage rights.