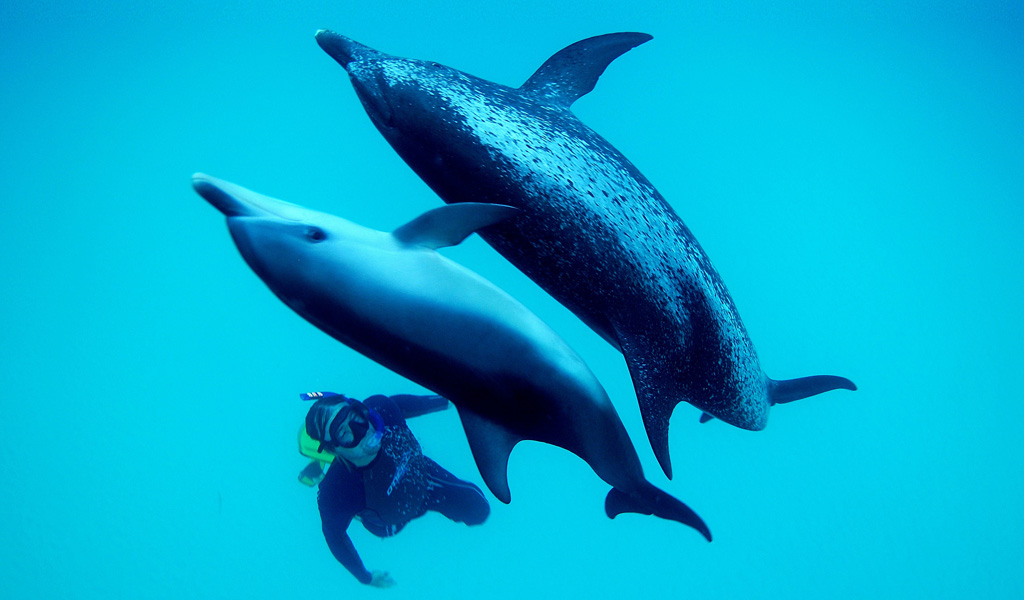 Snorkelling is the best way to see dolphins in the water, but the encounter always needs a willing participant, says Andy Torbet.
I had my first encounter with a dolphin in the UK. It was, unfortunately, only from a boat as we navigated the Moray Firth in my old haunt of North East Scotland. I admit to finding that first encounter a little intimidating.

The population of bottlenose dolphins that inhabit these waters are the most northerly in the world and some of the largest. The adult can be four metres long and weigh 650kg. To put that in context, a large adult male grey seal tops out at a modest 400kg and a red deer stag is a paltry 200kg. When I first saw a big male, speeding alongside our RIB, roll effortlessly out of the water I was shocked at the size and absolute power of the animal. This was a true oceanic Olympian.

British waters abound with cetaceans, but we seldom encounter them on dives. Normally they remain offshore and the British diver is unlikely to see them on a wreck dive (the most common reason to go offshore in the UK diving scene). Even if they do come closer to shore, the visibility in our waters rarely allows us to see them underwater. As much as I want to promote snorkelling and encourage everyone to get involved, I have to concede that I have chanced upon dolphins and whales many times around Britain on a paddleboard or sea-kayak but never snorkelling.

Years later in the Red Sea, between dives from our anchored liveaboard, a pod of bottlenose dolphins turned up. I immediately took to the waters with mask and snorkel in hand. In my haste and excitement, I'd not bothered to take the time to don my fins. But I didn't want to furiously swim after the dolphins anyway, chasing them around and potentially upsetting them. With all animals, I believe we should keep our distance and if they choose to approach then we remain in place and refrain from any sudden, excited movement.

The dolphins did approach and swam around me for a few minutes. I bobbed on the surface watching them move gracefully around me before disappearing into the grey gloom. With the dolphins gone, I swam back to the boat and duck-dived to the seabed about 10 metres beneath. What I didn't realise as I breast-stroked down was that the pod had returned. As I rolled above the sand to start for the surface, the dolphins were all around me. I ascended as slowly as my breath-hold would allow, corkscrewing continually to appreciate what surrounded me. As I did so the dolphins spiralled around me, escorting me back to the surface.

Most cetacean conservation groups discourage actively seeking out and swimming with whales and dolphins. And I would agree. However, if they, or other marine wildlife, turn up while I'm in the water and approach me, I'm happy to quietly observe, enjoy the privilege and wait until they decide to move on.


Snorkel with your local BSAC club!
Not yet a BSAC member? Let us help you find your local BSAC club
Send your postcode to hello@bsac.com and we'll help you find the right scuba club for you. Or if you fancy a chat call us 0151 350 6226 (Mon - Fri, 9 - 5:30).
For more information on snorkelling with BSAC go to bsac.com/snorkelling. Looking to introduce snorkelling into your club? Find out more at bsac.com/snorkellinginstructor.
If any of you have any suggestions, I'd love to hear them. Drop a note to me through the editor's email at SCUBA or on my social media below:
Facebook: OfficialAndyTorbet
Instagram: @andy_torbet
Twitter: @andytorbet
Article by Andy Torbet for SCUBA magazine, Issue 103 June 2020.

Find out more about learning to snorkel or discover snorkelling in the UK.
Images in this online version may have been substituted from the original images in SCUBA magazine due to usage rights.