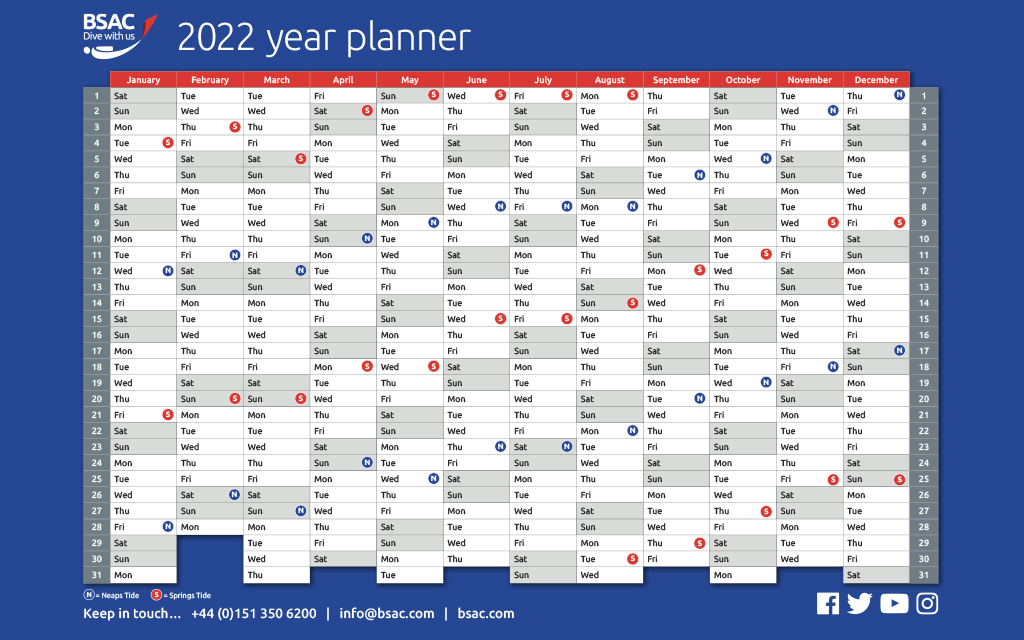 BSAC annually produces a year-view wall planner with the spring and neap tides which is free to download in a variety of sizes.
With the tides for next year, the planner can be used to map out both individual member and club dives for the new diving year.

Many thanks to Mike Rowley and Mark Gosling who have provided assistance with creating the neaps and springs chart this year.
The PDF can be printed off in either A4 or A3, perfect for the dive club noticeboard, or the planner can be downloaded in larger sizes – A2 and A1 – which can be sent to your local printers or copy shop if you need a large size.
Download the 2022 year planner
Please click below to download the PDFs.
If you want to use an editable PDF but don't have the software then you can use free websites like this to personalise your year planner.
Add the tides to your digital calendar too!
Download the ICS file to add the tides to your digital calendar on Microsoft Outlook, Google Calendar or Apple Calendar (iCal). These will be able to sync across all your electronic devices including your smartphone and tablet, as well as your computer.
You can download the file and find instructions on how to import it onto your calendar system below.
Microsoft Outlook
Download the ICS file
Right-click and select 'Open with...' > 'Microsoft Outlook'
This should open a calendar window, click 'Save and close'


Google Calendar
In your browser, open Google Calendar and go to the Settings menu
Click 'Import & Export' on the left-hand sidebar
Select file from your computer, click import!


Apple Calendar
On your desktop, open Calendar
Click 'File' > 'Import...'
Select file from your computer, click import!
Please note, this is for Mac which will automatically import to your iPhone or iPad. To upload directly to your Apple product without using a desktop Mac you will need to follow different instructions (below).
iPhone/iPad Calendar
Email the ICS to your device
Open the message in the Mail app
Tap the ICS file name in the email message window - the list of events should appear
Tap 'Add All', and then tap the calendar to which you want to add the ICS calendar file events, and then tap 'Done'


The BSAC network is working together to keep people connected to the sport. With online training, special interest webinars, competitions, support to clubs and the trade, and much more...we'd love you to join us.