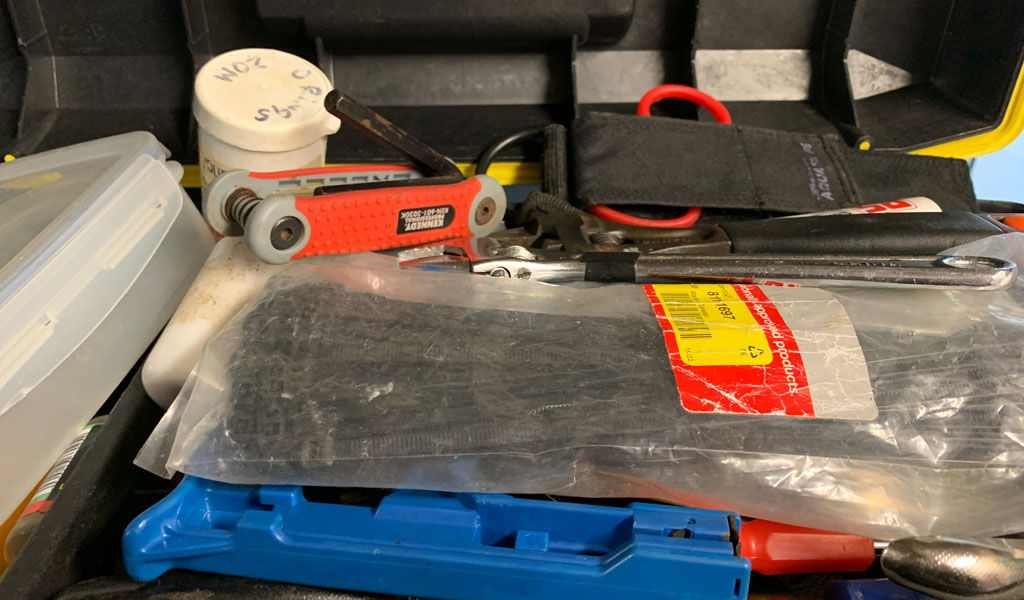 Former BSAC Chair and Advanced instructor Alex (Woz) Warzynski shares his tips on how to save a dive or dive trip, with a "lucky toolbox". Could be a good time to sort yours?
If you're off on a trip and need to do some running repairs, you're going to need some tools. Now I have my "lucky toolbox"- when I take it, I never need it. When I've left it at home, something always needs mending.
The lucky toolbox normally lives in the car for major repairs, or I'll take it onto liveaboards. For day boats or the club RIB, I have a clip-top food box with some tools in - small, compact and contains just enough so your day isn't ruined out on the boat due to some minor problem.

In my experience, at some point seawater will get into your toolbox. So there's no point in spending loads of money on fancy Snap-On tools just for them to rot. I normally buy bargain tools from industrial catalogues or just the cheap stuff from the DIY aisle in the supermarket. Perfectly adequate for a bit of fettling and if they do rot, just chuck them away and buy a new one.
So what's in the boat toolbox?
Some you'll look at and think are a bit odd but I'll try to explain as I go along…
Clip-top plastic box. One of those with the seal on the top to stop water getting in
Set of Allen keys- make sure it has an 8mm one on the set for DINserts
2 adjustable spanners- 6" are fine for the little kit
Stainless multi tool- one of those cheapo Leatherman copies are ideal
Tie wraps- try and get reasonable ones as the cheapies snap
Lighter- cheap disposable is fine
Batteries- for whatever needs them. I seem to hand out those coin batteries all the time in exchange for pints. CR2045 for Suuntos, CR2032 for Quantums.
O-rings in a used pill bottle- see list below. Anything with a wide lid is handy to put them in. An empty Extra chewing gum pot is ideal.
O-ring pick- preferably brass so you don't scratch the regs
Bungee cord- thin (3mm) and thick (6mm). If it's black, people will nick it. If it's unfashionable white, they won't
Zip lube- lots of different types around from blocks of beeswax to the bottles with brushes
Silicone grease- or O2 safe grease if you have rich mixes that need to be kept compatible
Snoopy loops- little ones from MTB inner tubes, big ones from trailer inner tubes scrounged from car tyre places
Three double-ender bolt snaps- it's amazing what you can mend with these
Weight retainers- handy to slip an extra weight onto your belt and stop it coming off
DINsert- someone else will want to borrow this at some time. Guaranteed!
Fin strap- very tedious sitting out a dive cos of a broken strap. Quick change and you're away into the water!
Mask strap- same as a fin strap
Regulator mouthpiece- in case you get a hole in it or chew through a tab

These are some of the useful O-ring sizes you'll need on a boat- I've changed all sorts, mostly cylinder O-rings but some hoses and 2nd stage swivels. They're particularly tricky to get at. If you can, get the O-rings from an industrial supplier as they tend to be fresh and not sat around for a while- EPDM 60 shore A will cover most eventualities, with 90 shore A for a DIN O-ring. The coloured O-rings mean nothing- they just have a dye in them and the green ones you see have a tendency to go chalky and drop to bits.
BS003 HP swivel (some take 002). Have them already on a swivel pin as they're a bit fiddly
BS111 A clamp only cylinder
BS112 DIN convertible cylinder
BS011 LP hose
BS012 HP hose
BS013 LP hose 1/2" port
BS010 2nd stage swivel

The kit maintenance skills needed with this toolbox are picked up over time. Knowing the basics means you can save a dive or even a dive trip. However, know your limitations and ask for help from fellow divers when needed.
I'm sure it goes without saying that your kit should always be serviced as per manufacturers guidelines.
Check out BSAC Kit partners
Take a look at BSAC's Kit partners for offers and discounts on kit. Go on, you're worth it!