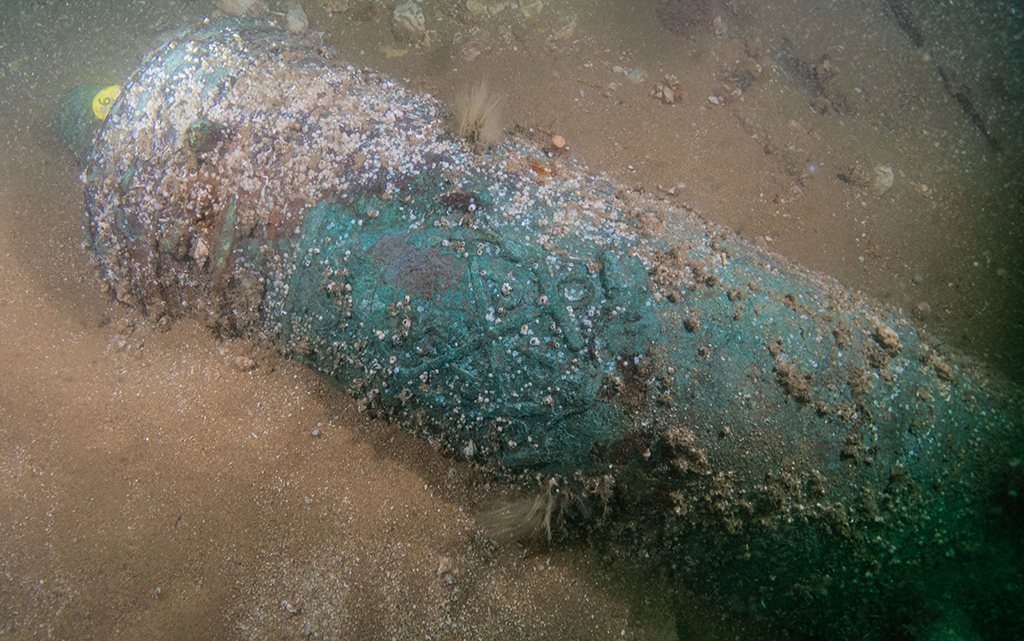 Image of Klein Hollandia shipwreck cannon by Dom Robinson
Enjoy your wreck diving? How about taking a closer look and recording your findings for Jane Maddocks' latest project?
We dive wrecks for so many different reasons. A wreck acts as an artificial reef, and can provide dramatic structural backdrops for underwater photography.
The same structure provides refuge and habitats for an array of marine creatures for us to observe and enjoy, as well as photograph and record in logs.
The wreck itself can give opportunities for recording as the remains of an engineering triumph, or wartime disaster. It can be used to focus on developments in shipbuilding, warfare, trade and technology.
set up a small project on [a] favourite wreck. The idea is to record the wreck, the marine life and the story of the ship or structure
We can develop our own skills in photogrammetry, learn which marine creatures like to inhabit the dark spaces, and look at how our ancestors pushed forward new concepts. We can remind ourselves how to stow our gear, keep our fins off the bottom, and learn the discipline of continuing to monitor our diving at the same time as our heads are excitedly absorbed by what we are seeing.
A ship, of whatever age, is a hugely complex feat of engineering. Talented shipbuilders have carried on the traditions handed down by their ancestors; others were taking a deep breath and being brave enough to create something new. Still others were sinking all their money and hopes into cargoes, weapons, and transport.
Just recently, SCUBA magazine has run stories about two major wreck investigations. The story of HMS Gloucester, with years of work by BSAC divers as well as the Nautical Archaeology Society's work on the Klein Hollandia, show what can be achieved by divers with a purpose.
These were both large projects – your club project can be just as satisfying, while on a smaller scale.
If your branch has a favourite wreck, then you'll know that it's the story behind the wreck that gives the dive its special focus.
I'm looking for branches or teams of BSAC divers who will set up a small project on their favourite wreck. The idea is to record the wreck, the marine life and the story of the ship or structure. The focus is down to you.
If you're surveying your wreck as an artificial reef, perhaps recording the variety of marine life, that's excellent.
If your aim is to do a complete video survey, or photogrammetry, that too is excellent. Equally, if your main passion lies in the engineering of a vessel, that too will serve as an ideal focus for a project. The point is, you can choose which aspect of a wreck to study.
I would love one or two divers in the group or branch to take on the fun of organising one or two dives to record what is there [on your wreck of choice] on a particular day, and complete a short report online with images.
If you are a bit unsure then, if I'm free, I will happily come and dive the wreck with you or have an online meeting to talk things through. I'm looking for six Wreck Champions. Are you one of them? Mail heritage@bsac.com if you would like to be involved.
If you need help finding a club please email info@bsac.com and we'll send you your three nearest scuba clubs. Or if you fancy a chat call us 0151 350 6200 (Mon-Fri, 9am-5:30pm).
Article 'More about Wreck Champions' by Jane Maddocks first published in SCUBA magazine, Issue 135 May 2023. Images in this online version have been substituted from the original images in SCUBA magazine due to usage rights.