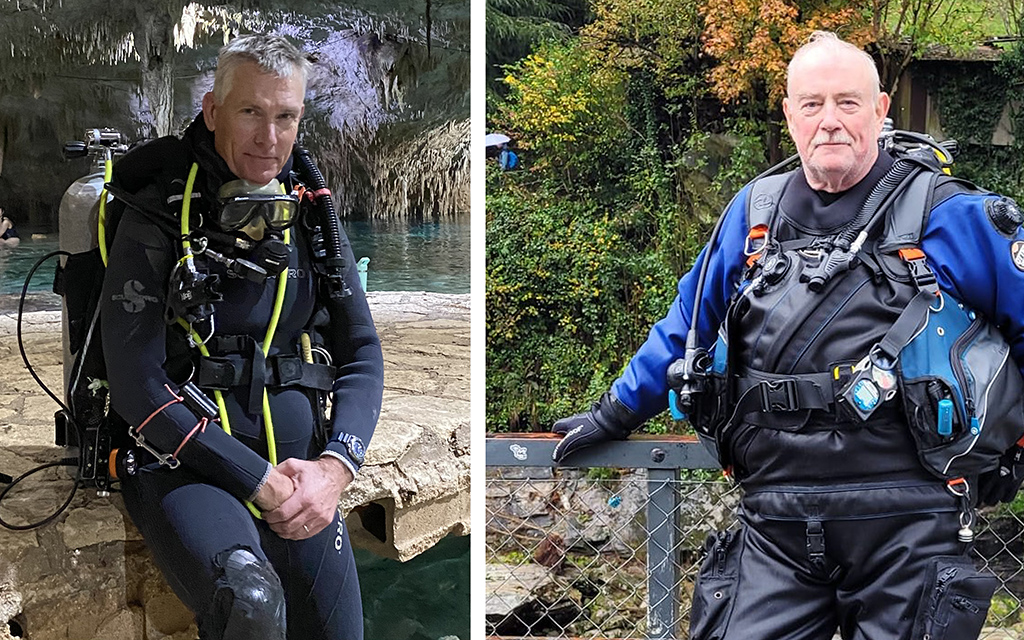 New National Instructors: (L) Dave Pegler and (R) Kevin Holmes
BSAC has welcomed two new National Instructors to its team, after a successful final assessment.
Kevin Holmes and Dave Pegler were put through their paces over four days at the end of the summer, before being awarded their National Instructor (NI) status. They now join BSAC's current cohort of NIs who lead and develop BSAC training and delivery around the UK and overseas.
National Instructor is BSAC's highest instructor qualification and has been held by 277 members since it was introduced back in 1966. Each year, suitably qualified BSAC members are given the opportunity to complete the National Instructor course, culminating in the final assessment and exam.
During the final exam, candidates are assessed on their instructor and leadership skills across 23 separate elements. This year's National Instructor assessment took place in Dunoon, Scotland, where former BSAC Northern Europe Regional Coach, Kevin Holmes and Dave Pegler of Exeter BSAC successfully made the grade.
It was a case of 'third time lucky' for Dave 'Pegs' Pegler, who has now joined the ranks of BSAC's National Instructors.
Recently returned from a dive trip to Mexico, Dave said he was delighted to have passed the NI exam on his third attempt. He added:
It still feels a bit surreal and has not fully sunk in yet!
Having learnt to dive in the army, Germany-based Kevin Holmes originally attempted his NI back in 2019. Following a hiatus due to Covid, he travelled back to the UK this year to successfully gain his National Instructor ticket. He now wants to use his NI status to help divers in his region:
I hope to get myself qualified to run Instructor Trainer events as the Senior Examiner as quickly as possible, as having a suitably qualified person here in mainland Europe will benefit the region greatly.
BSAC's National Diving Officer, Dai Atkins, welcomed the two new National Instructors to the team:
The commitment required of individuals to prepare for entry into the NI development process should not be under-estimated, and credit is due to all participating candidates on this years' exam.
I'd like to offer my congratulations to the successful candidates. Both Kevin and Dave demonstrated their ability to effectively meet the grade and I look forward to working with them in their post-exam development.
Become a National Instructor
For more information and to register for National Instructor 2024, go to bsac.com/ni