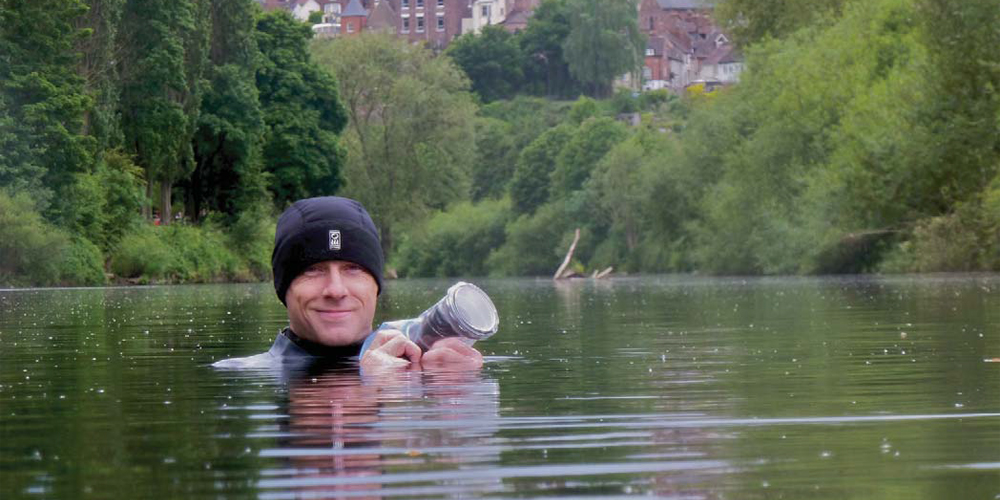 As Andy Torbet's media career goes into overdrive, he contemplates the river snorkel that set him on the road to being the Aquaman we know today.
Life is busy at the moment
I've been away a lot in the last few months and am currently in a period of two months on the road with only four days off. I had high hopes of dashing from my hotel early this morning to grab a cheeky snorkel on the closest bit of Mallorcan beach to my hotel but the changeability of filming TV and some pesky submarines have curtailed even this simple plans. [of all the columnists, your excuses for late copy are the most colourful – Editor]
Knee deep in the river Severn
As I sat with useless hours to myself in Palma Airport, I plumbed the depths of my jet-lagged brain for an idea for this month's column. I went over the hundreds of old photos of past adventures I've accumulated with my snorkel in the last six years. I looked back at where it all began... and realised it hadn't started where I thought it had.
This column started early in the history of SCUBA magazine and was inspired by my antics on my 'Britain by Snorkel' project, when I snorkelled the shores, caves, wrecks, piers, river, lakes, bogs, waterfalls, streams and wildlife hotspots of this fair isle. But that two-month trip around the UK in a beaten up old Astra armed with a mask, fins and plastic tube was, in turn, was inspired by a more sedate day out.
In fact, it had really begun in the spring of 2011, before that fateful 'Summer of Snorkel', with a little venture between myself and a friend, the Cornishman (with undeniably Viking ancestry) Raz Rasmussen. He being the only person at the time with time off and a level of stupidity to match my own, and therefore a shoe-in to say yes to my plan.
The plan was simplicity itself – we'd park the car in Bridgnorth on the River Severn, change into our wetsuits (or in Raz's case a drysuit), hop on a bus to Ironbridge – which lay upstream – and snorkel the 10 miles back down the river. Even if the river was only owing at a couple of knots, if we set off from the river bank by 9am, we'd be having a late lunch in Bridgnorth by 2pm.
All was going remarkably to plan (at this no one was more surprised than me). We had a few suspicious looks from other bus passengers, and when questioned about why two grown me had chosen to take a day out in Shropshire dressed in thick rubber, our explanation seemed to do nothing to quell the notion that we were a pair of idiots.
Upon arriving at our start point the problems started. It seemed the river was running very low. This would not only make progress dif cult in some parts, but the current owed at a catatonic pace. Naively undaunted, we waded in and began our snorkel south.
A sedate snorkel offers many photo opportunities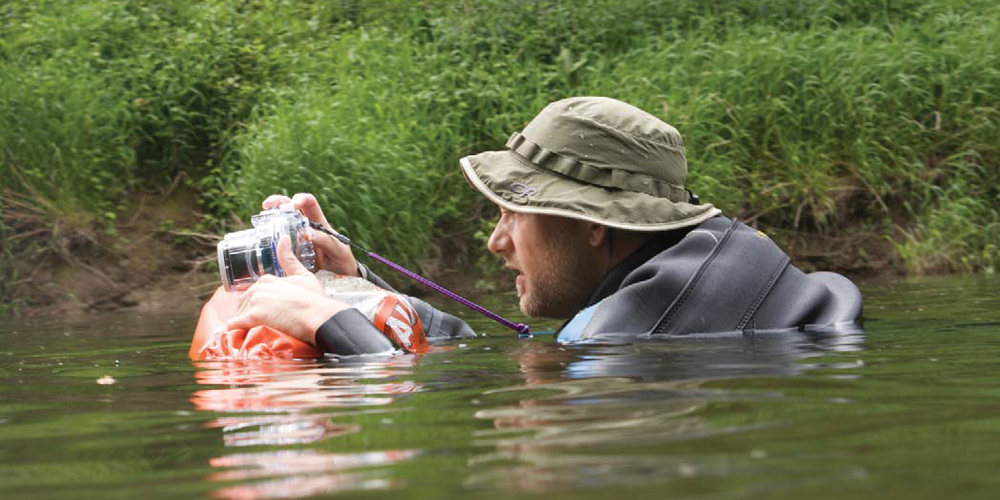 Below the water we spotted minnows and caught glimpses of larger fish, which I think were probably barbels. Above the water, we drifted innocuously past swans, mallard, widgeon and mandarin ducks, woodpeckers... and a herd of cows grazing at the river's edge. At times we had to walk, as the river became only few inches deep but the sedate journey was generally very relaxing. However, there's only so much 'relaxation' a man can take. I began to hope that turning every bend in the river would reveal the bridge that signified our destination. However, in the end it took us nine hours to reach Bridgnorth.
Raz Rasmussen and Andy Torbet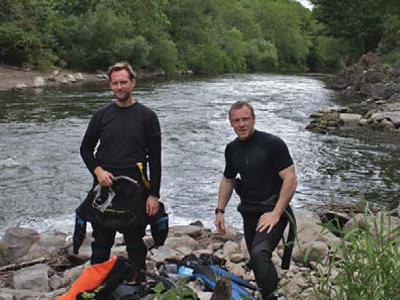 We crawled out of the water, satisfied, chastened, laughing but most of all extremely hungry. If the truth be told,
it had not been the most triumphant snorkel. The visibility had been poor, the river levels low and it had taken much longer than I'd reckoned. It was, as the bus passengers had rightly observed, a decidedly silly thing to do. But we had enjoyed it nonetheless and it was, unknown to me at the time, to be the beginning of something much bigger. It seems that it wasn't just Bridgnorth that that first river-bimble took me to.
Article by Andy Torbet for SCUBA magazine, issue 73 December 2017
Find out more about learning to snorkel or discover snorkelling in the UK.