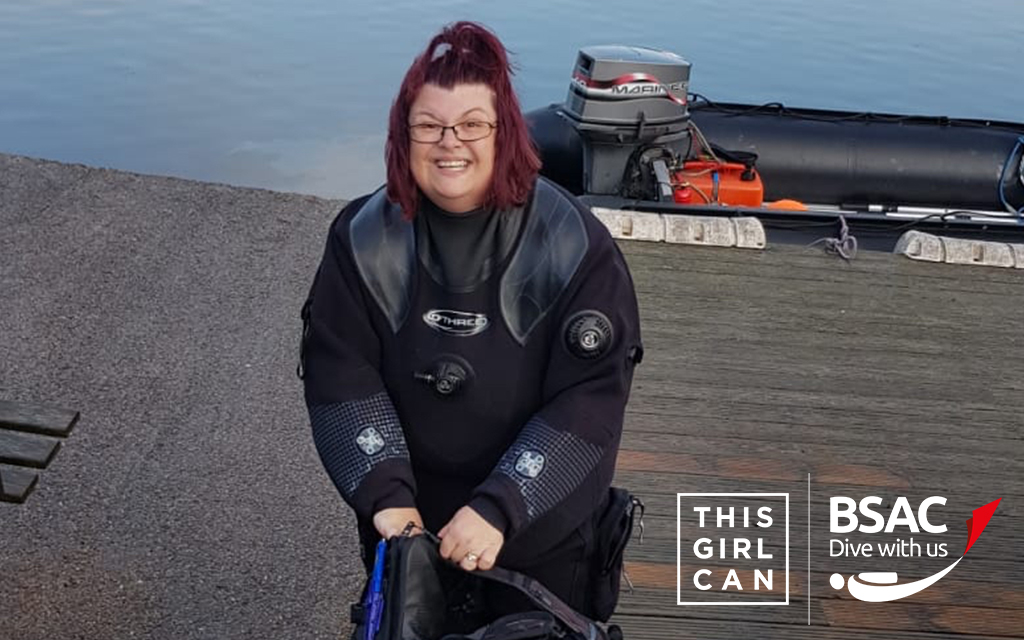 In the run-up to the new This Girl Can campaign launch, we spoke to BSAC member and Dudley Dolphin Membership Secretary & Treasurer, Bev Morris, about her scuba story six years in the making.
In 2014, my 10-year-old daughter joined Dudley Dolphin BSAC to learn how to snorkel. She is a natural water baby and was instantly mesmerised by the scuba divers, especially when she realised that there were women as well as men, and couldn't wait until she was old enough to start training. I suffered from serious back issues from an accident ten years before and had numerous treatments but wanted us to be able to snorkel as a family on holiday. I did a snorkel Try Dive in the pool but it aggravated my pain, so I resigned myself to being sat poolside watching my daughter grow in confidence as she progressed through her snorkel training, and eventually her Ocean Diver. I felt so proud as she improved week on week and came out of the water with a big smile on her face.
We made many friends and I became part of the club by joining the committee, firstly as Social Officer, then Secretary, and now Treasurer. Some six years on, I consider most of them to be my second family. At some point they have all said to me "one day it will be you", but I never believed it.
Small steps
I remember back in 2018 during physio, at one very low point, the physiotherapist said to me set yourself a goal and aim for it. The following week he asked me what my goal was, to which I replied that it was, and always would be, to be able to scuba dive with my daughter. He agreed that there should be no reason this couldn't become a reality with the right amount of effort and hard work. The idea planted in my brain, I spoke to my GP and asked his opinion about trying to do some water-based activity and he was very optimistic that it would help with my overall fitness and strengthen some of the muscles that haven't been used for years. Target set!
In January 2019, I spoke to our club Training Officer, Angela Lunn, about the physical requirements for the Snorkel Diver course. As it was mainly done in sheltered water, we agreed that this would be a good starting point for me, and, if at any point I was in pain, we would stop immediately. My husband joined and signed up for training so that he was there both in and out of the water to support me. Unfortunately, it wasn't his "cup of tea" but he persevered with it until my pool lessons were complete, and I am proud to say I never missed a week. I progressed to open water snorkelling, and my only concern at this point was the amount of additional weight I would need. We got around this by putting my weight belt on once I was in the water and taking it off before I exited. No problem! The only thing I genuinely had an issue with was pulling myself out of the water back onto the safety boat (and this is still a work in progress). I passed my Snorkel Diver in May and felt so proud when I did my first snorkel at Capernwray with my daughter, feeding the sturgeon.
But still, I wanted more.
Giant strides
In June, I had an epidural as part of my ongoing pain management. I couldn't believe it when within two days I was walking without crutches and virtually pain-free. Again, I spoke to the GP about trying the diving and again he was happy providing I listened to my body, built up slowly and knew my limits. Everyone at Dudley Dolphin has always said that they would help in any way that they could, but I would never have believed how much each and every one of them helped, from carrying kit, helping set up and just talking to me and giving me tips on how to make things easier. They even took me to the O'Three shop, while on a club weekend in Swanage, where I found and purchased my first drysuit. That was before I had even signed up for a lesson, I was so excited.
I signed up for Ocean Diver in August 2019 with a new determination that I never had before. And, apart from a two-week holiday, I never missed a week. My screensaver at work became a countdown to my next dive, and I looked forward to it every single day. From week one, I was determined to try and carry my own kit and build up my strength as I progressed.
One day after my 50th birthday, I did my qualifying dive at Stoney Cove. What a birthday present! I cried when our Training Officer said how proud of me she was and the supportive messages I received from other members were amazing. I never realised how much everyone had been paying attention to my progress.
Dudley Dolphin BSAC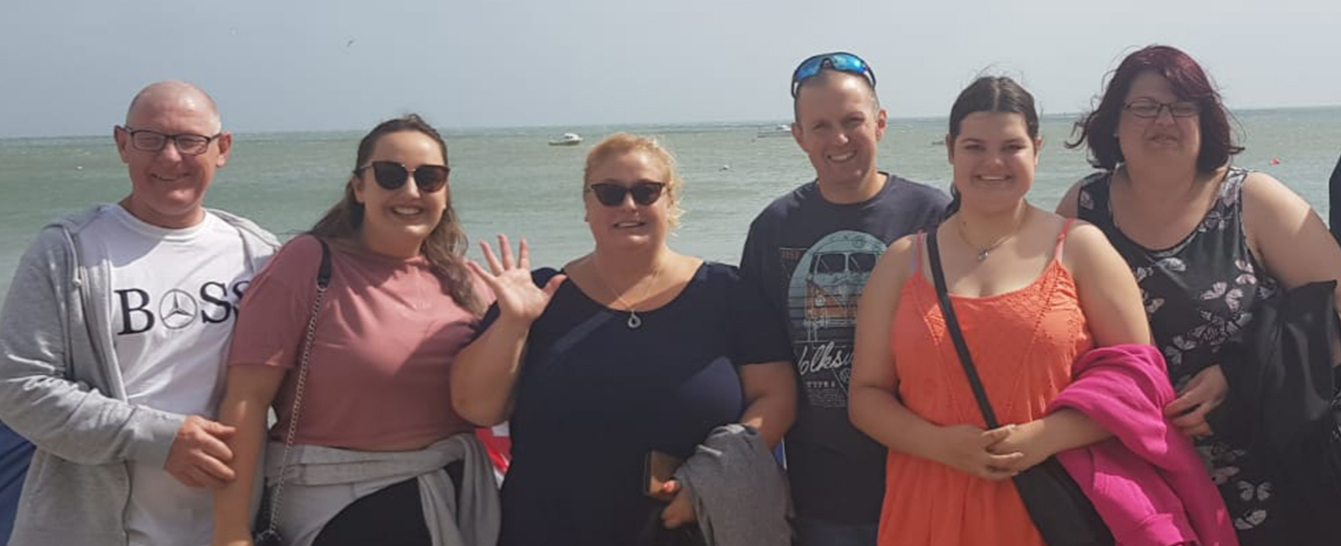 "Without the help and support of my club, I would never have got this far."
(L-R) Dudley Dolphin BSAC's Diving Officer John Lunn, Social Officer Hattie Lunn, Training Officer Angela Lunn, Bev's husband Nick, her daughter Scarlett and Bev.
I have to say without the help of my husband Nick, the club Diving Officer John Lunn, Training Officer Angela Lunn, and my two instructors Chris Bates and Ian Gould, I would never have got this far. There are far too many people who help to thank individually, but these few have been my support team from day one and continue to support me every week. No one ever complains if I have to ask for help, in fact, most times they tell me off for trying to do it on my own when I have a buddy. I don't like to ask, and although I am now qualified, I am also aware and focused that every day is still a learning day, and every dive improves my health and fitness. I still have to reach my goal of diving with my daughter, and that will be a day to remember. And then I need to work through the list of members who promised to be my buddy along the journey!
When I am in the water, the stresses of everyday life just melt away, I relax, enjoy the dive and the surroundings and remind myself at the end of every dive how lucky I am.
I dive because in the water I feel as normal as the next person.
Share your scuba (or snorkel) story!
We want to hear from YOU. Tell us your scuba (or snorkel) story - how you got into the sport and what brought you to BSAC. Whether you were already trained with another agency, started as a young snorkel diver or found us later in life.
Email your story to imogeng@bsac.com with the subject 'My scuba/snorkel story' and some pictures and yours might be the next story we share!