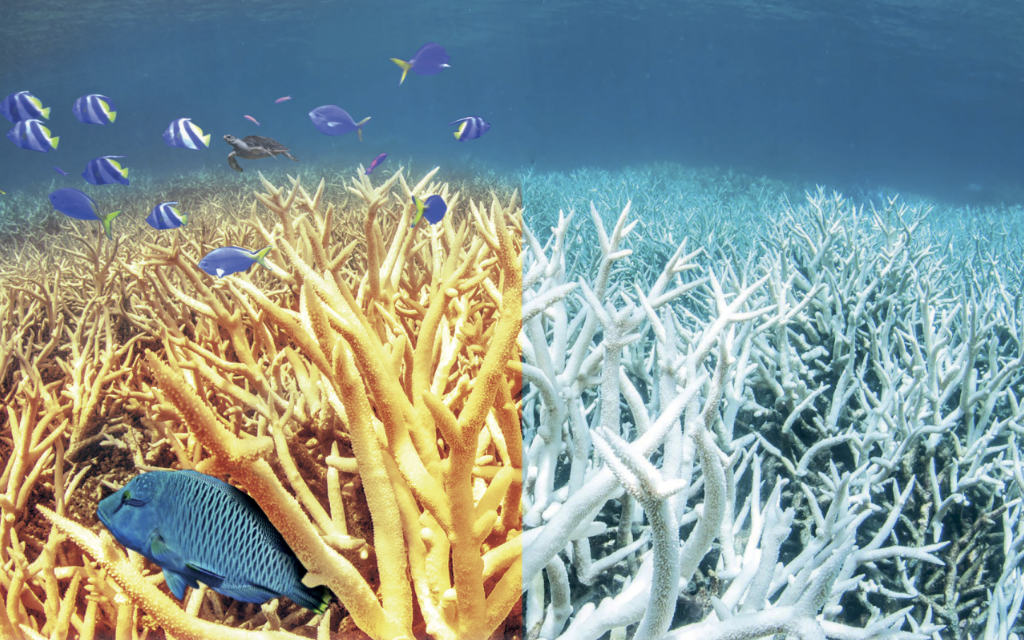 Summer is here and sun protection is crucial for all sea users, but our choice of sunscreen can affect the environments we cherish. Bernadette Butfield explains...
Even while exploring the waters of Costa Del Britain, it's important for us all to use sun protection. Despite this, we have all forgotten to bring a hat or apply sun lotion at one point or another, and have been left applying after-sun to burnt faces after a weekend of scuba diving and snorkelling.
Protecting our skin from harmful sun exposure is important, but scientists have increasingly warned us that certain chemicals in sunscreen formulas may be of concern, particularly to coral reef habitats. As scuba divers and snorkellers when we enter the water wearing certain sunscreen formulas, we can introduce harmful chemicals directly into the environment. In fact, between 4,000 and 6,000 tonnes of sunscreen are estimated to be released into tropical coral reef areas annually, posing a significant threat to corals.
We know that the impacts of climate change are threatening the health of marine ecosystems around the world. Coral reefs in particular, are vulnerable to ocean acidification and rising seawater temperatures, driven by climate change. Mass coral bleaching events are becoming more frequent, with the southern hemisphere receiving its third mass bleaching event in five years in 2020. Studies now suggest that certain chemicals in sunscreen formulas may be adding to the list of current stressors to coral reefs.
Chemicals like oxybenzone and octinoxate are popular UV filter ingredients in sunscreen formulations that are thought to have a detrimental impact on coral health. When corals absorb these chemicals, they can have a similar reaction to a coral bleaching response. The presence of these chemicals in seawater is also thought to increase the likelihood of coral infections and death.
Existing studies have primarily focused upon the impacts to tropical coral reefs; so how important is it for us to consider our sunscreen use in cooler waters? Well, for those of us exploring less tropical regions, the use of sunscreen is still important. Long days at sea can still cause sunburn, even on cloudy days. While the impacts of such chemicals on cold-water corals and other marine habitats have not yet been studied, we should treat our local environments with the same caution as we would when diving a tropical reef. Ultimately, avoiding the use of such chemicals will reduce the amount introduced to waterways and the ocean.
Nano is a no-no
So where does leave us in making the safest choice for ourselves and the environment? Generally, sunscreen formulas are either mineral or chemical. Mineral sunscreens, like those containing zinc oxide, create a physical shield-like layer on top of the skin, which deflects harmful UV rays.
Chemical sunscreens such as those containing oxybenzone and octinoxate, absorb harmful UV rays. The size of the minerals can also have an impact on corals. It is, therefore, best to choose 'non-nano' sunscreen formulas that do not contain micro-sized minerals or nanoparticles (less than 100 nanometres in size), as these smaller particles can be toxic in high concentrations.
Despite a call for further studies, some countries have taken measures to ban the use of sunscreens containing chemicals such as oxybenzone and octinoxate. This increased awareness about the potential impacts of such chemicals on coral health has led many companies to label products as 'reef-safe'. Typically, the term 'reef-safe' means that the sunscreen contains only mineral UV-blocking ingredients such as zinc oxide and titanium dioxide (those in 'non-nano' form).
However, the term lacks a formal definition and regulation, leading to concerns over the wrongful application and misuse of the label. It is, therefore, important to check the ingredients list of your chosen sunscreen product to ensure that potential reef-harming chemicals are not included.
Top tips for choosing environmentally friendly sunscreen:
Look for the absence of oxybenzone and octinoxate in listed ingredients

Choose mineral-based sunscreen with the ingredients zinc oxide and titanium dioxide

Look for an indication of 'non-nano' ingredients


It's always better to be protected, and while sunscreen plays an important role in a safe sun regime, it often washes off while scuba diving and snorkelling. It is therefore important to consider applying your sunscreen in good time before getting in the water. Even water-resistant sunscreen can still wash off, so again it is a good idea to apply your sunscreen well in advance – or at least washing your face with fresh water before donning a mask to avoid any tears during your dive!
To safely enjoy diving on a sunny Bank Holiday weekend while being mindful of the ocean, consider other additional options of sun protection, particularly while snorkelling or during a surface interval, including:
Wearing a hat, rash vest or another form of protective clothing

Staying hydrated

Limiting direct sun exposure altogether


Reef-friendly sun screens
All of these options cause minimal impact to the environment and will allow you to safely enjoy a glorious day of scuba diving and snorkelling:
The BSAC network is working together to keep people connected to the sport. With online training, special interest webinars, competitions, support to clubs and the trade, and much more...we'd love you to join us.
This article was originally published in SCUBA magazine, Issue #116 July 2021. For more membership benefits, visit bsac.com/benefits.
Images in this online version may have been substituted from the original images in SCUBA magazine due to usage rights.