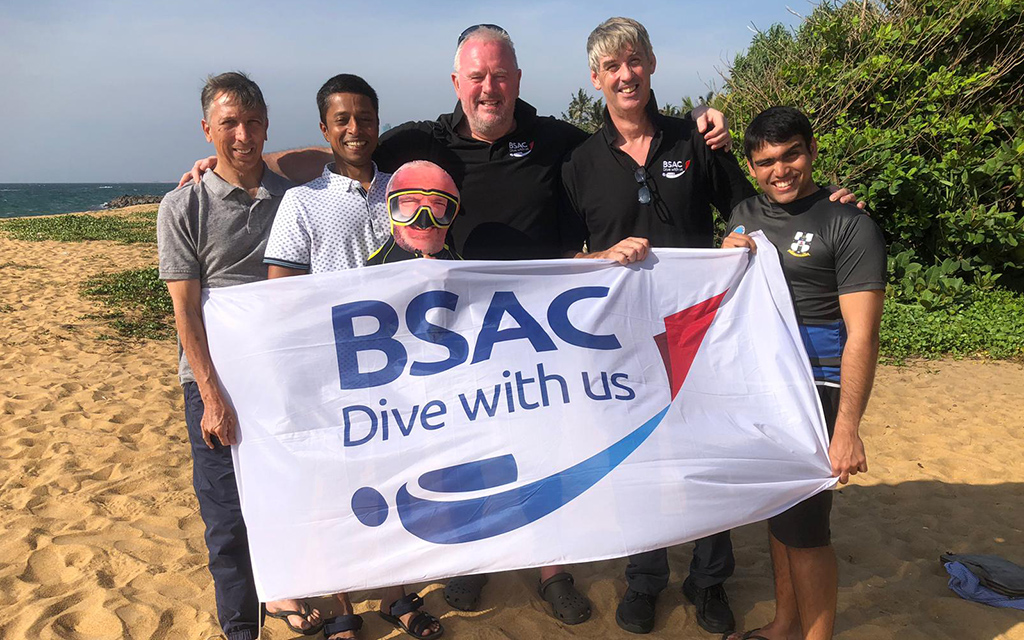 The first BSAC Instructor Training Scheme (ITS) event has been held in Sri Lanka, paving the way for new divers to learn in the country.
Diving is in its infancy in Sri Lanka, meaning the coaching team had to plan for significant challenges to successfully deliver the training programme.
Based in Colombo, the S. Thomas' College Sub-Aqua Club (STCSAC) was founded in October 1993, and became branch B2613 (the first in Sri Lanka) in January 2021 with just four members. By October 2021 the club was 32 members strong.
However, with instructor numbers low STCSAC faced a challenging future.
Sri Lanka's first ITS event
That's when BSAC stepped in. Having reached the threshold to qualify for a BSAC part-sponsored ITS event, and following several Covid-related delays, the week-long training to boost instructor numbers within the branch finally took place in January 2023.
BSAC National Instructor Adrian Collier arrived in Sri Lanka and began by delivering an Instructor Foundation Course (IFC), BSAC's popular start point for instructing. The two-day IFC was held over a weekend at S. Thomas' College Mount Lavinia and introduced the students to the fundamental principles and processes of teaching within BSAC. At the end of the IFC both candidates Jason Senanayake and Yohan Abeyesekera were pleased to be awarded their Assistant Diving Instructor certifications.
As a National Instructor, Adrian then set up an Open Water Instructor Course (OWIC) for two students, Yohan and another called Jehan Pieris. As a new Assistant Instructor, Yohan was ready to build on the knowledge he had just received over the two-day IFC. Jehan was already qualified as an instructor from another diving agency, so as crossover student, was helped to learn the BSAC way of teaching.
Classroom lessons presented no great problem. The evening open water schedule however brought about its own set of complications. Diving in Sri Lanka in general is at its best in the mornings, with winds picking up in the afternoons to typically force 4 or higher. Despite planning for this situation, the backup location in the sheltered breakwaters of the Colombo Port City were unavailable for the training.
STCSAC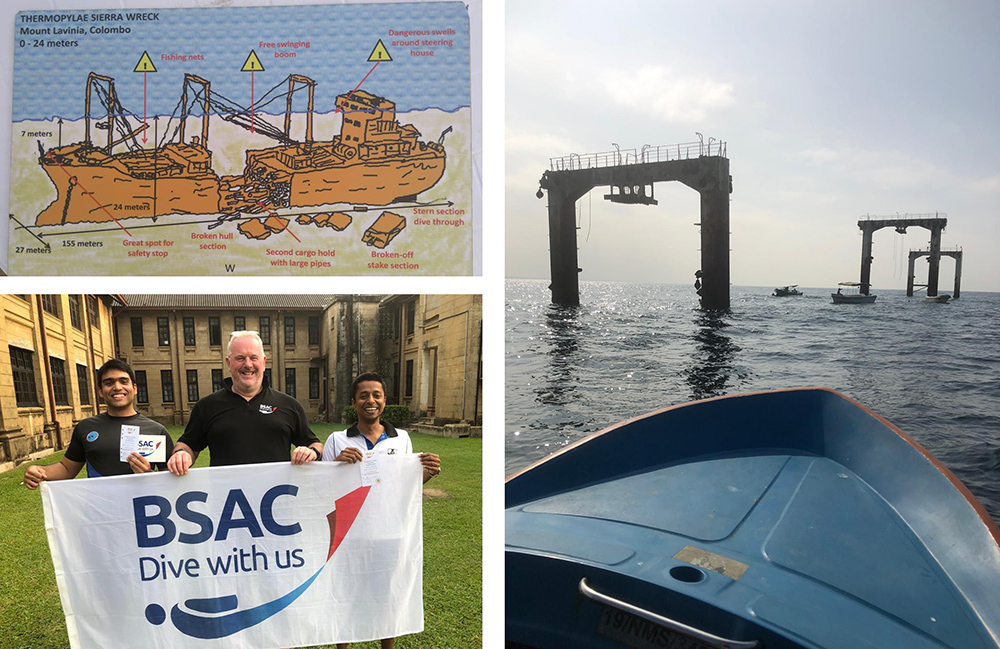 Clockwise from top: Thermopylae Sierra in theory; the wreck in practice; IFC day 2.
This meant that Adrian has to alter the ITS schedule to push the OWIC evening session to the morning of the next day, and move to a previously planned primary site off surf club Dehiwela. The day after the OWIC was set aside as exam preparation day for students sitting for their theory and practical instructor exams. However, this was not to be as the OWIC was not over until the open water practical session was complete and a prerequisite leading to the two exams.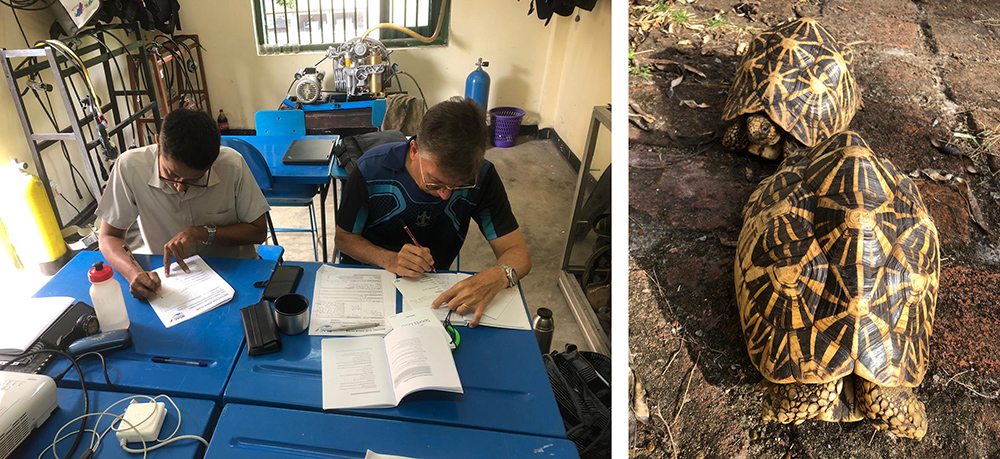 OWIC students Yohan Abeyesekera and Jehan Pieris plan their lessons; Pat and Jim, two local tortoises
Exam day!
Towards the end of the week on assessment day, conditions were not at their best and the students faced surf, swell and poor visibility. It was a learning curve for the would-be instructors on having to teach open water skills in such conditions, as it was paramount the event stuck to the course schedule. Naturally, all necessary steps were taken to keep all training aspects safe and to BSAC standards.
By late afternoon, the Sri Lankan club had its second Open Water Instructor (OWI), Jehan Pieris, and Assistant OWI Yohan Abeyesekera, who would become the club's third OWI on successfully sitting for his theory and practical exams in the days that followed.
On the last day of the ITS event (Friday 13th, gulp!) the fresh OWIs upgraded their new qualifications by becoming Skill Development instructors, ready to teach Compressor Operation, Automated External Defibrillator (AED) and Oxygen Administration courses within the branch.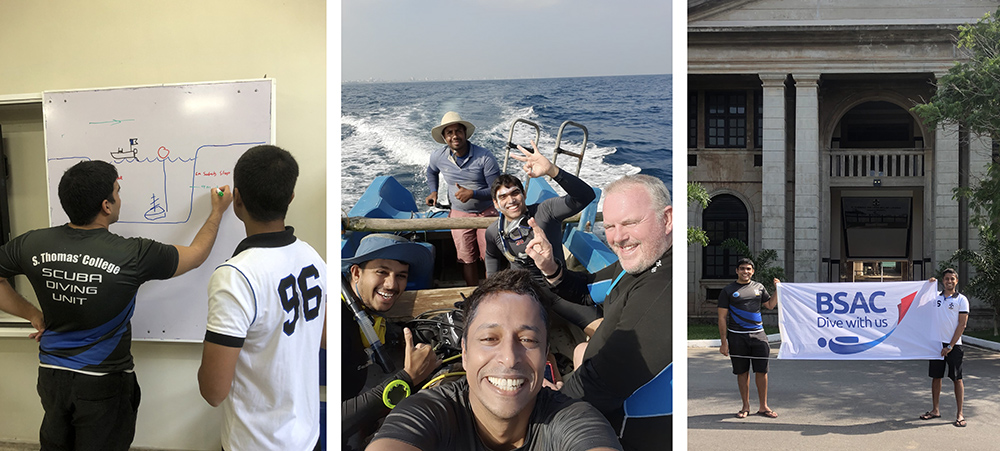 Adrian Collier of BSAC said:
It was a pleasure to help Yohan and his team to develop a branch over 5,000 miles away, and to see it start to grow. I was proud to represent BSAC for this training programme.
As an experienced National Instructor, working outside the UK brought massive challenges and pressures. Working in Sri Lanka drew on all of my training and life skills to deliver safe, high-quality instruction and exams out in the field. I'm pleased that BSAC has given STCSAC the right tools to see their Branch thrive.
Supporting our overseas members is important to BSAC, and meets our strategy for growth and diversity. Yohan is doing a brilliant job for diving in Sri Lanka, and the club's future is looking bright!
With support from BSAC and the coaching team, the S. Thomas' College Sub-Aqua Club branch is ready to provide training excellence to students – and it plans to double its numbers so that a second ITS could be held in Sri Lanka due course.