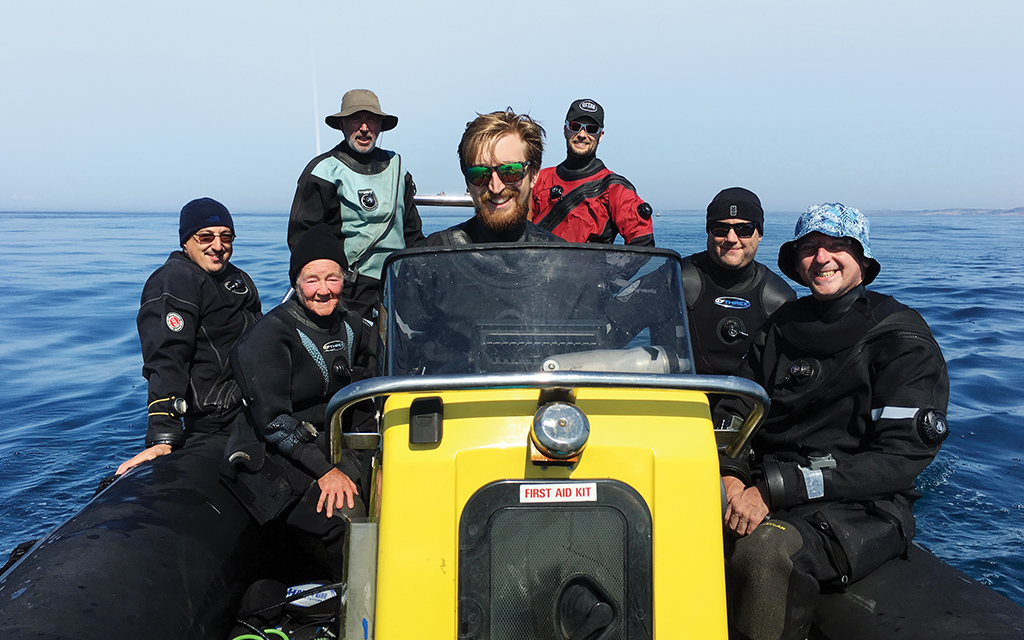 Kirsty Andrews is never one to shy at an opportunity to squeeze in a cheeky dive and she says BSAC is ideal for making it happen.
I'm currently in the fortunate position of having a few months off work. I've travelled around, visiting friends and family and also ticking some long-fancied diving destinations off the list. Lucky me!
Some of my plans were full-on diving holidays and I packed and planned accordingly (and had a fabulous time; more columns to follow on those, I'm sure). Being a diving addict, I also stuck my dive kit in my bag even on the non-diving trips on my itinerary - just in case, you know. Maybe I could squeeze in a cheeky midweek dip here and there. It hasn't quite worked out so far though and my drysuit has remained dry.
This got me to thinking about some aspects of our good old BSAC that I had maybe taken for granted before. I started to feel a bit homesick actually.
There are many dive shops around the world and they will happily cater to tourists, whether it's a weekend day out or filling a spot on a longer trip further afield. I popped my head into a few and emailed others, and received some general positive responses, in general, along the lines of "you can pay a not-insignificant sum for one of our divemasters to escort you somewhere" or "yes, we do arrange club dives, they're on the first Wednesday of the month, which was yesterday."
I cast my mind to the club nights taking place back home and the endless possibilities that await there. Local groups do vary but, in my experience, the ethos of BSAC is that you can make your own adventure. If you have the desire to dive and a bit of drive to make it happen, the club will help you do it. If you happen to have Tuesdays off, you can ask around, find a buddy and make a plan. If the weather gods are smiling, you can turn up and say, "who wants to look for squid after work tomorrow, it's only a two hour drive each way, let's go!" (I have done this and it was great.) Maybe you'll head to the coast or a quarry, take the RIB or book a charter. Maybe you'll go somewhere familiar or maybe you've set your heart on locating a mysterious new wreck and you're going to put the echo-sounder to work.
Maybe you're an experienced Advanced Diver with enviable seamanship skills or maybe you're a new diver who's just caught the diving bug and can't wait to re-immerse yourself - if the latter, some of the more experienced club members will very often step in and help you realise that dream.
I've been a beneficiary of this system and, I hope, an occasional positive contributor for countless years now, but it never properly occurred to me just how fortunate we are to have ourselves as this resource. There are excellent clubs elsewhere and not just BSAC ones, but I haven't found it as easy. I'm working on my connections and have some potential local victims - I mean dive buddies - in mind so don't worry too much about me, but do join me in celebrating and making use of what we have at home: a great British diving network.
One final point: my club nights in Clifton take place in the pub. A lovely pub with excellent beer. This is also a rare commodity in some of the destinations I've found myself in... so please raise a glass for me and toast our special club, and start planning that next expedition.
Not yet a BSAC member? Let us help you find your local BSAC club
Send your postcode to hello@bsac.com and we'll help you find the right scuba club for you. Or if you fancy a chat call us 0151 350 6226 (Mon - Fri, 09:00 - 17:30).
This column was originally published in SCUBA magazine, Issue 98 January 2020.
Image credit: Bristol Diving Club about to dive the M2 out of Portland