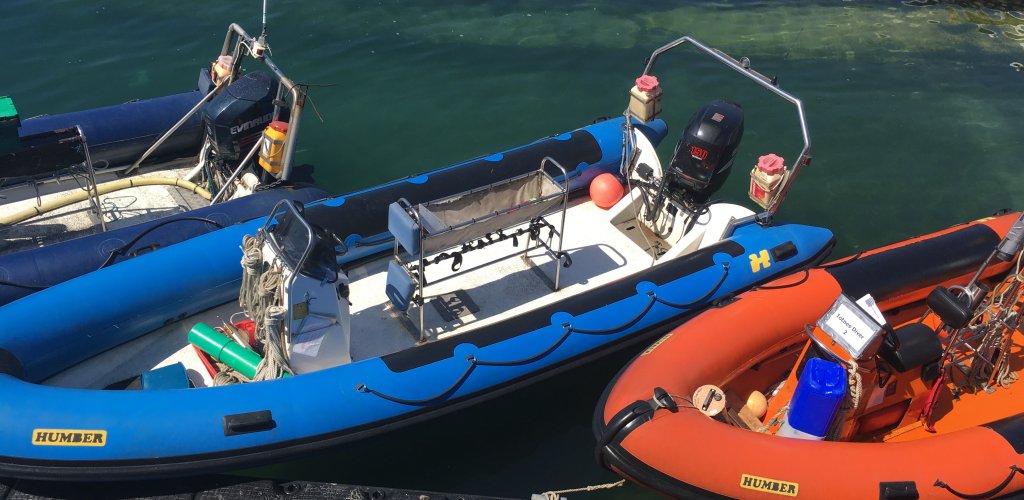 As a club, we have spent many hours over the last few weeks engaged in major engine repairs as well as general maintenance of our two RIBs. Finally, later in the season than we would wish, the boats have been tested on inland water and declared ready to go out to sea.
This summer one of the boats will be attending a coastal Scout camp, where under the very close supervision of the Scout Leaders, our Boat Handlers and Snorkel Instructors. The boat will be taking out small groups of Scouts to experience the fun and excitement of being in a RIB.
The boat will also be acting as boat/surface cover whilst the Scouts enjoy 'Experience Snorkelling' in a sheltered cove. So, boat safety is very much in our minds – naturally, we want the Scouts to have a safe fun time and possibly continue their snorkelling by becoming BSAC members.
Marg Baldwin
Snorkel Instructor Trainer
Boat safety
Before taking a boat out to sea, even in the most gentle conditions and environment, it is important to check that it is kitted out with all the appropriate equipment and that it is in good working order.
This is the responsibility of the coxswain. The BSAC book; 'Seamanship: a guide for divers' is a great source of practical information which is relevant to snorkellers as well as divers. For those wishing to develop their boat handling skills there is the BSAC Boat handling course open to all members over 14 years with little or no boat handling experience. An important aspect of boat safety is making sure any passenger is wearing a well-fitting buoyancy aid or life jacket and they are clearly briefed on how to act in the boat.
Weather and sea conditions
Even the most sheltered bays can experience unseasonal, unfriendly weather conditions and having a boat available as surface cover should not encourage us to allow snorkellers out into less favourable conditions.
All the planning of selecting a safe snorkelling site and checking the weather still applies. Calm sea with little or no water movement, ease of access in and out of the water are still the priorities. These conditions will often give us good underwater visibility.
Boat surface cover
A RIB used as the surface cover for snorkellers can patrol around the site and move quickly if assistance is required. Even if the snorkellers are entering and exiting the water from the shore they need to be briefed so they know what to do if a boat needs to come and pick them up.
Why not plan the dive so they can have a short boat ride home, to add to the fun and learning?
Find out more about snorkel training.

BSAC promote and develop the 'best practice' in snorkelling safety for snorkellers in the UK.