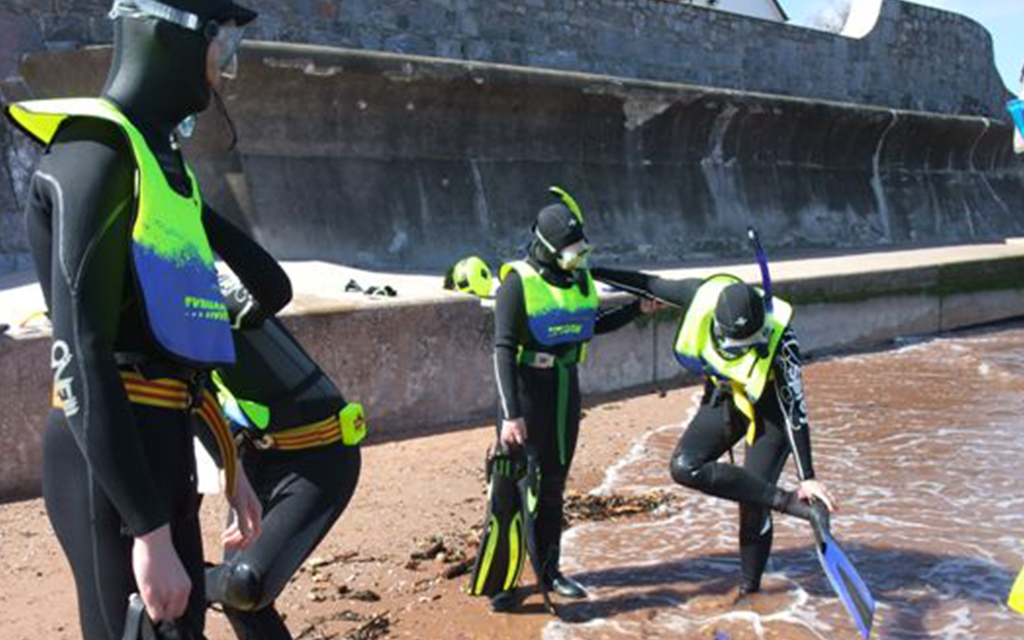 Snorkel Divers can - and hopefully do - enjoy using their skills in a pool and sheltered open water. The equipment required for snorkelling in sheltered open water should include use of a snorkel buoyancy aid.
Sheltered open water is generally less than 4m deep, has a stepped or gently shelving bottom of firm composition with adequate visibility (minimum 5m), is free from significant water movement either waves or currents and it is always easy to get in and out. In other words, an easily accessible calm sheltered bay where snorkellers can see and enjoy the marine environment. The equipment required for snorkelling in sheltered open water should include the use of a snorkel buoyancy aid.
Snorkel buoyancy aids – are just that – they are not life jackets as they are not guaranteed to hold the user's head up in the water. But they do provide immediate buoyancy for a snorkeller who becomes tired or experiences cramp. Gas inflation or simple oral inflation models are available, and both have their advantages and disadvantages. Oral inflation is significantly cheaper than the gas cylinder ones and can be easily bought in dive shops and on the internet.
Important considerations include:
The durable quality of the buoyancy aid.
Is it of the correct size for the user? One size does not fit all.
Many snorkel buoyancy vests come in high vis colours – a great help in making snorkellers visible to other water users and to their Snorkel Dive Manager
Marg Baldwin
Snorkel Instructor Trainer


Sizing
A buoyancy aid suitable for an adult will obviously be far too large for the average six-year-old and of course, the consideration applies the other way around, what fits a small child would not contain enough buoyancy to comfortably support an adult. Some manufacturers give guidance on their Snorkel Vests as to the weight in kilos of the wearer it would support.
Training for use
Having selected an appropriate size of buoyancy aid - using, if possible, the manufacturers' guide - another consideration is making sure that snorkeller knows how to adjust their buoyancy aid straps correctly to their size. This is so that when it is inflated the snorkeller doesn't vanish down inside it with the buoyancy aid out of the water and above their head!
Having ensured the user knows how to adjust the straps, how to inflate and deflate the vest will also require attention, there are variations in how to operate an oral inflation tube. Inflating a vest during strap adjustment helps ensure straps are the appropriate length. Oral inflation should be tested before entering the water but should also be checked whilst in the water for ease of operation, especially when wearing gloves. If a weight belt is to be worn it is essential that it is fitted over the buoyancy aid straps.
Gas cylinder models are usually fitted with a 'one use only' cylinder but snorkellers should experience at least once a season firing the mechanism and before every dive, the cylinder fitment should be inspected for signs of corrosion or if it has been accidentally fired.
Snorkel vests are an important part of safe snorkelling and should be worn for all open water snorkelling activities.
Think SAFE – Dive SAFE
Jim Watson
BSAC Safety and Development Manager